If you don't know by now, Shroud is one of the biggest names on Twitch; he is known for his fantastic aim in First-person shooters with his entertaining personality to go with it. Do you want to have the best equipment possible to push you closer to the standard of Shroud?  If you said yes, then why not look at what Shroud uses and offers for you. Shroud has joined hands with Logitech to make his gaming gear personalized for him and available for the public, so why not have a look.  
What Keyboard, Mouse, and Headset does Shroud Use?
Shroud has joined hands with Logitech to bring to you some new and fantastic gear that will take you from an average player to a pro in no time. 
Shroud uses the Logitech G PRO X Keyboard, Logitech G PRO Gaming Mouse, and the Logitech G PRO X Wireless Lightspeed Gaming Headset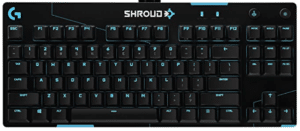 The Logitech G PRO X Keyboard is a keyboard made for all your gaming needs, designed to make you feel like your favorite streamer, Shroud. Specifically made for games that Shroud typically plays. However, this doesn't mean it has disadvantages in other games as it's still an excellent keyboard for all types of gameplay.  Coming with an exclusive Shroud design means there won't be another one like it, so snap it while you can! Design by pros and crafted to make the user win their games, Built by Esports athletes making the keyboard guaranteed to be good quality as even the pros will use it, not just Shroud. 
Logitech G PRO X Keyboard comes with a portable design that comes compact with a tenkeyless design; this means they have taken away ten keys on a regular keyboard to allow more space on your desk for your monitor, PC, and most importantly, the Mouse. Because of its smaller size, this now allows it to be taken up and packed away quickly. 
LIGHTSYNC has been embedded in Logitech G PRO X Keyboard to get the edge of the opposition in tournaments. LIGHTSYNC in tournaments is allowed; LIGHTSYNC highlights and programs keys to light up in a static light pattern to onboard memory for your tournament gameplay. The Detachable Micro USB cables have been designed for a means of quick transport and quick connection.
Features
Designed by Pros

Exclusive Shroud edition

Light Sync

Detachable Micro USB
Most definitely, the most crucial part of Shroud's gaming equipment is his Mouse; the Mouse allows Shroud to take aim and unleash hell upon his enemies in his first-person shooter games. Shroud's Mouse needs to be the best of the best, and Logitech has achieved that for him with the Logitech G PRO Wireless Gaming Mouse.
Logitech G PRO Wireless Gaming Mouse is an extraordinary Mouse that many of the Pros use; Logitech G PRO Wireless Gaming Mouse allows you to get the most efficient gaming experience as it's been designed for absolute comfort and has been made with the user's intentions in mind. If you want to hit the same shots as Shroud, then the only way to do it is by using the Logitech G PRO Wireless Gaming Mouse. The Mouse has been under two years of work by Esports Pros and excellent designers and programmers to make the best Mouse out there. Being Wireless is important for Shroud and should be essential for you. Wireless allows you to move your Mouse around without the wire getting caught on unwanted things; this is crucial when lining up that headshot perfectly. 
Free Software Updates for the Hero 25k Sensors installed in the Logitech G PRO Wireless Gaming Mouse this upgrade can be accessed through the G HUB. Logitech's most advanced technology, 1:1 Tracking, and various amounts of DPI customization sensitivity, 400+ ips. When playing your games, it's essential to feel comfortable with your Mouse; the Logitech G PRO comes with zero smoothing, filtering, or acceleration to make your experience more comfortable. The thin but strong outer shell makes the Logitech G PRO Wireless Gaming Mouse a durable and sturdy mouse for those who might drop or bash the Mouse; this is important as you don't want your equipment breaking on you while you're in an angry state.  
Features
Exclusive Edition

Designed by Pros

Lightweight

Wireless

25,600 max DPI sensitivity

Durable 

Hero25k Sensors
Playing games can be stressful; it is incredibly stressful when you die to an enemy because you couldn't hear where they were shooting from or where they were in general.  The Logitech G PRO X Wireless Lightspeed Gaming Headset takes away all these unwanted sounds from the outside. It lets you hear your enemy's every movement to give you the advantage over them in a tactical situation. Logitech G PRO X Wireless Lightspeed Gaming Headset, once again like the other pieces of equipment in its set, has been made by engineers and pro gamers to ensure the public's best quality product can be made and used for the best gaming experience. 
Logitech G PRO X Wireless Lightspeed Gaming Headset limited Shroud edition makes the design have Shrouds name incorporated into it; this allows you to represent your favorite stream while playing your games trying to be as good as him. The Logitech G PRO X Wireless Lightspeed Gaming Headset allows you to try to be like Shroud and gives you the same advantages as Shroud with the High-Performance light speed wireless technology with 20 hours of battery life.  Equipped with next-generation DTS Headphones built with surround sound for greater positional and distance awareness, this allows you to hear where the enemies are easier and hear what direction they have shot from better. Advanced Pro-G 50mm drivers give the User precise audio and sound imaging to get on top of your opposition and give you that slight extra edge in a battle, making it fantastic for competitive play. 
Who is Shroud 
We have given you some pieces of Shroud's unique equipment to make you play like him, but what if you didn't even know him? Well, here's a bit of Shroud to make you understand why we have told you about his equipment. 
Michael Grzesiek is also known as Shroud, was born on the 2ND June 1994, Canada, making him 26 years old as of making this. Shroud has gained multiple achievements in his career, but the biggest undoubtedly is the Content creator of the Year award and has become one of the biggest names on Twitch and in gaming history. Shroud first made it big by playing CSGO on Twitch, where he later got scouted to join an Esports team complexity, but in his later years, he joined Cloud9. Cloud9 was his last Esports team as he retired on April 18, 2018, to advance his twitch streaming career further, and he has never looked back. 
Shroud is a taken man as he is in a relationship with another Twitch streamer and content creator named Hannah Kennedy, also known as Bnans on Twitch; she may not be as popular as Shroud on Twitch other social media account; however, they make a lovely couple, nonetheless.
Shroud got especially big on Twitch for his outstanding aim on CSGO and PlayerUnknownBattleGrounds (PUBG), known as the God of PUBG Shroud cannot be compared to anyone else as his career and name have been cemented in history. 
Our Opinion 
In our opinion Shrouds equipment is on another level in comparison to most of the competition out there and we highly recommend them if you have the money, however, if you don't have the money, then you might have to look for alternatives as the products are so advanced this means it also comes with a price tag. The quality of the products can be assured with the reviews mainly being five stars, and you can also guarantee the quality as Shroud himself uses the gear.
We believe that the Mouse, Keyboard, and Headset are all fantastic pieces of equipment that can be taken into the competitive player and give you the edge over your enemies; we also believe these pieces of equipment can be taken into tournaments to help you get the better of other pros and players.