You know that big bulky computer tower you've just bought? Or perhaps it's has been sitting there for a while. They're not the easiest of things to manoeuvre and it can be quite irritating when you are trying to consider where you should put it.
Well, did you know where you put your desktop PC might actually have an impact on its experience and overall lifespan? It might sound ridiculous, but there are quite a few reasons that you should potentially consider buying a computer tower stand.
We've provided an overview of some of the reasons a PC stand might be beneficial, whether you should just put it on the table, what to look for in a computer stand and finally what our top choices are. You can quickly navigate to the section that answers your query using the below table of contents:
Why is a PC tower stand beneficial?
We'll start by saying that a PC tower isn't essential for every setup, there are a few key reasons you might want to consider a tower, and here they are:
Your tower is on carpet: If your PC tower is sat on your carpet then it could be seriously restricting airflow around the computer case. A lot of computer cases are designed so that the airflow comes partially through the bottom of the case, and if you are blocking this your PC may overheat. A stand will elevate your PC slightly meaning air can get in underneath.
You want to be able to move your tower around: Typically tower PCs aren't meant to be moved, but there are a few people out there who may find it beneficial to be able to easily move the tower around, and a lot of PC stands have wheels attached making this easy.
Clean & tidy: Another reason a computer tower stand might be beneficial is just to keep things tidy.
Grip & security: A lot of PC tower stands fit around the computer snug and grip, the extra structure around the tower means that it's less likely to fall over and get damaged.
PC Tower stand vs table
There isn't really a one answer fits all for this, it depends on your personal preference. If you're strapped for desk space then a stand may be more beneficial. It can also help you better organize your tabletop and again, won't cause any issue with ventilation.
That being said, if you have space on your table or computer desk, and there's no restriction to airflow by placing your tower on the desk then there may be little benefit to a stand.
What to look for in a computer tower stand
Great – so you've hopefully decided whether or not you actually need a table stand, but what should you look for in the stand that you buy? Here are a few of the things that you should consider:
Durability
This is going to support that expensive computer you've got, you need to ensure that it is durable and high quality enough to do so and last the test of time. Towers can be quite heavy, so you need to ensure that you check what weight the stand can withstand, you want to ensure it is far higher than the weight of your PC tower.
Design
This is personal preference really, but the design might come into it. Some designs are small and slick, but usually, they aren't as supportive, so if you want to go for something that is a little more secure you'll also want it to wrap around the sides, but they don't look as good.
Functionality
What do you want from the PC Tower stand? There are a few that are static, and won't move, but you also have the option of having a stand with wheels for added flexibility and the ability to move the tower with ease.
Tower Size
This is something that you should take into consideration – the size of your PC tower. Some larger towers might not fit in the smaller PC stands, so you want to ensure that you check what size it is capable of holding. If you are unsure, there are several options which we'll highlight that offer flexible widths.
What type of computer tower stand do I need?
This would depend on where you are planning on housing the tower. If you are looking on having it on top of a desk or table then you'll want to look for a stand with static legs, however, if you have your tower on a carpet you might want to choose one with wheels so it's easier to move about.
You don't want to be choosing a tower stand with wheels to put on your desk, it'll just go all over the place! Also, it might be worth noting that if you have tiled floor, you might want a more static stand as well.
Our best computer tower stand choices
Now the section you've all been waiting for, our top computer stands choices. We've done a lot of research into the best options that you have available for a variety of different types and sizes of towers, as well as situations. We've decided on splitting our choices into two sections, the ones which are perfect for carpet and under desks, and ones that are better suited to being on your computer desk or table.
Computer Tower Stands For Carpet & Under Desk
If you want your tower to sit on the floor or on a carpet then we've picked out three of the best options you have available below, providing a description of each product and some of the main features.
Product Description

This is a rolling PC stand with castor wheels by Syba, it's cheap, and does the job. It's adjustable to work with most tower PCs as long as they are within the width of 6 to 10 inches.
This adjustable PC stand will raise your PC far enough off the ground to increase air-flow allowing for your computer to run at a cooler temperate and prevent any overheating damage. The stand itself also featured antiskid grips which means the tower keeps in place firmly and securely, ensuring that the PC doesn't fall out or tip over.
The maximum weight that this stand can hold is 66lbs, and if your tower is over that, well you should be worried!
Main Features
Adjustable width from 6 to 10 inches
Rolling wheels
Made of durable plastic that can withstand 66lbs
Antiskid grips to secure the tower
All for below $15
Product Description

This handy little computer stand looks discrete and does a fantastic job at making your tower more convient and easier to move. It has four caster wheels which can easily rotate 360 degrees. It locks to the tower with the steel pipes to keep the unit still.
The stand itself is adjustable in width which can range between 17inches and 22.4 inches so it can easily house most towers, even the larger ones. It's built with quality in mind as well and can withstand a large weight with its high-grade steel design and ABS materials, again ensuring the safety of your tower.
The surface also has a non-slip texture which firmly grips the computer to prevent it falling and ultimately getting damaged. Of course, this tower also helps with ventilation, raising it by enough from the ground to improve the dissipation of heat around the bottom of the computer tower.
Main Features
360 degree wheel movement
Locks the tower in place with steel pipes
Adjustable width between 17 – 22.4 inches
High load capacity
Textured in a non-slip design to ensure your computers safety
Product Description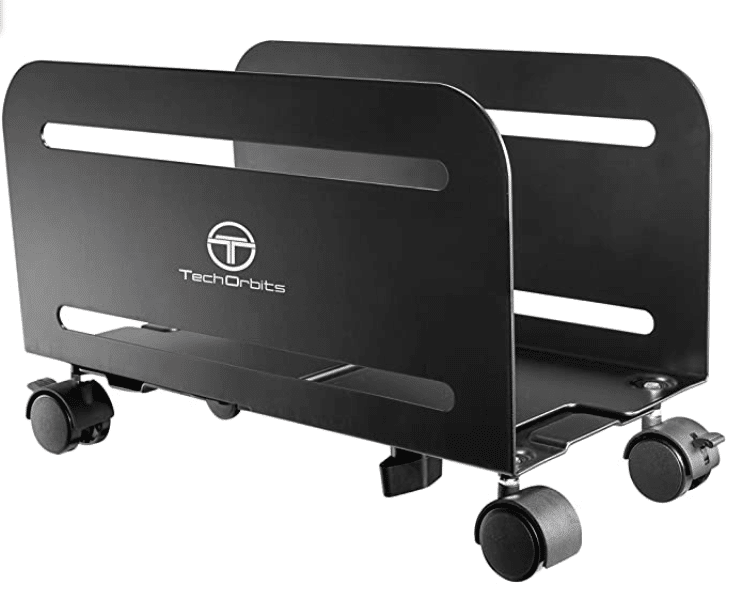 This PC stand offers a bit of a different option to the two we have mentioned above, which you can clearly see in the design. Like the others it has four caster wheels allowing it to move freely and perfect for those who don't want a fixed tower PC, but what is different about this one is it has two sides that lock the computer in securely – which allows increased stability.
The stand is also flexible in terms of what width tower it can hold, which allows it to fit 4.7″ to 8.2″ comfortably – which is more than suitable for a mini case, midi tower and even large computer case. It's also built to last as well, made of durable steel and a heavy-duty frame which can withstand a weight of up to 22lbs, which again should be more than enough for all tower PCs.
Ventilation also isn't an issue as it lifts the computer off the flow and has airflow holes in the bottom allowing the heat to dissipate easily.
TechOrbits also have a lot of confidence in the product offering a lifetime warranty – with a commitment to repair or replace any parts that may be defective.
Main Features
Different and secure design
Can withstand weight of up to 22lbs
It can hold computer case widths of between 4.7″ to 8.2″
Made of durable steel
Comes with a lifetime warranty
Computer Tower Stands For Desk Tops
For those of you that want to house their tower on their table or computer desk we've picked out a few suitable options that are more sturdy and don't have wheels, so they won't be rolling around your desk and potentially falling off! Here are our choices:
Product Description

This stand is meant for both monitors and computers, and it's simplistic in design with 4 durable metal legs which are suitable for your tower PC.
It can support a maximum weight of 44lbs and has anti-skid rubber pads which prevent your desk or table from getting any damage and more importantly your computer from falling over. The metal shelf itself is 14.6 x 9.3″ (w) so it should be more than large enough to fit your desktop PC.
The shelf can adjust in height and has 3 settings, a 3.9″ one, 4.7″ one and 5.5″ so you can easily fit some papers or notebooks underneath and still have enough airflow for your PC. Speaking of ventilation, the shelf has small holes to prevent overheating.
Finally, it doesn't look too bad either, with a slick modern design, and it also comes with 10-year protection.
Main Features
Well built and can withstand 44lbs
14.6 x 9.3″
The shelf is height adjustable, so you should be able to fit things underneath and still have good ventilation
Holes in the shelf to help ventilation
Cheap option, below $14 & an Amazon Choice product currently
Product Description

This stand actually isn't designed for your desktop, however as it can withstand 44lbs it still makes a good PC tower stand for an extremely reasonable price (currently the cheapest in our list) and we think it looks the part!
This stand is made of coated steel and has perforated holes in the bottom to keep your computer cool and leave the airflow unrestricted. It's a stable and solid piece with a 14″ steel plate and non-slip legs that will keep your tower stable and not damage your desk or table.
The size is 14.5×9.2×3.8 which is LxWxH and it raises your tower by about 3.8″, so you could likely also get a few items underneath the PC without restricting airflow and causing overheating, so it can add additional storage space.
It's an extremely easy to assemble the device, simply connect the two legs and you're good to go.
Main Features
Withstands up to 44lbs
The cheapest option of all our picks
Has perforated holes for improved ventilation
14″ steel plate legs that are non-slip
Easy assembly just two pieces
Product Description

Despite the rather trendy Hippo & Frog brand name, this product is rather simple, and it does the job. Again, just like the other options you'll have no issues housing your tower PC on this device as it can withstand 44lbs.
It has three separate height levels so you can easily adjust how high you want your tower, in case you want to put anything underneath, and you can simply use the button on the legs to lift the platform, although we would advise doing this without the tower on top of course.
It's built to prevent overheating with the mesh holes on the shelf which allow airflow to the bottom of your computer. Again, like the other products, it's made to be strong and stable with powder-coated steel, simple yet effective!
Main Features
44lb load capacity
Three seperate height levels which adjust via a button
Holes on the shelf platform for ventilation
Modern design for space saving and more storage