If you're into your gaming, you've likely heard of the Twitch streamer Tfue, being one of the most popular streamers in the world. If you've watched his stream, and want to get into something similar yourself, you might be wondering what headset he has in his setup.
We've written an article around Tfue, his headset, complete with an overview and our opinion, however, we appreciate you might want to just skip right to the answer, that's fine, we're not offended!
On his gaming live streams, Tfue uses the reliable and high-quality headset, Sennheiser HD 800 S. They are an open back, on-ear, wired headset by the well-known audio brand Sennheiser.
You can use the below table of contents to navigate to the section you are most interested in:
Who is Tfue
Tfue, or Turner Ellis Tenney as he is known offline, is an eSports gamer from the state of Florida who has gained a massive following through streaming on the popular platform, Twitch.
Tfue rose to internet fame in 2018 when he joined FaZe, which he later left, it's widely known that was the start of his mass growth in Twitch and YouTube following going from only 70k subscribers to the 12.1M he boasts today.
Although he rose to fame through his gaming live streams, he also regularly vlogs on his YouTube channel. He's also come into some controversy recently with lawsuits he was involved in between himself and the FaZe clan which was extremely high profile and public – this is believed to be the cause of some of the breaks in his streaming career, but he has since become more active.
What games does Tfue play?
Tfue has been known for playing quite a few different games, although he is associated most with Fortnite. Here's a list of the games he streams:
Fortnite
Call of Duty: Warzone
Minecraft
Pub G
Destiny 2
Among Us
Fall Guys: Ultimate Knockout
Call of Duty: Black Ops Cold War
Just Chatting
What headset does Tfue use?
As we touched on right at the start of the post, in his live streams Tfue uses the expensive and high quality Sennheiser HD 800 S. Next, we will provide you with an overview of this headset and our opinion, as well as some other headphone deals you might want to consider.
Overview of Sennheiser HD 800 S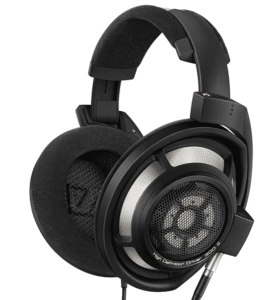 If you know about high quality headphones, chances are that you know the brand Sennheiser. Their HD 800 S model is no exception, in fact it's one of the more expensive and high quality products even in their range, priced currently at just over $1.6K which is one of the most expensive headsets that we have written about, for any of the streamers we've covered.
As you would expect at the price point, you get a phenomenal headset that raises the audio game and offers truly state-of-the-art audio. This headset is the product of years of hard work by Sennheiser, they've been constantly refining the headset to ensure that you get acoustics that is so refined, you forget you're even wearing a headset you become that immersed.
Made in Germany with its open ear cup design offers a spacious but lifelike feel. They're built with long-term comfort in mind, having great and comfortable earcups which you can wear for gaming sessions that last hours on end.
What's under the hood? To create that stunning audio it comes with a 56mm ring radiator transducer. This allows the headset to leverage air displacement perfectly which results in a very quick response across the whole frequency range. It also is designed with a vibration-preventing chassis which is made of aerospace-grade materials! The 40mm voice coil is wound in the Sennheiser factory and it's rigorously tested to ensure each device is produced to the highest standard. No corner is cut with these amazing headphones, and the sound that you get out of them is exactly what was intended.
That's not all though, in order to achieve the acoustics it does, it requires managing the frequency clusters which can produce undesirable masking effected. Sennheiser has combated that through their patented technology, the frequency absorber. As a result, all the technology means that where more typical headphones fail at the lower frequencies their product doesn't.
A truly modern classic that doesn't just look the part, it delivers natural sound true to absolutely every last detail.
Main Features
Wired on ear headset
56mm ring radiator transuders – Sennheiser claim these are the largest drivers used on headphones
Absorbant technology which reduces unwanted frequency response
Unique earcup design that is comfortable, and helps create the natural sound
Lightweight design
Technical Details
4-51,000Hz frequency response
300 Ohms impedance
<0.02% THD
103db at 1kHZ sensitivitiy
Cable is 3m long, and detachable
Weight without the cable is 330g
Included within the box is a 3m cable with a 6.3mm stereo plug, USB manual, 3m balance cable with 4.4mm pentaconn plug & finally, a storage box
Our Opinion On The Sennheiser HD 800 S
It's clear that the Sennheiser headset is a fantastic, high-quality piece of kit and something you would expect from a streamer that reportedly has a net worth of close to $6 million.
That being said, for most people starting to stream or just your average gamers, this headset is simply not an affordable option, as it is priced at over $1.6k, eye-watering!
If you have the money to buy such a headset, by all means, do it, you honestly can't get much better!
If like me, you don't, it might be worth looking at cheaper alternatives. There are quite a few great headsets you can get for far, far less, below even half the price that will more than do the job and do so for other popular streamers that you may have heard of.
We've done a few of these types of posts, and believe us when we say we know what we're talking about when it comes to high quality headsets which are suitable for streaming and with that in mind we've picked out a few of the best, more budget-friendly, options for you to look through below: