We'll start with a simple apology for the poor pun on catch 'em all.
We absolutely love Pokemon, the brand that has gripped the hearts of young (and older) gamers for years since it's release way back in 1995 by Nintendo. It's really the game of its generation and is still one of the most played to this day, with new versions regularly coming out and becoming best sellers. Spinning from the game is a TV series and movies, but this has also grown into trading cards, toys, accessories, you name it there's probably a Pokemon version of it.
Did you know, there are around 932 different types of Pokemon out there, with 8 different generations of Pokemon, across an impressive range of 122 games (although this will probably go up by the time you're reading this). Impressive right, with this though comes a lot of choices when it comes to gifts and toys, so how do you know what to buy?
That's why we're here, if you're looking for the best Pokemon gift ideas for your boys, not to fear, the Poke Nerds are here!
What to get a kid that likes Pokemon?
All Pokemon training apprentices love gifts, even the bigger kids! As we've touched on there's pretty much every type of gift you could imagine in Pokemon form, so if you're looking for a gift idea the best thing to do is think about what else they enjoy. If they like puzzles, then you can get Pokemon puzzles, if they like teddies, there are Pokemon teddies, if they like action figures, there are Pokemon action figures, you get what we're on to here right?
Before we start diving into individual gift ideas and some of our favorite picks, here are a couple of examples of different types of gifts you can get:
In our opinion, what's the best Pokemon gift?
Well as we've touched on, it depends on what the boy (or girl) that you're buying the gift for is interested in. That being said, however, we know what our top pick would be, and it's a Pokemon trading card pack and there's nothing better than the Pokemon Elite Trainers box!
If your boy loves collecting Pokemon cards then this is the ultimate box you can get them, it'll equip them to face the strongest trainers in the region in no time at all, making them a champion Pokemon trainer. Here's what you get in the box:
1 Full art promo card of Charizard V – one of the most iconic Pokemon
The Pokemon TCG rulebook
6 Damage counter dice
10 Pokemon booster packs
65 card sleeves – which also feature Giantamax Charizard
An additional 45 energy cards (TCG)
What is the best Pokemon toy?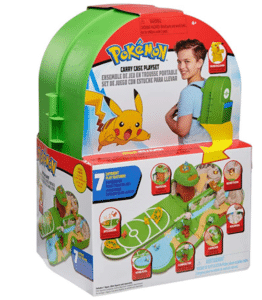 Right, so admittedly, trading cards aren't for everyone and if your boy doesn't have friends that buy the cards as well it might not be the best choice. If you're buying this gift for someone who is perhaps more interested in toys, then here's our top choice for hours of fun.
This carry case set features several different locations in the Pokemon world with a variety of hidden areas and trap doors, which can all easily fold into a backpack so they can bring it around to their friend's house and share it with other Poke fans. What exactly is included in this backpack you ask?
Several different locations
Bounding boulder, treetop trap door, battle areas, hidden caves, spinning whirlpool and more!
2″ Pikachu figurine
An officially licenced Pokemon product
Our top Pokemon gift ideas for boys
Now it's time, we reveal our top Pokemon gift ideas. We've tried to research some of the best-reviewed products, sprinkled with a few products that we wouldn't mind buying ourselves as Pokemon fans, to come up with this list.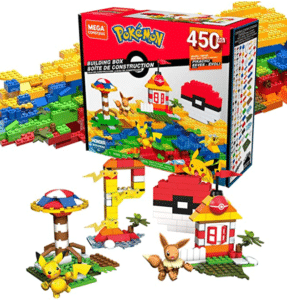 This box is similar to that of Lego and allows you to build your own little Pokemon world with the 450 piece set, with buildable Pikachu and Eevee figures. You can also build toher Pokemon themed memorabillia lie lightining bolts – it's the perfect gift for training the imagination with over 450 pieces there's hours or even days of construction fun.
450 piece set in resealable storage box
3 different build ideas which includes Pikachu and Eevee
3 different building ideas
Great for developing problem solving and creativity skills
Ideally suited for children aged 6 and up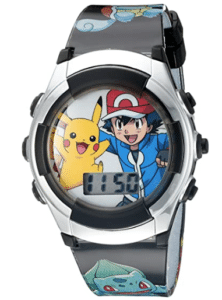 This is the official Pokemon kids watch with LCD lights which are able to spin around the outter bezel by simply clicking the side button. On the watch face, you can see Ash Ketchum, the main trainer in the Poke world and Pikachu, which hopefully you recognize!
This is the perfect watch for any Pokemon super fan that is watning to keep track of time. Here are some of the main features it boasts:
Flashing lights around the bezel when you click the top right button – it's own light show!
Arguably the two main characters in the Pokemon world on the face along with the original Pokemon on the strap
Completely safe and non toxic with no small parts
Easily adjustable strap that is comfortable
Cheap gift option

This light we have featured is in the style of Pikachu, although there are options to have other characters like Bulbasaur and Charmander. This nightlight can keep a room illuminated in the style of the kids favorite pokemon. There are several color options available which are controlled by a remote and it's extremely easy to use.
In the package, you will get three acrylic boards with different patterns, a base, USB cable, remote control which allows you to select 4 different light modes and 16 individual colors as well as a user guide.
3d Etched style night light with dimensional illusion effect
3 different patten acrylic plates – Pikachu, Bulbasaur and Charmander
Multiple color choices which is remote controlled
Can power via USB or use batteries
High quality LED lights

Hopefully this one is a little bit more self explanatory, because you must have heard of the popular board game Monopoly right? In this board game you can travel through eight different gyms (houses) and battle all kidns of different Pokemon, as well as trade with other Pokemon trainers.
The traditional Monopoly pieces are replaced with 6 main well-known Pokemon including Squirtle, Bulbasaur, and Pikachu to name but a few. Poke Marts and Centers replace the traditional houses and hotels and the board is custom-designed to contain everything you would normally see in a Pokemon game.
6 Metal Pokemon figures
Poke Marts & Centres replace houses and hotels
Eight different Pokemon gyms featured on the board
The perfect board game for Pokemon fans
Kanto Edition – which is a region within the Pokemon world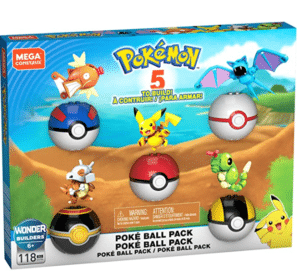 This pack contains 5 different Pokeballs which contain lovable Pokemon characters and allow you to like your Ash Ketchum himself! Trust us, it'll end with hours of fun of kids throwing the Pokeballs around the hosue releasing the little figures.
Each of the Pokeballs are different and are of different expensive in-game, the Luxury ball, Premier ball, standard Poke Ball, and the Ultra Ball. The characters they contain including the icon Pikachu, Zubat, Cubone, Caterpie, and Magikarp.
5 Different Pokeballs
Pikachu, Magikarp, Cubone, Zubat and Caterpie figures
Act like a real Pokemon trainer!
Recommended age 6-10 years old
Opens by clicking the button on the Poke ball

This is a bundle pack of 50 assorted Pokemon cards which are all of the rare variety. It's the perfect bundle if your boy is already collecting the cards and wants to expand their TCG card pack. In the box a Pokemon coin is also included, as well as a Groundhog deck storage box.
This adds a certain shiny flair to your Poke card collection with incredible rare and powerful different Pokemon monsters. These cards are perfect for the little Pokemon trainer to collect, trade, train, and battle their friends! The perfect gift for anyone Pokemon obsessed and 100% authentic.
50 Rare TCG Pokemon cards
1 Pokemon coin included
All rare bundle guaranteed
Perfect for collecting, trading, battling and more
An official authorised seller of Pokemon trading cards

This is a gift that they'll never quite want to get out of, they might even want to sleep in it! A Pokemon hooded sweatshirt that features a variety of different Pokemon memoribilia as well as a few other cartoon characters (It's not exclusively Pokemon, sorry!).
It's available in a few different sizes including Small-Medium, Large-XL, XX-Large and XX-Large to 3X Large. I might even get one myself! The product is high quality and comfortable with 92% polyester and 8% spandex, suitable for daily wear.
Variety of sizes
Pokemon featured as well as several other iconic cartoon characters
Suitable for daily wear for women, men, boys and girls
Made of high quality materials and completely safe
Fashionable!