Is it coming up to a birthday, or perhaps Christmas? If your child is obsessed with the popular game that has been taking the world by storm, Fortnite? Then this is the perfect post for you. We've done our research and picked out the best Fortnite gift ideas for boys & girls alike, we've found gifts in our list that are suitable for all ages (even those big kids, yes adults do like Fortnite too!).
In the below post we dig into what exactly Fortnite is, what type of gifts you can expect, our top choice, a comprehensive list of great gifts and even personalised gifts. You can use the navigation below to find the section that answers your question:
What Is Fortnite?
So if you're not into games, and have just heard your kid repeatedly talk about Fortnite, you might actually be wondering what it is.
Essentially it's a game in which you drop onto an Island and compete with several other players online to be the last player or team. In the game, there are certain characters, and in this last man standing game. There are also other game modes in which you can hang out with friends, create your own world with your own rules and save the world by taking down a horde of monsters.
You might have heard them refer to a few terms as well, which generally are game modes:
Battle Royale: This is the most popular game mode, and a lot of the gifts also revolve around this in particular. This is the last man standing element of the game we talked about, players are dropped off a battle bus across the map and have to use the resources they find on the map to essentially be the last player standing and eliminate all other players.
Party Royale: A game mode within Battle Royale, in which you don't fight, but can focus more on the building fun, making obstacle courses & even enjoying live in-game concerts.
Creative: You're in charge of your own island where you can create your own game and your own rules. This allows the community to get creative!
Save The World: You work together as a team to fight against monsters, called Husks, by building a base and fortifying it to keep them out.
Why is this important for gifts? Your child might only like a particular game mode in Fortnite, and some of the gifts may be more tailored towards that game mode.
What Types of Gifts Can You Get For Fortnite?
Fortnite is an extremely popular game, and with that popularity comes a lot of different types of merchandise. Here's a quick list of some of the gifts for Fortnite you can find:
Loot drop boxes
Figurines (in different skins)
Wallets
Hooded tops & other clothing
Calendars
Stickers
Builder sets
Boardgames
Our Top Fortnite Gift Choice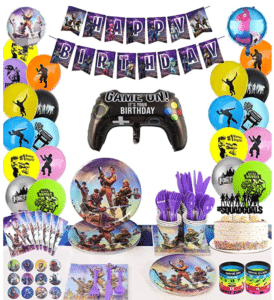 Our ultimate pick has got to be the Fortnite Happy Thousands Gift set. It's everything you need for a Fortnite birthday party for your child, all in the one pack and at a very reasonable price.
It contains everything you need for your Fortnite obsessed child to have the best birthday party. The video game themed decorations will ensure that they enjoy their party and includes everything you need.
In the pack, you get:
12x Ballons in 4 different Fortnite styles
4x Foil balloons in 3 different styles
10x Gift bags for guests
20x Napkins
10x Thick paper plates
10x Paper plates
10x 9ox Cups
10x Forks, Knives & Spoons
10x Bracelets & Button Pins
1x Cake Topper
1x Table Cloth
1x Birthday Banner
& of course, everything is completely Fortnite themed!
List of Fortnite Gifts
Now to dig into our top choices for Fortnite Gifts. We've done the digging for you, picking out some of the best value for money gifts available on the market that your kids will surely love!
So without further ado:
This is a Boogie Bomb, which is a rare item found in Fortnite's game mode, Battle Royale. In the game, you throw it like any normal grenade, but within the radius of the blast, it forces everyone to dance for 5 seconds, neat right?
Now you can be the master of that dance by buying one for your child and buy them that in-game rare item! This Boogie Bomb very similarly to in-game it plays funky music and lights up in a variety of different colors. It's also got a realistic pull trigger and on and off switch.
Don't worry though, this Fortnite prop is simply made of plastic and comes with 2 AAA batteries. The dimensions are around 4.5in in height and 3.75in width with a 3in depth.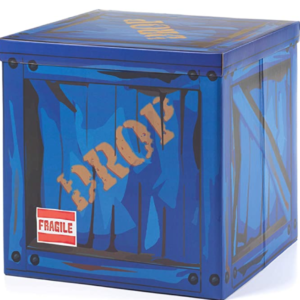 This is the perfect gift for your little gamer & you can even use it to make their room that bit tidier! In essence, it's just a box, but it's decorated as a Loot Box which is an in-game box that provides you with accessories that you can use.
It looks realistic and is the perfect edition for a man cave or bedroom as a bit of gaming memorabilia. In the box, you can store all their gaming items, or even other Fortnite gifts, if you buy more than one!
Think about it, it's a dual-purpose gift, no more begging your child to clean up after themselves, instead, this will make it fun! They can stick all their gaming gear in the box, and they'll be excited to take it all out again, similar to what you would do in-game.
As you can see by the title, this box can store a fair amount, being 14x14x14 inches. It's also quite light, so you can move it from room to room easily, or even take it with you wherever you want to go.
Gaming Stickers Pack(100pcs),Popular Skins Sticker Set for Kids,Gamer Adults Teens Boys and Girls (Waterproof Stickers)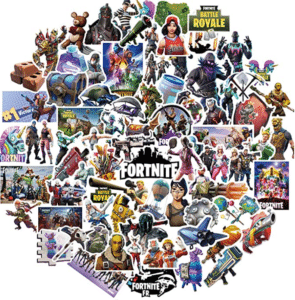 What kids don't love stickers? This cheap set of 100 gaming stickers features a variety of different Fortnite characters and as the details specify, there are no duplicates. They're also high quality, made with PVC making them sun-resistant and waterproof.
The stickers are between 2-4.7 inches in size, so will be suitable for a variety of things including covering their XBOX, Playstation, or PC with their favorite game. Obviously, it's not the most exciting of things, but believe me, as a child all I would ever do is cover my computer in stickers and this is a great variety pack to do so.
For the kids who love a bit of DIY decoration! They're also currently only $7.99.
Fortnite Turbo Builder Set 2 Figure Pack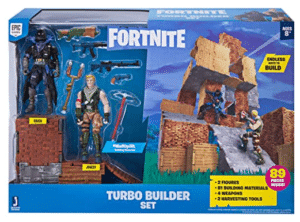 These are two quality action figures of Jonesy & Raven, which are inspired by two of the most popular Fortnite outfits. They are highly detailed and decorated and the pack contains 27x building materials of stone, wood and metal, as well as 4 weapons and 2 different harvestin tools.
The materials within the box can be used to stand and pose the figures or even create structures, like in the game itself. There are endless things you can build-out of the materials, and really play out their favorite game with little action figures.
Fortnite Squad Mode 4 Figure Pack
2 action figures not really appealing enough? Well here's a collection of 4, who are named Ragnarok, Rex, Cuddle Team Leader and Brite Bomber in the game. These 4 inch action figures, like the aforementioned are inspired by outfits in the game.
They are also highly detailed and offer an outfit of weapons to go with them, including dual pistols, assault rifles & more! You also get wood material within the package which can be used to create stands and displays for the figurines. It's also worth noting that these are also official Fortnite licensed products.
In the pack are 4x 4-inch figures, 4 harvesting tools, 4 weapons, and a collectors guide.
Personalized Fortnite Gifts
Do you want to find a gift that is a little more personalized towards them? There are a few options available for that too, find out more by reading the below:
Custom Name Wall Decal – Fortnite Game (40″x22″)

Your kids will love this, you can put their name literally within the background of the Fortnite logo to put on their bedroom wall.
It's 100% handmade, easy to use and you can remove it from the wall itself without leaving any scratches. It's also available in a variety of different sizes which include:
15″ x 8″
20″ x 11″
30″ x 16″
40″ x 22″
When you purchase the item all you have to do is message them asking what name to put in it, and they'll do the rest for you.
Fortnite Battle Pass Holder Party Favors ID Lanyards with ID Holder Birthday Battle Royale Party Supplies for Kids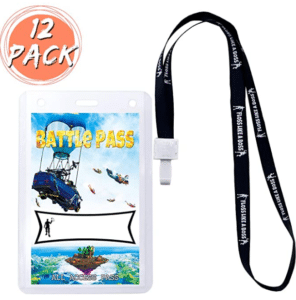 Now this probably isn't one to get them as a gift, it's more for a party if they are inviting their Fortnite crazed friends. This is a pack of 12 landyards which display a battle pass and a bit in which you can write the names of all those invited to the party.
Just in case you are unaware, Battle Pass is to enter the main game mode within Fortnite itself, Battle Royale. It'll add a bit of extra fun to the party, it doesn't cost much, and the children will love it, we promise!