Are you looking for the best way to speed up your internet and have an overall pleasurable experience when surfing the web, watching movies, playing games? Having problems connecting your router directly to all your devices because of the lack of ethernet ports? If you have any of these problems that you want to fix at all costs? Then look no further as we have the solution for you! We have found the solution to your wifi problems with the fantastic eight-port Gigabit Switches. A long search of solutions to not having enough ethernet ports has led us to find that 8 Gigabit Switches are the best solution for your problems; we have also found some of the best 8 Gigabit Switches for you to look through and choose. With a wide variety of 8 Gigabit Switches, we have found below should be able to solve your problems at home or the workplace. 
Sometimes when looking for solutions to your problems becomes a pain that you should not have to go through, you will find out about all types of devices that won't help you and only some that will. Hence, we have found a device that will help you with your problems and give you information on top of that about the device because you can indeed find out if the device is something you're looking for. 
Right below, you will find a list of the things we will be going through; you can go to any of these sections that may interest you.
What is a Gigabit Switch?
The whole idea of a Gigabit Switch is to connect your device to your router through an ethernet cable. The Gigabit Switch connects directly to your router and gives multiple Local Area Network ports for you to use. Local Area Network or LAN for short can have ethernet cables put directly into them; doing this will now allow you to connect your device through an ethernet cable to your Gigabit Switch that will connect you directly to your router. This is now making your internet faster as wired is faster in most cases compared to wireless wifi. Using a Gigabit Switch, you can connect multiple devices; these devices can be anything with an ethernet port attached to them for a cable to go into both devices. Meaning you can now connect devices like computers, gaming systems, servers, and more directly to your router. 
If you wanted to connect 4k HDTVs to your router using an ethernet cable and a Gigabit Switch, you could hook up most DVRs if needed or wanted. Now you can have a 4k HDTV and a DVR not relying on Wireless wifi.
Different Types of Gigabit Switches 
You may have noticed if you have already looked up a Gigabit Switch that there are multiple types of Gigabit switches out there; this may confuse you, so here I have listed each type of Switch you can find, and you can find what type you might want for yourself.
You can also find various amounts of ports on Gigabit Switches; we will be mainly talking about and showing you 8 Port Gigabit Switches, which means it comes with 8 Ports, not just a regular 4 or the business model of 24. 
Unmanaged Switches 
Unmanaged Switches may sound od and not wanted as everyone likes to know what's going on when they use their devices. Unmanaged Switches are regularly used in homes because of the no user configuration. User Configuration means the user rather than pre-set settings apply the settings; this will mean sometimes specific settings won't be applied unless the user applies them. A non-User Configuration won't have to apply any settings themselves and can plugin and use once they have gotten their hands on it. 
PoE Switches 
When looking for a Gigabit Switch for your home, the PoE will most likely not be useful for you; however, if you want one for the business, you should look into it more. The PoE Switch is a Switch all based on the network that applies power using the Ethernet. The PoE Switch can connect with multiple devices connected to the network; the PoE Switches the main job is to support the devices with power and data transmissions through the ethernet cable all at once; this will make everything significantly more efficient, especially with the cabling process. 
Managed Switches 
Now we are onto managed Switches; you can probably already guess but managed Switches are the opposite of unmanaged Switches. The apparent advantage the managed Switch has over the unmanaged Switch is that you can take control of the settings yourself and figure out what you want and what you don't need; this will, of course, take longer to do compared to the unmanaged Switches however it may be beneficial once completed depending on what you're using it for. You can monitor and adjust the Managed Switch at any time, making it easier to deal with faults and making human errors occur more often because of people messing around with the settings. 
Stackable Switches
Another network Switch, the Stackable Switch, is a network Switch that can be fully functional all by itself. Because the Stackable Switch can function all alone, it can also be set up to function with other network switches and operate smoothly together. Similar to the managed Switch, the owner can configure it. Unlike all the other Switches, the Stackable Switch has a unique feature that makes it able to detect a cable or port failure and reroute it using the Stack in the Switch; this is very useful when you don't know what you're doing with cables and routers, this means it will fix the problem for you. 
What is an 8 Port Gigabit Switch?
We have already touched on this topic just before but for those who didn't read before, here is what an 8 Port Gigabit Switch is. An 8 Port Gigabit Switch does precisely the same job as a regular Gigabit Switch; however, it has 8 Local Area Network (LAN for short) ports. Since the 8 Port Gigabit Switch does the same job as a standard Gigabit Switch, this means it connects your devices the same way to the Switch; using an ethernet cable; you can connect your 8 devices that have ethernet ports to the Gigabit Switch all at the same time, this will make you go from wireless to wired wifi, this typically gives you faster internet speeds because you are now directly connected to your router. 
Will a Gigabit Switch Speed Up Your Network 
The short answer is yes, a Gigabit Switch will speed up your internet because it produces a higher bandwidth and directly connects you to your router; this means your wifi won't have to travel through walls or fight for bandwidth, which means you will be a lot faster since you are directly connected, if multiple people are using wireless you could be fighting for bandwidth causing some people to get knocked off the wifi or just bad wifi in general.
Since wireless has to travel through the air, the connection can become strained at times. Sometimes, some objects can also interfere with wifi; objects containing Metal often interfere the most with wifi. Using a cable means nobody else is fighting for the bandwidth you're on; this means you should be able to get onto the wifi a lot easier. 
Now that you have 8 Devices all connected to your 8 Port Gigabit Switch, this means none of them are fighting each other for bandwidth, making your network faster and more reliable.
Does a Gigabit Switch Make a Difference?
Yes, it will make a difference. Most routers, in general, will come with 4 Local Area Network Ports to be used; however, this isn't typically enough for most homes and businesses, mainly houses with big families or more prominent companies with a lot of devices. An 8 Port Gigabit Switch or even more like a 24 PortGigabit Switch will make a difference for businesses and homeowners. 
8 Port Gigabit Switch allows you to connect 8 devices directly to the router; this means faster wifi for all 8 devices; the question asked was, "Does a Gigabit Switch make a difference, and our answer is yes, your network will become so much faster when connecting multiple devices directly to the router instead of using wireless wifi. 
Will a Gigabit Switch Slow Your Internet Down? 
If you bought an up to date 8 Port Gigabit Switch and used the way it was made to be used, then no way should it slow your internet speeds down; we have gone through this before but connected your devices with an ethernet cable directly to your router will speed up your internet so much. 
Your network will speed up so much more using an 8 Port Gigabit Switch in comparison to wifi due to being directly connected to the router; the only chance that the 8 Port Gigabit Switch won't be as helpful as you thought it would be and might slow you down is if it is out of date. When we say out of date, we basically mean that the hardware isn't up to scratch anymore; it may have been promising a few years back, but now it's not going to give you the speeds you desire. 
The old 8 Port Gigabit Switch could have problems slowing down internet speeds or causing other problems like connection issues due to its Local Area Network ports being busted or just overused. Make sure you are buying an 8 Port Gigabit Switch that is not used or used one that hasn't been used much; it's also beneficial to look at 8 Port Gigabit Switch is relatively recently made. 
Brands to look out for 
When searching for any new Device, you will obviously want the brands to be trustworthy; you don't want to buy a device that will look good and turn up and have problems with it because you never looked up the brand's reputation or reviews for the product. This can be detrimental to the buyer as it could cost you a lot of money and time. When searching for devices, it is essential to look at the brands beforehand; we have decided to show you some Brands that are well respected when making 8 Port Gigabit Switch; this hopefully will speed up your searching for the suitable device for you, so you don't have to look up the right brands yourself. 
NetGear 
NetGear is a company based in the USA, San Jose, California, founded by a man named Patrick LO in 1996. They are based in the USA; however, they are multinational and have 25 offices worldwide. NetGear is a well-known company in the technology industry and is most well-known for its Ethernet and broadband products.
NetGear is well known for its excellent performing products and reliable features. NetGear is typically seen as an expensive but reliable brand that the customers can trust. NetGear strives to make faster internet speeds for its customers and want to make products that the customer can use to make their lives easier with fewer internet problems. 
D-Link 
Like NetGear, D-Link is a Multinational network equipment manufacturer based in Taipei, Taiwan, founded in March 1986 by a man named Ken Kao. Well known for their network devices, D-Link focuses typically on products like routers, adapters, and plugs. D-Link is a very trustworthy brand with many achievements to prove it; they have gained multiple awards in Taiwan for excellence on their products while also gaining innovation awards. The most significant award is the Breakthrough award they acquired in 2020 with their new home mesh wifi system.
D-Link are well known for their excellent designs and innovation; they are indeed reliable. Products made by D-Link aren't cheap but aren't always expensive as well. Their products often have a very sturdy appearance that will last a long time. 
Tp-Link 
Based in Shenzhen, Guangdong, China, Tp-Link is a globally known manufacturer of computer networking devices that are reliable and trustworthy; their logo is "reliably Smart" for a reason. Founded in 1996 by two brothers Zhao Jianjun and Zhao Jiaxing. 
Tp-Link focuses on products like high-speed cable modems, wireless routers, mobile phones, ADSL, and more. TP-Link has become a trustworthy brand that has gotten multiple rewards in its technology sector. They have gotten the innovation award two times in 2021 for two products and have excellent reviews on most of their products, making them a very reliable brand that you can trust.
Our Best 8 Port Gigabit Switch
We have chosen the NETGEAR 8-Port Gigabit Ethernet Unmanaged Switch as the best option for an 8 port Gigabit Switch because of its excellent reviews and specification. Not only is it from a reliable brand, but it has all the good qualities that come with it.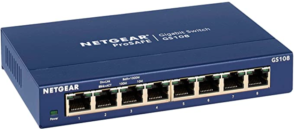 An unmanaged 8 port Gigabit Switch, the NetGear GS108 is a fantastic product for all; with its reliable specifications and five start reviews, the product is outstanding. The NetGear GS108 comes fanless to cut off all annoying noises, power saving, and energy-efficient. The NetGear GS108 was made for the user and not just for sales as its performance shows that with IEEE802.3az Energy-efficient Ethernet mode. Since it's an unmanaged 8 port Gigabit Switch, that means it is an instant plug and plays device that can be used once taken out of the box and set up; the great thing about this product is that it can be hooked up on a desktop or a wall, this gives you multiple options on where to place it. 
Features
8 Ethernet ports

Different mounting options

Silent operation

Lifetime protection warranty

Energy efficient 

Built to last longer
Our Most Affordable 8-Port Gigabit Switch 
Another NetGear product has taken the place of our most affordable 8 port Gigabit Switch. The NetGear GS308 is a remarkable piece of equipment made by a fantastic brand that can be trusted. A price that will make you go wow, the NetGear GS308 is a cheap alternative if you don't want to spend big, but you want something that will do the job; this product is perfect with 5-star reviews. Why not give it a shot. 


8 port Gigabit Switch, the NetGear GS308 is a perfect budget option for you, with a quick plug-and-play feature to meaning it's unmanaged, making life easier for those who won't know how to configure one to their own needs. Equipped with various mounting operations allows you to place your device out of the way or in a place you might not be able to place other similar objects making it unique and useful for the user. 
Silent operations make it, so it won't disturb you when working, and if it goes bust, don't you worry, as it comes with a 3-year hardware warranty. Energy-efficient means you won't have to worry about how much electricity is spent on powering this device. Built to last, making it sturdy and reliable, this also means you will most likely not have to take it back and use that 3-year Warranty.
Features
8 Ethernet ports

Plug and play

Versatile mounting options

Silent operation

3-year Warranty 

Energy efficient

Built to last 
Our Other Options For 8-Port Gigabit Switches 
Reliable and trustworthy brands and respectable make our other options a good choice for you. They are also excellent alternatives to our best options; just because they are in the other optional Switches you can buy section does not mean they are wrong in any way, you might find that some of them are better for you than the ones we have listed.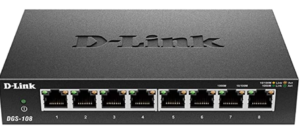 D-Link's reputable and trustworthy brand has made an excellent product named the D-Link Ethernet Switch 8 Port Gigabit (DGS-108). Sturdy and well made, this product won't be breaking anytime soon, and even if it does break, it comes with a lifelong warranty; this means no matter what happens, you will be getting your money worth. Made out of Metal, this product can be bashed and hit; honestly, this product was made to last.  With a wall mount provided, you can get creative when thinking of places to place your device. 
Made for homeowners and small businesses to benefit from the increased wifi bandwidth it will provide. The bandwidth will allow a faster connection to the internet than wireless wifi and be very helpful in a home full of kids who want to play games or stream movies and tv shows. 
Features
8 Ethernet ports

Made out of Metal

Wall mount

Supports IEEE802.1p

Built to last

Limited lifetime warranty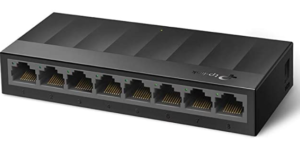 The first and only Tp-Link on the list. Tp-Link is a very trustworthy brand; just because they are only on the list once doesn't mean they are a terrible company or create bad products. Tp-Link has created a fabulous 8 port Gigabit Switch with the Tp-Link Litewave 8 Port Gigabit Ethernet Switch (LS1008G). Its unmanaged features make it an excellent plug-and-play device that can be taken out of the box and straight away used without any configuration.
Reliable and quiet make working feel easier without a fan noise annoying you every five minutes. A tremendous energy-saving device that doesn't suck up all your electricity and makes your electricity bill skyrocket out of control. Built to last makes it feel like you won't have any problems if dropped or bashed. 
Features
8 Ethernet ports

Plug and play

Greatly expands network capacity

Reliable and quiet

Saves energy

Built to last
The last one on our list is from a less known brand that is still reliable and is mostly known for their sturdy products, and that is perfectly shown here with their fantastic product, the Tenda TEG1008D. With a metal casing, this product can be bashed and dropped. Nothing will happen to it; however, if something does happen to it, don't worry as you have a lifetime of free tech support that comes with it, don't worry about lightning either or power spikes as the product will detect this and prevent them from spiking. 
Unmanaged allows you to have instant plug and play, allowing you to get straight on with whatever you were initially doing. Equipped with mounting options allows you to have free rein on wherever you want to place it. 
Features
8 Ethernet ports

Plug and play

Multiple mounting options

Metal frame

Lightning security features

Lifetime free tech support