Did you know that you can play your Playstation 4 or 5 with a keyboard and mouse set up? Mimicking the PC master race! Joking, of course. I assume as you're here your probably looking into what keyboard and mouse combos might be best for your gaming experience, and not to worry we've done all the research for you and identified the best options we could find.
In this article we touch on why you might want to use a keyboard and mouse, what games support it, what a keyboard in particular needs to be compatible with your Playstation amongst several other things. You can quickly navigate to the section you're most interested in by using the table of content below:
Why use a gaming keyboard & mouse for your PS4 or PS5?
Most Playstation users opt for the Dualshock controller that comes with the console itself, and that is fine, but there are advantages to using a gaming mouse and keyboard instead of the standard controller.
We were joking previously when we talked about the PC master race, but one of the reasons that PC gamers are seen as advanced in regards to console gamers is that they have more control over their players and the sole reason for this is the keyboard and mouse. Having a keyboard and in particular, a mouse adds greater precision and control particularly when playing first-person shooters like Call of Duty, for example, you're able to turn and move quicker than a standard controller.
Although a keyboard and mouse might not be the best choice for all games, there are a few gamers in particular where the harder core gamers will opt to switch out their controller for a mouse and keyboard.
What games support a keyboard & mouse?
Well the list is actually pretty long, a lot of Playstation 4 and 5 games will allow you to use a mouse and keyboard so you'll have to check the individual game itself. That being said, as mentioned previous there are a few games in particular that gamers favor the mouse and keyboard set up, here are just a few of them:
Assasins Creed
Call of Duty
Final Fantasy
Overwatch
They are Billions
DayZ
One particular game that we regularly see people ask about the support of mouse and keyboard with is PUBG, and unfortunately it's not compatible.
What makes a keyboard & mouse compatible with your Playstation?
This is a commonly asked question because you can search for specific keyboard and mouse combinations for Playstation. There are no actual requirements for your keyboard and mouse to be compatible, as long as your keyboard and mouse has a USB dongle it should work perfectly fine with your console.
How to connect your wireless keyboard & mouse to your Playstation
Actually connecting your keyboard and mouse to your Playstation is a pretty straight forward process. When your devices are wireless just follow these steps:
Put the supplied wireless dongle in the PS4 or 5 USB port
Wait roughly 30 seconds whilst the console tries to recognize the device
Simply turn the keyboard and mouse on and it should pair immediately
What to look for in a gaming keyboard & mouse?
So now you know everything about the games you can use it for & why you might want to go for a mouse and keyboard for your console set up, hopefully, you're convinced that it's the right option. Now that is out the way, what exactly should you look for in a gaming keyboard & mouse? We break down the main elements to consider for you below.
Keyboard
Here are the main elements to look at in a gaming keyboard:
Key Size
This is your personal preference. Some keyboards can have small keys, and if you have large fingers this is obviously a bit of a pain point! The same is true of if the keys are too large, it can be rather annoying, so ideally you want to choose the keyboard best suited to, well, your hands.
Mechanical vs. Membrane
There are two types of keyboards, membrane and mechanical. Mechanical keyboards are noise and clunkier, but they feel like much higher quality when pressed, making a mechanic chink sound. Membrane keyboards are more typical and tend to be the cheaper and cheaper feeling of the two, these are the standard keyboards you should be familiar with.
Customization & Macro Buttons
Some keyboards offer great customization like volume buttons & the ability to map extra buttons to certain commands. This isn't massively necessary as you can't do a huge amount with them on Playstation, but you can sometimes map a few commands depending on the game.
Mouse
Now to look at the main features you should consider when looking into the mouse aspect:
DPI
This is Dots Per Inch, and essentially the higher the number the more sensitive the mouse is. The more sensitive your mouse means it's harder to control, but when you've mastered it, you have more control. It depends on the game, but for a first-person shooter, you might want to go for a mouse with a higher DPI.
Weight
This is another factor that completely depends on your personal preference, but make sure you look into the weight of the mouse you buy. I personally like a heavy mouse, and the one I have has a weights cartridge insert, but that isn't typical of all mouses, and some have a preference for a really lightweight mouse.
Style
Another thing to consider is the actual style of the mouse, and we don't just mean whether it looks good. We're more concerned about the fit in your hand here, you want to choose a mouse that is going to feel comfortable with your grip.
Anything else?
As you'll see our post is themed around Wireless devices, and the reason for this is just the general way that a console is usually set up. You might have your console beneath your TV or in a different unit itself, so most of the time it isn't particularly beneficial to have a wired solution – we always feel a Bluetooth / Wireless option is better for consoles.
Best keyboard & mouse combos for PS4 & PS5
The section that you've been waiting for! What our top choices for the best keyboard and mouse (Bluetooth / Wireless) combinations for your Playstation console are. We've done a lot of research into this topic, and looked at hundreds of products with a particular focus on their reviews and features.
Below you will find our top 5 choices with a breakdown of the product description, features, and ultimately why we have chosen it.
Product Description

You must have heard of the popular brand Logitech right? They've been at the forefront of computing for quite some time, and this keyboard and mouse combo offers a great solution for your console gaming & at a very affordable price.
This combo will offer you uninterrupted wireless console gaming from up to 10 meters away with no delay or drop-outs. It's also got a long battery life with a claimed figure of up to 36 months of battery life, so it's unlikely to drop out in longer gaming sessions.
The keyboard itself has a good comfortable feel, is spill-resistant, and built to last. There are also several keyboard shortcuts across the top of the keyboard to control the volume and other media options. The optical mouse is simple, and smooth, easily fitting most hand sizes.
This plug-and-play device comes with the USB receiver located in the top flap box, and it's powered by basic AA and AAA batteries which come included. It's a lightweight and easy-to-use solution that comes with a 3-year warranty.
Main Features
Extremely affordable combo by well known brand Logitech
10 meter distance with no drop-outs
Up to 36 months of battery life!
Comfortable, lightweight and extremely portable
3 year warranty
Why We've Chosen It
You might think that this keyboard and mouse combo doesn't look like anything particularly amazing, and you're right in a way, but it's a reliable brand that always produces quality. If you're really keen and into your first-person shooters we would probably recommend a more gaming-focused setup – but this will do the job and at a very cheap price, currently at $24.99.
The long-lasting battery, simple and lightweight design makes this the perfect solution for the everyday Playstation gamer.
Product Description

I know what you're thinking, one look at this device by GameSir and hold on a second, it's missing most the keyboard! There's nothing to worry about though, this combo has everything that you need to game on your Playstation. It supports almost all main stream consoles and is great for first person shooter games.
The keyboard is backlit with RGB with various different color options, which can have different effects, allowing you to build a unique setup. The design of the keyboard is so that it can be used with one hand, it's mechanical and is extremely fast and accurate in response. The keyboard also comes with a small 3d joystick, should you need it to navigate like a standard console controller at any given point.
The gaming mouse isn't bad either! It is perfect for FPS games that need a sensitive mouse as it offers 7 adjustment levels in DPI so you can get it to the sensitivity that you want. The DPI ranges from 400 to 12,000!
Main Features
Small mechanic keyboard can be used by one hand
Different color options for backlighting
Small joystick for extra control, attached to keyboard
Perfect set up for FPS gaming
7x DPI settings on mouse ranging from 400 to 12,000
Why We've Chosen It
This interesting-looking keyboard and mouse combo by GameSir is perfect for gaming, specifically first-person shooters. The keyboard is mechanical which is typically more expensive in design, and the mouse is adaptable in DPI so you can master higher sensitivity for faster movement. It keeps things simple, but meets all your gaming criteria and is the perfect keyboard & mouse for your Playstation.
Product Description

This Havit Mechanical gaming combo offers a cheaper alternative to the afore mentioned GameSir.
This combo has both keyboard and mouse backlighting effects that are preset, allowing for 21x different keyboard lighting modes and 7 for the mouse. The keyboard itself delivers accurate and tactile feedback that you will hear a click, it's extremely responsive and offers 100% anti-ghosting and it features 12 different multimedia combinations.
The mouse itself also offers 6 different options when it comes to DPI, ranging from 800 to 4800, which allows you to have good control over the sensitivity and precision of the mouse and allowing you to easily adapt to different gaming scenarios.
The product is high quality too, it is cased at the top in aluminum to prolong its life, and importantly it's comfortable as you can clearly see in the picture.
Main Features
Affordable gaming combo
Backlit keyboard and mouse with several lighting options
6x DPI options for the mouse, ranging from 800 to 4800
High quality product designed to last
Comfortable and easy to use – mouse fits comfortably in most hands
Why We've Chosen It
We know that this likely won't be the best gaming combo money can buy in terms of keyboard and mouse, but it's an affordable, good-looking, and reliable option.
Please be aware, that this is a WIRED solution, we thought to include it if you'd prefer that option & at a more affordable price than if it was wireless.
Product Description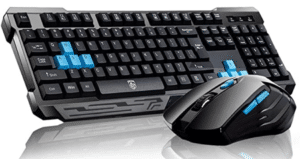 Here's a bit of a curve ball unbranded options with this keyboard and mouse wireless combo. It's at a similar price point to the above, but not as high quality due to it being wireless.
The wireless QWERTY keyboard has a small USB receiver and it offers a standard, non-mechanical solution. There are highlighted blue keys for the WASD buttons, which will likely be what you mostly use for gaming, and you'll get roughly 12 months of power out of one battery, obviously depending on how much you use it. Just in case, this keyboard is also waterproof and splashproof.
The keyboard and mouse are high quality and offer a comfortable solution for gamers with anti-skid stability and durability. The unique design in the S-shape is supposedly effective at reducing gamer fatigue.
The mouse itself has a standard 6 key design with a roller wheel. It can operate at 4K FPS and has 1,000 or 1,600 DPI options. The six buttons are your standard buttons with two additional side options and a DPI switcher.
The keyboard and mouse share a single USB so you don't need to worry about multiple USB ports being used. You can move to a wireless range of around 10m.
Main Features
High quality design for gamers with extra comfort and anti skid
Long battery life of 12 months on the keyboard
Blue colored gaming keys
Mouse has 6 buttons
1,000 & 1,600 DPI options
Why We've Chosen It
This is a budget wireless option and you get just about everything you need for the starter gamer. The keyboard is quality and has the blue keys on the ones you'll primarily use, which is a cool design for immediately finding where to put your fingers should you move them a lot during gaming. The mouse also has two DPI options, which at this price point is really good.
Product Description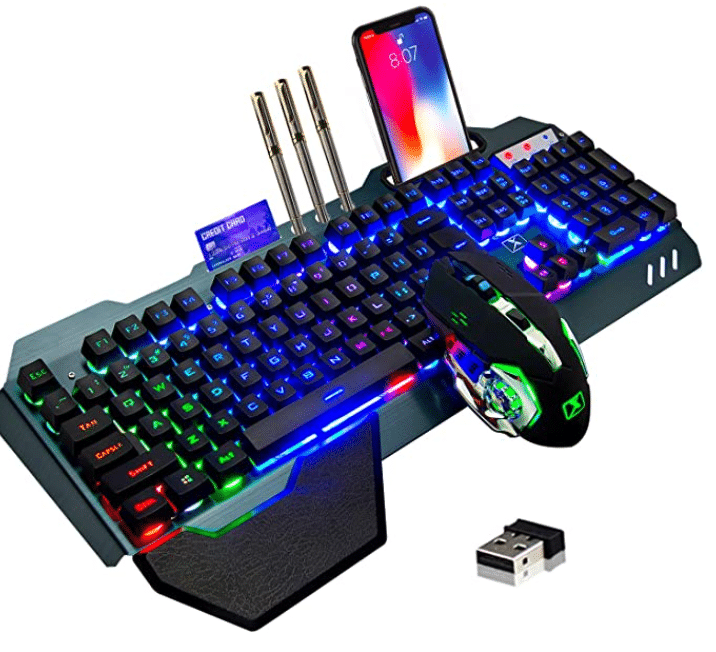 Well this keyboard and mouse combo looks pretty cool doesn't it! It's by the brand LexonElec and is available in a multitude of different colours.
The keyboard is made of high-quality aluminum materials for the brushed panel which is both durable and sturdy, as well as waterproof. The keyboard itself has a 3,000mAh battery allowing you to charge it so you don't need to switch batteries all the time. The keyboard has a mechanical feel and offers a rainbow backlit effect and you can change that effect with FN + DEL.
The mouse is also rechargeable with an 800mAh battery. It has 7x different color options and comes with 6 buttons. The DPI is adjustable as well from 800 to 2400 with 4 different options.
Comfort shouldn't be an issue either as you can see by the design it should be relatively comfortable to use for long gaming sessions, and you can even have your phone mounted on it!
Main Features
Rechargable mouse and keyboard
Sturdy high quality design
Slightly more than our budget options, but still considered affordable
6x button options on mouse
4 different DPI options from 800 to 2400
Why We've Chosen It
Because it's cool! No seriously though, it offers a mid-way point between some of the more expensive options in our list and the cheaper ones, and it's pretty cool it's rechargeable. It'll be more than adequate for your gaming needs with several DPI options available as well.