One of my biggest bugbears when it comes to smartwatches is that you're often required to have your phone connected to them at all times. It annoys me, especially when I'm wanting to do some exercise and don't want a cell phone in my pocket – or you might not simply want to take your smartphone with you for whatever reasons.
It's okay, we understand, which is why we've gone through research and finding out what the best standalone smartwatches with SIM cards & wifi are, so you don't have to have your cell phone on you at all times.
In this post, we go through some of our top choices, and a little bit around some of the features you can come to expect, keep reading to find out more:
Our top standalone smartwatches
We've done the research, looked through hundreds of smartwatches, just to save you the leg work. After our research, we've managed to pick out some of the most popular options based on reviews, price, description and overall product quality.
We've detailed our best 5 options for you below, you can click on any of them to read a more in-depth product description, or alternatively, keep reading for a buying guide.
Are these smartwatches truly standalone?
In truth, it's a mix, some of the watches in this list are truly standalone and can work completely independently from a smartwatch, without ever having to connect with one and having its own SIM slot. The watches that are completely standalone will say in their description and be visible in the pictures that they have a SIM tray.
However, with technology advancements, there are a lot of latest smartwatches which can work with your cell phone, even when they are completely out of range. They support cellular connectivity, so you can receive calls and text even when you're miles away from your phone.
Do I need a smartwatch with a SIM card?
These devices are actually not that well known, not smartwatches of course, but ones which function without having to have your phone nearby. It is in recent years or even months becoming more and more popular though, with a lot of the latest smartwatches that have been released putting more emphasis on this as a feature.
The reason it's not a widely adopted technology, at least as yet, is that the batteries in smartwatches are still rather small, and adding in 4G capability drains this quite quick. As the batteries improve, so will this feature.
Do you need one? Well, it will likely never replace your cell phone, because they don't have all the features, capability and aren't as easy to use as one, for phoning and texting anyhow. That being said it can be a really useful feature, cell phones, with their large size, can be a bit of a pain to drag around, such as for instance if you're going for a run or just want to get off the grid, but still want to be contactable or at least have some way of reaching people in an emergency.
So if you're not a fan of having your phone for dinner, or when you're on a run, or any other activity for that matter, this could be a good solution for you.
Do they support 4G?
Yes – all of the options we have picked out in our list support 4G LTE, it's 2020, it wouldn't be much use if they didn't! In truth all recent smartwatches that support calling and texting features for the past few years have featured 4G technology.
As far as we are aware, and that we could see with the recent models, there was yet to be anything that featured 5G. It may be exciting to keep an eye out in the future to see future smartwatches with SIM cards if they look to feature 5G soon when it's more widely rolled out.
What features do standalone smartwatches have?
A true standalone smartwatch will have a SIM card slot, SD card and WiFi capabilities. As we've mentioned, however, the tech is getting better in smartwatches and a lot of the main brands have now entered the "standalone" game, which means you get a lot more bang for your money. Some general smartwatch features include:
Capability to call & text without your phone nearby
Fitness related apps, usually to monitor heart rate, activity and sleep
General apps & even games
High quality screens & strong glass (sometimes Gorilla)
GPS capability
A decent battery life, unlike some of the pre-decessors
Overview of our best standalone smartwatches with SIM cards
Below you will find the 5 best standalone smart watches with SIM cards & WiFi that we've been able to find through our in-depth research. Each of these watches is available at different price points but we've tried to offer a wide variety.
Product Description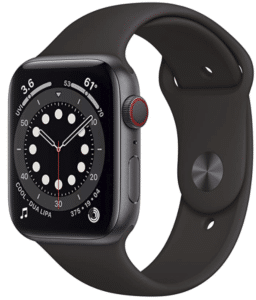 This smartwatch by the popular brand Apple offers the cutting edge of on your wrist fitness technology, combined with the ability to use it as a phone in it's own right. The cutting edge tech allows this watch to monitor your heart rate, blood oxygen and even sleep whilst also keeping track of all your activity and workouts.
The great thing about this watch is it allows you to get calls and texts on the go without even having to have your phone close to you, as well as being able to access Apple Pay. It also supports a family set up and will connect you all literally at the wrist!
You have a variety of colour options for the case and the strap itself, as well as a size option of between 40mm and 44mm and the retina display is also 3x larger than the series 3 edition.
Main Features
It has GPS + Cellular connection which allows you to text, call and get directions without needing your phone near by
It can measure your blood oxygen levels
5GHz Wi-Fi & U1 Ultra Wideband chip technology
Tracks your daily fitness trends
It can keep track and check your heart rhythm with an inbuilt app
Product Description

TicWatch have really broken into the smartwatch market in the last few years with their stylish and creative watch designs, and this product is no exception. It's a fantastic edition for the brand, with it's stylish yet functional finish, stainless steel bezel, corning Gorilla glass, water resistance speaker amongst several other features.
It also has a long-life battery which will get you up to 2 days of life, and even more on its the essential mode, although if you use the cellular part of it considerably you're likely to only get around the 18-hour mark.
To connect to the cellular features without needing your phone then you'll need to be a Verizon phone plan user, which will allow you to essentially use the smartwatch as a phone with instant calls, texts, and more. It offers a 4G/LTE feature via a Verizon app.
There are also several fitness features, as is often the case with these up to date smart watches. It has 6 different sports modes, heart rate monitoring, monitors your actions, tracks your sleep and also has an inbuilt GPS.
Main Features
You can use it without your phone if you are a Verizon phone plan user
Gorilla glass and stylish finish (quality and durability)
2 Days battery life
6 different sports modes for monitoring fitness
Inbuilt GPS
Product Description

Can we just take a second to look at how beautiful this smartwatch is! Right, let's get stuck in, this Fossil watch has a Google Wear OS operating system and is available for both iPhone and Android, however, it's made the list because it has a feature meaning that you can stay connected via calls, texts and apps without being in reach of your phone, you can be miles away and you can still use it as a cell phone!
Its case size is 44mm and it has a 24-hour battery, which can be extended by some of the modes available. As you would expect from a Fossil / Google product, it is a quality design, and has a nice magnetic charger which just snaps to the caseback of the watch and can charge to 80% in under an hour.
As with most smartwatches, it also features some great health and fitness tracking, including watching your heart rate, having a built-in GPS, swimproof design, sleep tracking, restfulness monitoring and more.
You can also personalise the look of the watch face, to make it attractive for any kind of occasion, and it also features hundreds of apps that you can use for music, payment, social, news, games and more!
Main Features
Make calls whilst being far away from your smartphone
Google Wear OS
24hr battery (although this depends on usage)
Hundreds of apps available
Charges to 80% in under an hour with magnetic caseback snap charger
Product Description

Obviously this smartwatch isn't as well known as some as the others in the list, however it's an Amazon Choice product & offer great value for money, far cheaper than the rest in the list, a great entry smartwatch.
It offers a new updated colour screen, with three stylish different clockfaces. It's compatible with both Android & iPhones, including most iOS devices as well. It offers functionality to call, text, get alerts, emails, and can operate via a SIM which you can insert into the watch itself.
It also has Bluetooth if you do want to connect it to your phone, offers a pedometer, sleeps monitoring, music player, anti-loss reminder, multi-lingual options, notifications for social media and on top of all that a long-lasting battery with around 1-3 days usage and a full charge in as little as 45 minutes. It also supports an SD card if you want it to have its own music and be completely stand-alone!
All that for an extremely cheap price point, not bad ey!
Main Features
SIM card slot
1-3 day battery life and charges in 45 minutes
Supports an SD card
Three different clockface options
Amazon Choice product
Product Description

This is a bit of another left field choice, and is far more inexpensive than a lot of those that are in the list. It's by the brand BOASG, and would offer a good entry level smartwatch option.
It has three different stylish watch faces and an adjustable band to go along with its 1.22-inch touch screen. Like the option above, it supports a SIM card itself as well as an SD card (up to 32GB) which means it can make phone calls or receive texts independently, without ever having to be connected to a phone.
It offers a great screen with its 240×240 resolution and brightness suitable for outdoor use. It's compatible with Android phones and has several apps and features, like Bluetooth, phone calls, remote camera control, music play and several fitness-related features, just like it's rivals.
This watch can also take pictures itself, monitor your sleep, update your calendar amongst several more features.
Main Features
SIM card slot
SD card slot up to 32GB
Make phone calls or recieve texts without connecting to your phone
Compatible with Android phones
Several apps, including fitness & even a standalone camera
FAQs
Not answered your question? Sorry about that! We've collated some of the most common questions about standalone smartwatches and answered them for you below:
Are smartwatches built to last?
Yes, they are. Smartwatches when they first came around weren't as reliable as they are now, but the models nowadays are much higher quality, with a lot having stainless steel finishes, quality glass and batteries that will last the test of time.
How are the user interfaces on them?
It varies completely. Each smartwatch will have its own operating system, if we had to pick a favourite, well we couldn't, it would be iOS or Google's systems.
How is the battery life on smartwatches?
A lot better than it once was, at the very least you typically see that the batteries will last a day or more, even with quite a lot of usage. There are some models that will last 3+ days, which was unheard of in the early days of smartwatches.
How much should I spend on a smartwatch?
It really depends on you. If you've never had one, we wouldn't suggest jumping in at the more expensive Apple, Samsung & TicWatch products, instead go for a cheaper model around the $20-40 mark, just to figure out if you actually like wearing it and if you feel like it's for you. The cheaper models usually lack a bit of quality feel and the software isn't as great, but if you're happy with the general concept then you can decide on upgrading to a more expensive one.