Playing Minecraft can be lots of fun; it's also fun to watch Minecraft as it can be so intense and exciting to watch; content creators worldwide have been blowing up because of Minecraft, people like Dream, TommyInnit, and Technoblade. We will focus on Technoblade and tell you why he is so excellent and godlike in the Minecraft world we all love and enjoy. Technoblade has the Minecraft ability that everyone dreams of; to be one step closer, you will need the right equipment to help you play to the best of your ability. It is hard to find the right equipment sometimes; it is hard to know what's good and bad. Why not look at what Headset, Keyboard, and mouse Technoblade uses?
Finding what Technoblade uses has been a struggle; he doesn't exactly tell you what he uses as he is a personal person that likes to keep private things to himself, so after some digging, this is what we found.
What Keyboard does Technoblade use?
Corsair K70 MX is an excellent keyboard that gets the job done; Technoblade uses this Keyboard for its excellent functionality and mechanical feel. The Corsair K70 MX is a mechanical red light-up gaming keyboard suited for those competitive and active gamers.  Equipped with 104 keys and an Aluminum frame to make you feel secure if you drop it. The Aluminum frame gives the Corsair K70 MX a durable feel and looks to it.
CUE support has been added to the Keyboard to give it advanced macro and lighting. This allows a whole new feel to game customization when playing. CUE support also comes with 100% cherry MX Red key switches; this allows fast critical pressing to speed up movements while playing your games; this is helpful for Technoblade and allows him to pull off the intense parkour he has to do while fighting his battles on Minecraft or any other game he plays.
Anti-Ghosting allows you to press multiple keys at once; this is important as it allows Technoblade to make those swift movements without being restrained by his keyboard key pressing.  Anti-ghosting will let you release your full ability while your game to your full extent.
Features 
Red Light up

Mechanical

Aircraft-grade Aluminum body for durability

CUE Support

Anti-Ghosting
What Headset does Technoblade use?
The Headset is an essential piece of equipment for any gamer out there; the Headset gives you the advantage of hearing an enemy before they hear you; this means Technoblade needs the best Headset possible to keep him at the top of the food chain in Minecraft PVP ladder. Technoblade needs to be able to identify the noises of enemy movements to plan out his attack. Technoblade has chosen to use the Sony MDR7506 to give him the edge in his Minecraft worlds and battles.
The Sony MDR7506 is a large-diaphragm Headphone that is wired with a 3.5mm jack. Neodymium magnets have been added to the Sony MDR7506 for essential sound quality to give the user the precise noise they want.  Closed ear design allows no distractions from the outside world, and a 9.8-foot cord allows you to adjust how far you want to move around with it. Foldable for storage allows you to pack it and take it away at any time.
Features
9.8-foot cable

Closed noise cancellation

Neodymium magnets  

Foldable

10 hertz to 20 kilohertz
What Mouse does Technoblade use?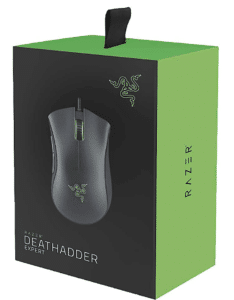 The Mouse that Technoblade uses has to be high quality; the Mouse allows Technoblade to move around his Minecraft world as fast as possible and allows him to do everything in the game efficiently.
The Mouse Technoblade uses is the Razer Death Adder. The Razer Death Adder is an outstanding piece of equipment made by razer. Designed to fit perfectly in the user's hand, it makes for a great and comfortable mouse that you can use for hours at a time without feeling discomfort.10,000 Dpi sensors allow the Mouse to reach speeds of 300 inches per second; since the Mouse is lightweight, this will be easy to use and move around on your desk. 
Features
Lightweight

Comfortable design

10,000 Dpi sensors

Rubber grips

Plastic exterior
What Microphone does Technoblade use?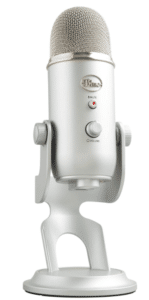 Technoblade uses a pair of headphones to get the best sound quality, and he uses a microphone to get the best audio quality for his streams, videos, and simply talking to friends. This is important for Technoblade commentary over the game as it makes more entertaining gameplay when it is paired with clear audio, so Technoblade uses the Blue Yeti USB MIC.
Blue Yeti USB MIC is an exceptional microphone that gives the most clear-cut audio out there, equipped with three condensers that allow you to record and create clear audio in nearly all situations. Blue Yeti USB MIC comes with a mute button for privacy and zero-latency headphone output. Blue Yeti USB MIC can be used in gaming, music production, podcasts, and more. Compatible with Windows 10 and 8.
Features
Tri Capsule array

Multiple pattern selection

Free control

Multiple uses 

Compatible with Windows 10 and 8 

Two-year warranty 
Who is Technoblade?
Technoblade is a popular Minecraft YouTuber born on the 1st June 1999, making him 21 as of making this. Born and raised in America, he's a YouTuber that also streams on Twitch. Technoblade is known for his outstanding skills on one of the biggest games of all time, Minecraft. He excels in PVP (Player vs. Player) on Minecraft and is known for creating unheard-of strategies to get the edge over his opponents; this quick-thinking behavior has made him gain an enormous YouTube and twitch following, as of this moment, he has 6.38 million YouTube subscribers which is ridiculous.
Technoblade is a very secretive YouTuber/streamer; he has shown his face a few times; however, he keeps his personal life a secret, so finding things out about his equipment is a struggle in itself, but we have found some of his equipment that he uses for you to use. 
What Games does Technoblade play?
Technoblade usually plays Minecraft; he is most well known for playing this game and doesn't adventure out into different areas often; however, he has made a few videos where he plays the famous game Fortnite but doesn't expect Fortnite videos every week from him as he is mainly a Minecraft YouTuber.