Are you in the market to buy a new computer screen for your gaming set up? It can take a fair bit of research to find the perfect one for your requirements, and one that you might have come across is this MSI Optix (G27C2), 27″ inch, curved, Full HD PC screen. The headline figures look impressive, with a 1ms refresh rate and operating at 144Hz with several other features, but when it's out the box and actually being used, does it quite live up to the figures it boasts?
In this article we take an in-depth look into MSI as a brand, their optic range, an overview of what you can expect with the G27C2, a look at the technical specification and ultimately provide our opinion and verdict on whether it's a worthwhile purchase, so keep reading to find out more!
This article is a long one, so you can quickly navigate through the contents to find the answer to the speicfic question you may have, just use the links provided below:
Is MSI a reliable brand?
If you're into gaming, or high spec PCs or gaming laptops then you've probably come across the red dragon logo that belongs to the brand MSI before. They're known as one of the best computing brands out there and are world-leading. Their products are often used and trusted in the eSports community including the screen as well as other accessories.
Most of their products sit in the mid to high end in terms of quality and price. All their products tend to have amazing specifications, and even their cheaper range of products often contain some great features. They might be perceived as expensive, but when you buy MSI you know that you're going to get a good, trustworthy product.
As a team, we've collectively used and owned several of MSI's products, and none of us has anything bad to say about them. A lot of people sight that the cost of repair for MSI products can be quite expensive, which is a lot of the negative points you see on forums when researching. We can't common this, because we've never actually had an issue with any of the products, which includes the screen in which we're currently writing this blog on.
Is the MSI Optix series any good?
Before we dig into whether the series Optix by MSI is good, let's give an overview of what exactly it is, and means. The Optix range is a range of screen specifically aimed at gamers, it's a range that has comfort in mind with easily tilt and height adjustable designs for a better viewing position. These screens are supposed to be specifically enhanced to bring a better gaming experience through great textures, amazing refresh and response rates and LED panels that make them suitable for all types of games including first-person shooters, racers, sports and more.
There are several screens in the range, going from 23.6″ design to 31.5″, the one we are featuring here sits in the middle at 27″.
MSI Optix G27C2 overview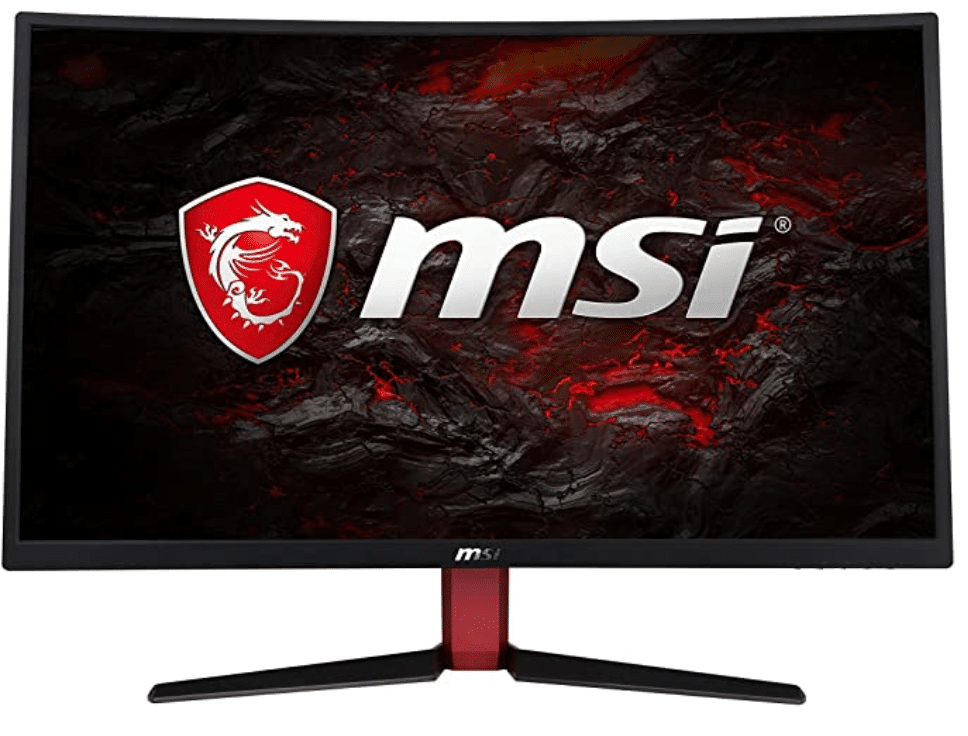 This impressive standing screen by popular computing brand MSI, is a 27 inch, FHD 1080p, LCD curved display which is perfect for your gaming requirements.
The full HD is 1920x1080p with a 16:9 aspect ratio, which delivers a very capable display for gaming – partnered with the MSI gaming OSD which offers assistance in-game and further on-screen customization options. The screen also comes with adaptive free sync technology which allows it to match the refresh rate of your GPU set up, this can help avoid common gaming issues such as stuttering or screen tearing, allowing it to provide a completely lag-free visual experience.
The G27C2 delivers an impressive refresh rate of 144Hz coupled with an impressive response time of 1ms which makes the screen suitable for games which require a fast reflex, which is particularly important in first-person shooters for instance. The curved and widescreen angle allows you to view a total of 178 degrees with anti-glare, meaning you'll easily be able to see your enemies, which you might not be able to see, without moving, on other similar screens.
A further really big benefit to this screen is that it offers a frameless display when you buy multiple of them, this means that you can sit them next to each other and the breaks between the two screens shouldn't look as harsh or thick as other similar screens – which is due mostly to the ultra-narrow bezels it has on the right and left sides. If you want a set up with multiple of these screens, the other benefit, of course, is that they are curved, which works far better from a multi-screen setup point of view as it's far more immersive and again less jarring between each of the screens.
Main Features
144hz Refresh Rate
1ms response time
Anti-flicker & AMD FreeSync
Edge to edge curved design – great for multiple displays
FHD 1920x1080p – 16:9 aspect ratio
What are the technical specifications of the MSI Optix G27C2?
We've touched on a lot of the technical aspects of the G27C2, however, you can find a full technical overview of the screen detailed below:
Brand: MSI
Panel Size: 27″ (69cm)
Panel Resolution: 1920 x 1080
Refresh Rate: 144Hz
Response time: 1ms (MPRT)
Panel Type: VA
Brightness (nits): 300 cd / m2
Viewing Angle: 178°
Aspect Ratio: 16:9
Curvature: 1800R
Contrast Ratio: 3000:1
DCR: 100000000:1
NTSC: sRGB 85% / 110%
Active Display Area: (mm) 597.888(H) x 336.312(V)
Pixel Pitch: (H x V) 0.3114 (H) x 0.3114 (V)
Surface Treatment: Anti-glare
Display Colors: 16.7M
Video ports: 1x DP(1.2) / 1x HDMI(1.4) /1x DVI
Control Menu: Bri (-), Vol(+) Input/Enter, Power
Power Type: Internal Adaptor
Power Input: 100~240V, 50~60Hz
Power consumption: 45W
Signal Frequency: 30 to 160KHz / 60 to 144Hz
Adjustment (Tilt): -5° ~ -15°
Dimension (W x H x D): 619mm x 451mm x 239mm
Weight (NW / GW): 5.8kg / 7.8 kg
Note Display Port: 1920 x 1080 (Up to 144Hz)
HDMI: 1920 x 1080 (Up to 120Hz)
The color gamut follows the CIE 1976 testing standard.
Our review of the MSI Optix G27C2
Now for the all-important bit, and hopefully the reason you're here our verdict! Well, let's get obvious out the way, it's a monitor from 2017, so there are better in the market, that being said, you won't be able to get a top of the line specification monitor released recently for anywhere near this price.
Currently priced at $239.99, we do believe that the MSI Optix G27C2 is a good purchase that is worth the money.
Like we've mentioned in the article, we're big fans of MSI, all the products we've had by them are fantastic and this screen is no exception. When looking for computer parts, or accessories, it's a name that is synonymous with quality, and you know you're going to get a good product.
One of our favourite parts about this screen is the curvature, for the price point, you don't tend to find high quality curved screens like this one. It fits perfectly into our triple monitor set up, with its small bezels making the transitions between windows painless, the gaps are also small enough to be able to game across the three screens.
Again for the price point, the specifications are pretty good too, 144Hz is just about enough for any gaming experience and the 1ms response rate, well you come to except that in anything that can be categorised as a "gaming" screen, so that doesn't stand out too much.
What you need to keep in mind with this screen however is it does have it's negatives, even when it was released it wasn't considered "top of the range". The main thing we've noticed is that the deep blacks aren't particularly fantastic, and can appear cloudy.
Despite that, we still found it good enough to game on and use for our regular day to day computer use, from spreadsheets to Call of Duty or a bit of Photoshop editing, we didn't notice any input lag or screen tearing and the quality was high enough.
It's not just us that thinks it's a good monitor, all you have to do is look on sites like Amazon and read some of the excellent reviews. Currently at the time of researching it has achieved 4.6 stars out of 5 from a total 5,207 reviews.
Pros:
144Hz refresh rate makes it a great monitor for gaming
Curved screen with great viewing angels
The curved screen design with the small bezels makes it perfect for double or triple monitor set ups
Supports Freesync
The price is fantastic considering the specification
Cons:
The blacks aren't the best, and appear a little bit cloudy
It's an older screen now, released in 2017