Gaming headsets are extremely helpful when it comes to gaming, not only to talk to your friends and communicate about the enemy but also to hear things that a regular headset might not. A "gaming" headset is essentially a word used for a higher quality headset, and having a good gaming headset can actually put you ahead of the competition.
But hold on a second, you only have a budget of $100? Gaming headsets can range far higher than this, as you probably already know, or why would you be here? Don't fear, you can still get a high-quality gaming headset that will give you the edge in-game for the lower price point of below $100, you just have to pick the right one.
That's why we're here, we've written a guide on exactly what you should look for in a cheaper gaming headset, and our top picks. You can use the navigation below to find the section you're most interested in learning about:
Are gaming headsets worth it?
Gaming headsets, are they worth it, or is it just a fancy word for a headset to sell it for more money? Do they actually make a difference to your gameplay? The short answer is that yes, gaming headsets are well worth the money and make a huge difference in comparison to your everyday headset, there specifically made and designed to be used for games and important gamers. There are a couple of things that set gaming headsets aside from your standard headsets, here's a bit of a rundown:
Focused Sound:They filter sound to directly to your ears. If you're using speakers, your ears are also contending with background noises, which means it can be hard to determine where your enemies are exactly & make you jittery. A lot of gaming headsets also have noise cancellation, which means that you won't be able to hear outside noise at all and purely focus your attention on the game.
Superior Sound Quality: The sound quality of gaming headsets generally speaking is superior, providing a clearer sound – this is particularly important to hear small movements in some games specifically, like Call of Duty, if you're playing in a small team or one of the last ones in search & destroy!
Built-in Microphone: This might be a fairly obvious one, but gaming headsets are for gaming, and because of that, they always tend to come with microphones so you can work with your teammates or chat to your friends during the games. The Microphones are often a point of focus as well, with a lot of products offering background noise cancellation and great functionality like flip to mute or having an easy access button to adjust your mic volume.
Great Compatibility: This didn't use to be the case back in the day, but most gaming headsets are compatible across multiple platforms, so you can use them for your PC gaming, then switch to your Xbox & later to your PS4 with the same headset, due to it's 3.5mm audio jack, you could even use it in your phone if you wanted! There are a few headsets out there that still only work on particular devices, so this is still something that you need to be careful of.
Surround Sound (7.1): Not all gaming headsets were created equal, so not all of them have this – but if you're looking for the best gaming headset for under $100, you should be looking to choose one with surround sound if you can. It allows you to hear the game not only crisp & clear, but you can actually hear exactly where people are, with the sound coming from a particular direction.
Comfort: Let's face it, we all get too into a game and spend far longer than we should playing it, that's just life as a gamer – marathon gaming sessions can be fairly common occurance. You have that headset on your head for hours, and the developers of the devices know that, so often gaming headsets offer superior comfort to standard models.
Equalization: A lot of gaming headsets offer you the ability to change the sound profile, adjusting the treble, bass and mid, to your personal preference.
Durability & Quality: This ties into the comfort, but gaming headsets are often made to last, or this should be one of the most important features you consider anyway. They go through a lot, consistently taken off your head and if you're anything like me, the odd rage quit. You need to ensure that you pick a model that has superior build quality, and isn't going to snap if you take it off your head too aggressively, look for gaming headsets that are built well.
What to look for in a gaming headset
So, you're convinced that a gaming headset is for you, you don't want to settle for a standard headset for your gaming requirements, good to hear! We've done our research, not to mention over the years tested several gaming headsets, so we know exactly what to look for when it comes to choosing the perfect one.
There are a couple of features that you should care more about in particular, we've listed them for you and explained our reasoning below:
Comfort: We touched on this earlier, but if you're a serious gamer, then you'll know how many hours fly by as you're playing, without you even realising most the time. Imagine though, if you have a headset that is irritating, doesn't sit on your head and hurts your ears. The headset is going to be sat on your head for hours at a time, so you want to ensure it's comfy, which doesn't only include the ear cups but the main connecting band across the top. The best way of determining comfort is to read the reviews, as all the products are going to say their comfy, the only real way of knowing is by seeing what actual gamers experienced.
Weight: This is another thing to consider and it ties into comfort. You don't want a headset that weighs too much, especially if you are a serious gamer that plays for hours at a time. The lighter weight the headset is, the comfier it's going to sit over the hours.
Sound Quality: Another important feature is the sound quality of course, especially if you are playing a game in which the listening element is important. You want to ensure that the headset is noise cancelling & if possible for the price point, offering surround sound.
Durability: This is another factor that not everyone takes into account, you want to make sure that they look like they aren't going to snap. Gaming headsets go through a lot, constantly being taken off and thrown on the ground, and not to mention if you rage quit!
Microphone Quality: This is something you should consider, but most gaming headsets should have a decent quality microphone anyway. The only thing we would say to watch out for on this is reviews, look to see if anyone is mentioning that the microphone is of low quality, because it's really only something people will talk about if it's exceptionally bad.
Alternative uses for your gaming headset
Gaming headsets are a lot more universal than they used to be, they now feature a 3.5mm audio jack, and that means that they are compatible with a whole range of devices. You can buy a gaming headset, specifically for gaming on your PS4 or Xbox, but it will also work on devices like your computer, laptop, phone, Nintendo Switch and anything that has a standard audio jack input.
Why does this matter? Back in the day, you used to have to buy multiple different headsets or headphones for each device, for instance, a separate headset for your Xbox, PS4, computer & phone – so you'd essentially have 4 different pairs of headsets. Why are we telling you this? Because it's worth investing more in a gaming headset because you now only need the one accessory you can spend more on a higher quality option.
How much should you spend on a gaming headset?
That leads us perfectly into the next section, how much should you spend on your gaming headset? You're here because you're looking for a headset under $100, and if that is your budget, there isn't much you can do about that but are headsets under $100 worth it?
At the $100 price point, you're going to be priced out of some of the higher range gaming headsets like Astro's, Logitech & some of the Turtle Beaches. Realistically though, you have a lot of options for high-quality gaming headset in the price range of $50-70, with some great brands available at this price like HyperX, Razer & SteelSeries.
Is there a huge difference between spending $60 on a gaming headset to $120 for example? To be honest, not a lot, from experience what you are paying for with a more expensive headset is the brand, a bit of extra comfort & the style, with a lot of them featuring fancy LEDs and features which aren't necessarily required and in our personal opinion, this is something you can forgo for a half-price option.
Trusted gaming headset brands
When you're looking for a gaming headset there are a few brands that tend to pop up again and again, we've given a bit of an overview and breakdown of each brand and what you can expect below:
Razer: This is a brand synonymous with gaming, they offer gaming mice, keyboards and headsets, you might have heard of them before. They offer a range of high-quality products with several in the affordable range, their headsets typically go from around $60 at the cheapest to $200, depending on the series. Some of the headsets that are currently available are the Kraken, Blackshark Kaira, Thresher and Nari, to name but a few. If you buy any Razer headset then your definitely getting a good quality gaming headset.
RUNMUS: This is a brand that in all honesty, before we started researching, we knew very little about. They offer an affordable range of headsets at a lower price point between $20-30, and you kind of get what you pay for, there a headset that will do the job but doesn't expect the superior sound or build quality of a Razer or Logitech for instance. They're not terrible, but a lot of the reviews mention that you should be careful with the plastic, it's a lot thinner than some of the other brand's models and is susceptible to snapping.
HyperX: I've owned a pair of HyperX headphones for ages, and they're fantastic. They have several headphone choices which range anywhere from $40 to $180 and are a fairly well known and respected brand with several of their products achieving mostly positive reviews. Much like Razer, they have an extensive range of models to choose from including the Stinger, Cloud II, Flight & CloudX.
SteelSeries: If you're a gamer, you've probably heard of this brand, as they have their name on just about everything you can think of PC based, from mouse mats to headsets, they are also commonly found in shops like Best Buy & Walmart. They do offer the odd few budget headphone options, but typically you're looking at a price of $90+ for a higher quality product when you look at their range. They do offer decent headsets, but we don't feature any in our list, as their price point is often high and we feel like it's mostly because of the brand reputation.
Corsair: Another brand that you'll likely know the name of, especially if you are a PC gamer, as they make just about everything for computers. They're a trusted name and generally, all of their products are high quality, and their headsets are no exception. Typically their products range from $80 to $180, with a couple higher than that price point. Although it may be at the top range of the "under $100" budget they're definitely worth it. Some of the models in the range include the HS series, Arctis, VOID, Virtuoso and several more.
NUBWO: A budget lesser-known gaming brand, they offer gaming headsets as low as $18 to $36, although we have never actually owned a pair ourselves, they generally seem to get some good reviews – so if you're looking for a lower price point pair of gaming headsets, these could be a great shout.
Logitech G: A name that has been in the gaming space for years, trusted, quality & often available at a decent price. Their higher quality gaming headsets are towards the top end of your budget, but you can buy their headsets from about $30 to $200. Generally speaking, you know that you're going to get a good quality headset, but personally, some of the lower $30-40 range lacks a bit of comfort & noise cancellation in particular, which the $80-100 range feature.
Beexcellent: This is another budget brand that makes the list, with a similar pricing range to NUBWO – although these have great reviews, we're a little hesitant about them, with such a low price point they look like really slick headphones and they appear to be spending a large amount of the looks with RGB features & extra lighting, so the actual hardware in the device might compromise slightly on quality, especially with such a low price point.
Turtle Beach: If you had a PS3 or an Xbox 360 then you likely know the name Turtle Beach, they were very well known across the console gaming community. Back then, along with ASTROs they were considered the best of the best. Fast forward to 2020/21 and not much has changed, apart from the gaming headset space being much more competitive of course. They offer a wide range of products, which start around $30 but can range as high as $300. The lower budget headsets around the $30 lead a little to be desired and appear to lack in features, but you can get a good quality Turtle Beach headset towards the higher end of the under $100 budget.
This is not a full list of gaming headset brands, it's very competitive and there are lots of brands to choose from, we just listed some of the most popular in terms of sales above.
Our gaming headset for under $100 dollars choice
Now the bit you've been waiting for, after all our research, and personal experience, we've narrowed down some of the top choices for gaming headsets that meet the criteria of being under $100.
So without further ado, here are our top picks:
Product Description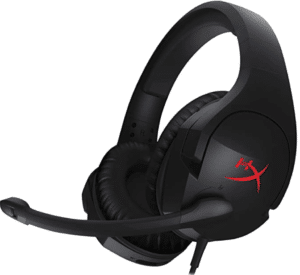 This Cloud Stinger is a headset produced by HyperX, and it's a personal favorite. Not only does it offer an amazing specification for such a low price point, but it's also the US #1 selling PC gaming headset in 2019 – which must count for something right?
There are two versions of the device, the standard one, which is great – or a slightly more pricer option, but still below the $100 mark, that offers surround sound.
This headset is lightweight at only 275g, and it offers a comfortable fit that fits around the head well, with rotating ear cups to fit a variety of different heads. HyperX is known for their memory foam ear cups, which provide comfort for you gamers that spend hours at a time playing your favorite games.
It's also got a great sound quality with great audio precision, due to it's 50mm, directional drivers which provide great clarity and mean you can hear pretty much anything in-game. Although they aren't noise cancelling, from personal experience, they do keep a lot of background noise out, and I tend to only hear volume equivalent to shouting. You can also control the volume of the audio with simple controls on the headset ear cup itself.
It's a sturdy piece of kit too, with a great design that feels like it's meant to last. It's got an adjustable steel slider which allows for extra support and ensure that the headphones don't snap when stressed.
The microphones pretty handy too, you can easily mute and unmute it whilst in-game, all you have to do is lift the microphone up towards the ear cups and it auto mutes, then just move it down again to unmute, great for if you're having a quick conversation with someone next to you.
Features
Wide range of compatibility allowing you to use the device across PC, Xbox One, PS4, Nintendo Switch and other mobile devices, as well as the new PS5 & Xbox Series X
Closed back type headphone style – over ear
The frequency response range is 18-23Hz
Wired cable at 1.3m with a Y extension of 1.7m
HyperX signature memory foam, making them comfortable on your ears for long periods of time
Product Description

The Kraken, by the well-known and trusted gaming brand, Razer. Honestly, this headset is as good as it's name sounds, another number 1 best-seller in gaming peripherals. The headset is high quality, as you can see in the reviews, which are overwhelmingly positive.
As for the sound quality, it features 7.1 surround sound, offering a truly immersive experience and allowing you to hear the position of your enemies. The custom-tuned 50mm drivers are fantastic, and the audio quality on this device won't let you down, especially at the price point.
It's a comfortable bit of kit as well, with a nice design that sits on your head and cooling gel cushions for the ear cups, which Razer state they prevent the device from overheating, so multifunctional! It's also lightweight, which helps for those long gaming sessions and it's built to last with the alumninum, bauxite, "Kraken" frame, or so they say – marketing jargon aside, it's flexible and will last the test of time.
In terms of additional features, it has built-in audio controls which you can use to change the volume and flick the microphone to mute or unmute. The microphone is great on this headset too, its an improvement on their old version and reduces a lot of background noise allowing for clearer communication, there's nothing worse than playing with someone that has a bad mic so your fellow gamers will thank you!
Features
Headset used and suitable for eSports pros!
3.5mm audio jack cable, so suitable for a wide range of devices
High quality retractable microphone
Immersive 7.1 surround sound
Durable with a flexible aluminum & bauxite frame
Product Description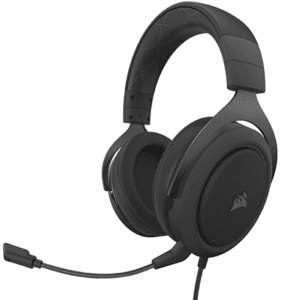 Corsair is another well-known brand in the technology industry, creating several different computer components and having a reputation for quality. Their headphones are of course no exception, as you can clearly see with these HS60 PRO's.
Importantly they are extremely comfortable, as the ear cups are made of memory foam, meaning you can play for hours in complete comfort. As well as the comfort element, there are also durable and extremely lightweight, thanks to the aluminum construction and braided audio cable, meaning it lasts far longer than a standard cable.
What about the sound quality though? Simply put, it's amazing and extremely clear, with it's custom-tuned 50mm, audio drivers. It has a 7.1 surround sound which creates a completely immersive experience that allows you to hear absolutely everything on the battlefield, and importantly, what direction the next threat is coming from!
The microphone, which is fully detachable, offers a high-quality sound with noise-cancelling functionality to provide excellent clarity to your voice. The ear cups also have volume and mute controls so you can easily adjust the volume or mute the sound if required.
The gold plated 3.5mm connection means you can use it across your PC, Playstation 4 & 5, Xbox Series X & S, as well as the Xbox One, Nintendo Switch and other mobile devices.
Features
Crafted for comfort with memory foam cups
Excellent sound quality with 7.1 surround sound
Crystal clear microphone (detachable)
Corsair iCUE software allowing you to customize the audio equalizers settings
Extremely durable and long lasting design
Product Description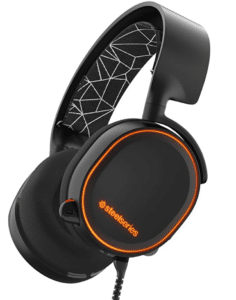 You've heard of SteelSeries right? There a big name in the headphone & gaming accessory world, and usually their products come at quite a premium, however there's a great deal on right now for this particular product the Artic 5.
This headset is fantastic, and it combines amazing audio with some impressive looks, with its RGB illumination. They do however state that they are designed exclusively for PC Gaming, although you can use them on other devices, we would suggest you will get the best experience on your PC.
It isn't just the looks though, this award-winning SteelSeries headset offers an extremely rich and immersive audio experience with the ultra-low distortion v2 DTS surround sound. It's an extremely high-quality audio solution for your gaming and will ensure that you hear everything in-game with crystal clear clarity.
It's a pretty comfortable bit of kit as well, with the top headband including woven ski goggle fabric to ensure comfort for hours of gaming, it's also steel reinforced to ensure it lasts the test of time. The earcups are also decent quality with its athletic-inspired design that they refer to as AirWeave. It's also a lightweight headset, weighing in at just 12.8 ounces.
Finally, what about the microphone? According to SteelSeries, it's widely recognised as one of the best mics in gaming, with its arctic clear cast bi-direction studio quality clarity and background noise cancellation features, so you won't be let down there!
Features
DTS Surround Sound audio
Studio quality microphone
Extremely comfortable "AirWeave" earcups, and a design that is built to be durable
Probably one of the nicest looking designs of headsets, in our opinion, to make the list
Lightweight at just 12.8 ounces
Product Description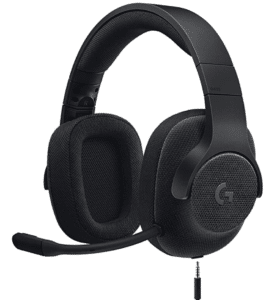 Logitech have been in the computing industry for a long long time, they also own a couple of other brands in the audio space which you might have heard of including Astro, Jaybird and Ultimate Ears – so you know it's a name that you can trust when it comes to choosing which gaming headset to buy.
This product, the Logitech G433 is no exception, it's a fantastic headset which offers all-round high-quality performance.
In terms of sound, it offers great audio performance and clarity with the DTS X 7.1 surround sound which also comes with the Pro-G driver's active dynamic range allowing anti-distortion and booming bass. It offers a fully immersive gaming experience, one you definitely will not be disappointed with. The position sound and great software with the device mean that you can hear everything in-game, including all your enemies footsteps with crystal clear clarity.
Moving on to comfort, they offer a hydrophobic fabric shell and it comes with two sets of earpad choices to suit your preference, a sports mesh option and microfiber option. It's also got a great lightweight design at just 3.68 ounces!
Now the microphone – is that high quality? Well, it's Discord certified for sound quality, so it can't be half bad! The microphone itself is removable and also has a "micro-pop" filter which allows it to filter out background environmental noise and enable your communication to be as clear as possible.
It's compatible across a wide range of devices with it's 3.5mm wired audio jack, so you can play it on your PS4, PS5, PC, Xbox Series X and just about any other standard device, even including your mobile.
Features
DTS Headphones with X 7.1 surround sound & Logitech Pro-G drivers for enhanced audio
Extremely lightweight, just 3.68 ounces
Two sets of earpads including Microfiber & Sports Mesh options
3.5mm audio jack which allows it to be compatible with a range of devices
Discord certified microphone for crystal clear sound
Product Description

If you used to game back in the days of the Xbox 360 and PS3 then you'll probably know the name Turtle Beach, as they where one of the top brands back then. There still in the game, and are still offering fantastic products, such as this Recon 200.
This headset offers powerful audio which is amplified when used on your Xbox or Playstation (it is compatible with PC, but it doesn't offer it's full performance benefits). Another great feature of this headset is it's wireless, and you can recharge the batteries so there's no need to keep buying batteries for it! On a single charge, it can last up to 12 hours – of crystal clear gaming audio.
The microphone is very good as well, it flips up and has a high level of sensitivity, so no need to shout! it's very clear and easy to control, just flip it bak up to mute it. The mic is also easily adjusted with the volumes inside the headset.
The overall design of the headphones not only looks fantastic, there high quality and durable with its lightweight design, synthetic leather memory foam ear cups and a metal reinforced headband so it won't snap when you take it off.
Features
Wireless and rechargeable headset
Compatible across a variety of devices with it's 3.5mm audio jack
Lightweight & durable design – not to mention comfortable memory foam
High quality microphone
Turtle Beach carries an excellent reputation for quality headsets specifically for Playstation & Xbox
Product Description

ASTRO is another brand that is synonomous with console gaming, and it was a competitor of the afore mentioned Turtle Beach. ASTRO is also owned by Logitech, so you know you're going to get your hands on a quality product when you buy these.
This overhead headset was designed to withstand those… how to put this, angry gamers? Rage quitters? It's built to withstand some abuse with a rugged construction and premium build, whilst also being lightweight and more importantly comfortable due to its pressure-free fit. Their know their audience and have specifically targetted this product as marathon gaming sessions, making it extremely comfortable for hours on end.
These headsets are specifically designed and tuned for gamers, and they work extremely hard to ensure that the sound in-game is exactly how the developers intended it to be heard. ASTRO has developed this headset in working with pro gamers to provide the best possible sound, meaning they've prioritised a clear and quality sound.
The microphone is pretty handy too, as you are able to flip to mute and unmute – they also state that it offers a clear sound for perfect communication.
The headset is built to be compatible across most devices with a 3.5mm audio jack, which includes your PC, PS4 & 5, Xbox One, Xbox Series X and more.
Features
Very low price point, currently under $50
High quality mic that you can flip to mute & unmute
Designed with feedback from pro gamers & game developers
Built to withstand gamers, even in defeat, with damage resistant rubberised covers & detachable cables
Compatible across most devices due to the 3.5mm audio jack
Other notable gaming headsets for under $100
The above are our top picks, but there are lots and lots of other headphones to choose from and choosing our top ones was tricky! Therefore, we've decided to throw a few bonus choices in the mix, ones that were close to making the list but didn't quite get there, and we've provided a brief overview of each for you to check out below:
Alternative Option
Here are a few more in the same kind of price range to what we've been looking at (generally $50-90):
HyperX Cloud Alpha S – PC Gaming Headset – If you've read the above, we featured a cheaper HyperX product first in our list, so you'll know just how much we love them – and this one is no exception, it's the bigger, more expensive brother.
Corsair VOID RGB Elite Wireless Premium Gaming Headset – Another Corsair product, it's of a similar quality to the one we've featured however it's wireless and has an RGB design which looks fantastic, but it is at the higher end of the budget.
ASUS TUF H3 Gaming Headset H3 – An Amazon choice product that is under the $40 mark that offers surround sound, with some great reviews, well worth looking at!
Low Budget Option
Are you looking for a really budget option? There are still a few good headsets you could get under the $30 mark that will do the job, here are a few examples:
RUNMUS Gaming Headset – A great option just slightly under $30, it's extremely well-reviewed with majority of users giving it 5 stars. It's comfortable, has a great microphone and an average sound quality, which for the price is fantastic.
PeohZarr Gaming Headset – A brand I'm not particularly familiar with, but it's an Amazon Choice product again with some great reviews and at an even lower price point than the Runmus, the design is pretty cool too!
Unbranded Gaming Headset – Personally, I wouldn't go for this, but it's the cheapest option available that we could find & it seems to have some decent reviews. It's unbranded, but the write up makes it seem just as high quality as the two above.
Premium Option
Now a few curveballs, we know that you've searched to find a budget option, and ideally want to be under $100, but there are a few great headsets that are just ever so slightly over that amount which is definitely worth a shout if you can spend that little bit extra:
Logitech G733 Lightspeed Wireless Gaming Headset with Suspension Headband – We talked about the Logitech G433 earlier, and this is the upgraded version, and the price point isn't too much higher wth the headset just sitting below $120. If you have that bit extra, you should choose this one over the G433!
Massdrop x Sennheiser PC37X Gaming Headset – Sennheiser are a very high quality audio brand, well known for their premium headsets and earphones, so if you can afford the $30 over budget to get these, you should definitely look into it!
ASTRO Gaming A40 TR X-Edition – The old school gamer in me loves the Astro products, they used to be known as one of the best headset brands in the game, and their products are still extremely high quality but just a bit too expensive to make this list.