If you're shopping for a computer which will be user friendly enough for a senior citizen, it can sometimes be a trickier task than you might first have thought. Computers nowadays are always improving internal hardware & even outer cases and accessories, however, these are often aimed to the much larger audience of general business users or gamers with light-up keyboards, Razer mouses or fancy features. All these things aren't necessarily the most important for a computer for an elderly, you just need something they can use easily and access the internet, without breaking the bank.
That's where we come in! We've put hours of research into finding the best computers for senior citizens we possibly could, reading the reviews, looking at the features and importantly the price.
In this article, we go through some basic computer terminology, what to look for, our general best choice, and some other alternative options to meet different budgets. Keep reading to find out more!
Considering a laptop? Well, a desktop computer is usually a more senior-friendly choice, it involves no bending over to plug the charger in and once all set up, is very easy to use.
Computer terminology – the meanings
Before we get started and dig into the buying guide and later our products, you first need to know some of the terminologies to look out for on a computer before you go ahead and buy one.
Processor
This essentially is the heart of your PC, the brain. You will typically see processors by two brands, Intel & AMD (Ryzen). Mostly speaking, Intel sticks to i3, i5, i7, i9, and a general rule of thumb the higher the number, the better, but you also need to determine the generation (release date) when coming it to other intel processors as an older i7 might be worse than a newer i5 for instance. AMD is slightly more confusing, they have names like Ryzen, Athlon and Zen to name a few.
The best thing you can do to determine the quality of the processor is by going to PassMark & finding the exact processor name and comparing it to another.
RAM
There are versions of RAM, but generally speaking when you're buying an already built PC the rule generally is the higher the better. This is the Random Access Memory, and it allows the computer to better multi-task, the more RAM you have the less stress your computer will be under when running applications, and multiple applications.
Hard Drive
This is the space you have to store the files on your computer, the larger it is the more space you will have, but this might not be of huge importance unless you are looking at storing large amounts of files on your computer.
There are a few different hard drives as well, HD, SSHD & SSD, it goes in that order in terms of quality too. Getting an SSD or SSHD will help you boot up the computer and applications quicker, but if you aren't too concerned to have your PC load in just a few seconds, it might not be worth the extra money needed for an SSD.
Other
There are also other things that you should look at when buying a PC, but for a senior they aren't typically as important, for instance, the major one is a graphics card but we assume you don't need a cutting edge one!
How to decide what you need
Now that we've gone through the things that you need to look for when you're looking into buying a computer, you need to know how to determine what exactly you need.
What do you want to use it for?
What you look for might be determined by exactly why you want to use it, here are some of the common uses and our suggestions on what exactly you might need to be looking for:
Online browsing: Just about any modern computer should be able to browse through the internet including reading the news, watching videos & reading a book for example – as long as you pick a PC that isn't 10 years old, you should be fine!
Work station (Emails, Word, Excel): If you are using it for a lot of work & particularly Excel spreadsheet, then you'll want to go for a computer with a slightly better processor than the bottom range & more RAM, we would recommend at least 8GB.
Editing or storing photos and videos: For editing photos you will need a bit more of a powerful PC and should look for a decent processor and graphics card. You also might want to choose a computer with a fair amount of storage if you plan on doing this a lot!
Watching videos or TV: For watching TV or Videos generally you should be able to do this on any modern computer, but if you don't want to compromise on picture quality you might need to pick a mid-range PC.
Gaming: It's never too late to get into a bit of gaming, we respect that! Well, you'll probably need to get a fairly expensive PC if you're going to be running some of the top games, a Ryzen processor, decent graphics card & an SSD – with 8GB+ RAM.
What are you comfortable with?
Have you had any technology in the past, perhaps a tablet or laptop? You should try and stick to the software it was running, for example, if it was on Windows, run with that for your new device. Learning new software can be tricky, time-consuming and frustrating, believe us, we do it a lot!
What are your physical capabilities?
It's a fact of life that things get a little trickier when you get older, your vision might be waning a bit and you might have small hand tremors or issues with your joints, and if you're going to be using the computer a lot you need to ensure that it's comfortable.
What we're saying is, make sure that you buy something that is going to compensate for any impairment, if your visions going, get a large screen, if you're hand tremors, get a larger keyboard and mouse.
What to look for in a computer for an elderly citizen
There are a couple more things that you have to consider as an elderly citizen when it comes to buying a PC, which ties into what we have mentioned. Here are a few of the things you need to think about:
Screen Size
The larger the screen size, the easier it is to see! If vision is something you're concerned about and not being able to see a smaller laptop screen for instance, then you can buy a monitor of pretty much any size, heck you could plug your computer into your TV if you want!
You can also change the settings within your control panel of the computer to make the icons on the screen larger and just generally have everything a bit more zoomed in.
Keyboard & Mouse
We've touched on this as well, you want to choose something you are comfortable with. When it comes to keyboards you can find ones which have larger keys and gel comforters for your wrists. You can also find a larger mouse, which makes it easier to click, or you can even get mice in different shapes which offer more stability.
Operating System
You've got two main choices when it comes to desktop PCs, Mac & Windows. We would never recommend Mac for an elderly citizen, Mac is run on Apple products which generally speaking are far more expensive than you could pick up a PC. Windows is the likely operating system that you'll deal with, but you want to make sure that the PC is running Windows 10, to ensure it remains supported.
RAM, Storage & Processor
We've been through this earlier in the post, but it's another thing to think about and it all boils down to exactly what you are planning on doing on the PC on a daily basis. Generally speaking, the more you spend on the PC the higher specification of the RAM, Storage & Processor, but some will compromise on some parts, so they might have a fast processor in, a decent amount of RAM, but low storage to get that lower price point.
What is the easiest computer to use for senior citizens?
We've gone through all the products we've chosen providing a more in-depth description, what they might be suitable for and their main features below, however, if you just want to cut to the chase, we respect that!
Our top choice and the best in our list is the Acer Aspire C24-963-UA91 AIO Desktop.
Our top computers for elderly citizens
Now it's time to get into the list! After all our research, we've decided to include All in One PC's, and what that means is that it's not just the tower, you also get the screen, keyboard and mouse, for ease, so without further ado, here are our products:
Suitable For?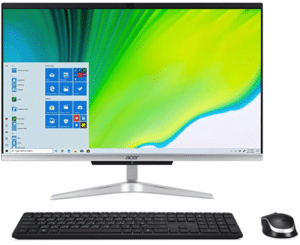 This computer has a lot of storage which is also fast and enough RAM for most tasks. The processor is where it compromises, however it's still powerful enough for most tasks. This computer will be more than suitable for anything other than gaming.
Product Description
This is a perfect All in One solution for an elderly citizen, the brand Acer is a well known and trusted one in the computer industry, and this Aspire C24 is everything you need. It's slim, space-saving, easy to use, and looks fantastic. It has the latest generation i3 processor, at the time of writing this (10th gen), and it provides a full HD display, whilst also including a keyboard and mouse.
It also has a feature to protect your eyes with its blue light shield to reduce flickering, as well as plenty of storage for all your videos, photos and music, should you need it. The detail of the screen is fantastic too with sharp colors and 92% screen viewing due to reduced bezels along with a 178-degree viewing angle.
Features
i3 Processor
23.8″ Full HD Display
8GB DDR4 RAM
512GB M.2 SSD
Windows 10 Home Installed
Suitable For?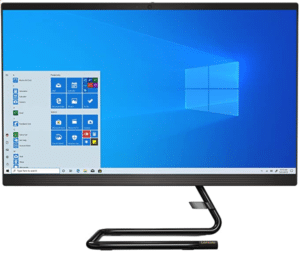 This computer would be suitable for anyone who wants to browse the internet or do a little bit of work, it's likely not capable of editing images to a high standard or gaming as the specifications of the graphics card and processor are on the lower end.
Product Description
This is a computer by another reputable brand, Lenovo. The IdeaCentre AIO 3 is complete with a Ryzen 3 4300U processor, and an integrated Radeon graphics card. It should be powerful enough to multitask.
It offers a great display with wide viewing angles and narrow bezels, so you can see around 90% of the 24″. It's an all in one PC so also includes a mouse and keyboard as well. The memory is 256GB which is a little on the lower side however it is an M.2 SSD which is very quick.
This PC also comes with a pre-installed version of Windows 10 Home.
Features
24″ screen
8GB DDR4 RAM
256GB SSD M.2
Integrated graphics card
Windows 10 Home
Suitable For?

This computer is suitable for normal web browsing. If you want to do anything more advanced like image editing or gaming, this won't be able to cope.
Product Description
This computer has a modern look and feel, as well as an ultra-thin bezel which allows you to get a great view of the screen from multiple perspectives, it's also easy to adjust and tilt.
It's a great computer for the elderly as it's at a low price point and standard specification, meaning that it will be able to do most required tasks like browsing the internet, reading, or emailing.
This computer comes with Windows 10 installed.
Features
21.5″ Screen
AMD A6 Proccessor
1TB HDD
4GB Ram
Windows 10 Installed
Suitable For?

This computer is extremely easy to use, and is great for online browsing and gneeral day to day tasks, it's likely not powerful to edit images or game.
Product Description
This computer offers 21.5″ display and is by the brand iView, which aren't the most well known, however, the specifications and the price point are really good on this computer.
It's a great all in one option with a front-facing camera, quad-core processor and 4GB of RAM. The screen also has a fantastic viewing angle and high resolution which provides an impressive color display.
This computer also provides a stylus pen making it ideal for drawing but also helps the ease of use, it's also completely touch screen so you're not required to have a keyboard or mouse.
This computer also comes with Windows 10 installed.
Features
21.5″ Screen
4GB RAM
Intel Quad Core Processor
Touch Screen PC – No Keyboard or Mouse Required!
Windows 10 Installed
Suitable For?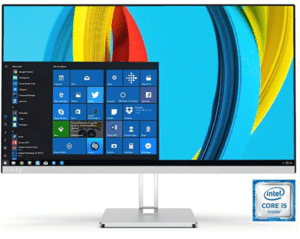 This computer is suitable for most things, it will be more than capable for standard internet browsing, watching videos and even photo editing, with the i5 intel processor it may also be capable of gaming on some lesser demanding games.
Product Description
This slim design computer by Preedip offers a great solution to computing for senior citizens, it's a lesser-known brand, but the specification is very good for the price that you pay.
It's a 23.8″ inch screen all in one computer, which has an Intel I5 6th generation processor which is fairly good. It also has 8GB of RAM and a 256GB hard drive to go with it.
This model also comes with Windows 10 pre-installed and ready for use!
Features
23.8″ Screen
Intel i5 6th Gen Processor
8GB RAM
256GB Hard drive
Windows 10 Pre-Installed
Is there anything else to consider?
All of the above computers that we've talked about and provided an overview of are great because they offer everything all in one, however as we mentioned you might want to get a mouse, keyboard or screen that might help you with day to day use. Here are our top picks of these accessories: