Laptops can be seen as an expensive and useful piece of technology that can be used in everyday life, being a portable Computer, laptops in recent years have become more popular as the days go on however this doesn't mean they are cheap as laptops can range from anything past $100 and can reach into the thousands. So, you have come here to find out what laptops are available for the price of $400 and below, we are here to show you that $400 is enough to get you a very reliable and efficient laptop that will suit your needs and wants. 
All these laptops are well-favored by the customers and have very good reviews, so whichever one you end up picking should do the trick for you. Before you go diving into buying a laptop from our list why don't you have a look at what we have written about below, the things we have written about below should help you find an understanding about what laptop you should be looking for and what to check before buying one. The list below shows what we will be talking about.
How do I choose a good laptop?
A question you should be wondering is how I choose a good laptop that can efficiently do what you need it to do and what you want it to be able to do. When looking at laptops similar to Computers you should be looking at the hardware equipped with it, it's important to also look at the reviews from customers to make your choice as it is an important decision when spending $400, you don't want to waste your money on something that isn't worth it. 
It is important to find the laptop right for you, if it's for gaming, business, or for the home, we will have a laptop on this list for you. You will want to find a laptop with the correct specifications that can get the job done that will come at a great price. It is important to look at specifications like the operating system, processor, RAM, storage, screen size, graphics, and battery life. All these components are worth looking into as they can have the edge over other laptops in competition, it's also important to look into them as you might find a laptop with a good processor but a small screen and a bad operating system. 
Operating System
An operating system in simple terms is a piece of software that allows the user to run applications on their computer device, it manages and helps take care of all the hardware resources on the computer. Its main function comes from its basic support that helps function the likes of scheduling tasks and controlling certain peripherals 
The best-operating systems to look out for are Windows, Mac Os, Chrome Os, Fedora. There are many more operating systems to choose from that are reliable however we think these are the best ones you should be picking from.
Processor 
A processor also well known as the CPU gives instructions out to the rest of the laptop, just like how a brain would control your body. The processor is the brain of a computer and any technology that has one. It processes the power from the Battery to the rest of the computer so the computer can function correctly. The more powerful and updated the processor is the better it will be able to perform the tasks it has.
Like Computers laptops have processors that go up in power and quality by numbers, so for instance the intel series range from i3-i9 i3 being the older processor and i9 the newer version. The rule of thumb would be to always go for the bigger number 
RAM
RAM is also known as Random Access memory but RAM for short. RAM stores data that can be accessed instantly no matter where the memory is stored, so the faster the RAM the faster things from your memory can be pulled up. The bigger the RAM the more things it can pull up out of your storage, do remember RAM only works with power supplied to it, when power is cut from the RAM it won't hold any memory, so RAM is not like a Hard drive or an SSD it has a different job entirely. 
When looking at RAM it is essential to have at least 4 GB worth on a Laptop however I would aim for something like 8GB or 16GB as more memory always helps using a laptop. More demanding tasks will be more taxing on your RAM so if you know you will be doing something big like Gaming, graphic design, or programming on your laptop then I would be recommending looking into 8GB and 16GB. 
Storage 
You have the choice of two different types of storage, the first one is a Hard drive and the other one is SSD. Hard Drive will typically hold more storage than an SSD and is usually cheaper, but slower to run things from storage. So, when gaming, designing, programming I would highly recommend an SSD as it will open your applications up a lot faster as Hard Drives are slow, and you might be stuck there for a while loading. If you're on more of a budget, then a hard drive is also a good choice as you won't be lacking in memory space and it can still do the same as an SSD it is just a lot slower. 
For a laptop, a good storage size would be 32GB, and anything above that if you're intending to do gaming, game design, programming, or any other big application based things I would recommend looking into laptops that have 128GB+ as you will be needing more than a normal person. 
Screen graphics
The best laptops usually have the best graphics, they will have sharper screens with a usual resolution of 1920×1080 pixels as a baseline and can go above that. It is important when looking for laptops to look at the screen size, the screen size is important especially if you have bad eyesight and need glasses or just like bigger screens. Maybe you even want something smaller that you can move around easier, well the screen size will tell you the size of the laptop you will have in your hand. 
A good size to go for would be anything from 12 inches to 18 inches. If you're looking to game on the laptop, I would recommend getting a screen size above 15 inches as the larger the laptop the more room for a GPU and that means more room for GPU cooling. 
Battery life
Battery life is important to everyone as nobody wants their laptop to give up on them after a few hours of not being on charge. Having a long battery life means you can take the laptop on the train, plane, car, or anywhere that doesn't have a plug socket and expect it to last the whole journey or at least the majority. 
A good battery life on a laptop would be anywhere above 7 hours of consistent use without charge, however gaming laptops will normally only stay charged for around 5 hours because the job the laptop is doing when gaming is so taxing on the battery as it uses a lot of its charge to run the graphics.
What to check before you buy a Laptop?
Laptops can be taken anywhere you go, it can be your business best friend, your gaming genie, or anything you want to be able to do on it. Yet you want to do all these amazing things and you have no idea what to look for. Don't you worry or stress we are here to help you. So you already know what specifications to look out for but what about the brand, it's important to check if the brand has a good reputation and reviews before proceeding in buying their product, the product could look and sound fantastic however the brand could be known for their faulty products or bad support if you have any problems with the product. Below we have listed some good brands to look out for that are well known and have a good reputation that leads the market. 
Microsoft
Microsoft is a powerhouse in the technology industry as they own the likes of Windows and Windows OS, they also make the technology like the Xbox and Laptops. Microsoft has been making computers since 1975 and by the late 1980's they became the world's biggest personal computer software development company. Microsoft is well known as the biggest computer company in the world and one of the most trusted, you can't go wrong with Microsoft. 
Lenovo 
Lenovo has a very good and well-deserved reputation in the technology industry and is well known as the king of productivity. Lenovo laptops are well known for their long battery life and fantastic usability. Lenovo has made quality products like the ThinkPad, a smaller laptop that can be carried with ease. Made in Hong Kong in 1988 Lenovo has grown to be one of the pillars of the computer industry and is up there with the likes of Apple and Microsoft. Lenovo is also the largest pc company in China since China also holds 1.42 billion people that is an impressive feat to be the Largest Computer company in it.
Samsung
Samsung a South Korean company that is one of the biggest companies in the world and is well known for the world's largest producer of electronic devices. Samsung specializes in numerous things that range from electronics to appliances Samsung do it all. Samsung Laptops are of high quality and built with the best of specifications that will ensure a well-functioning laptop that can perform to the highest degree. Samsung is one of the few companies that produce their own hardware rather than getting another source to make the majority of the electronics to manufacture it. 
Apple
Everybody knows Apple, and nearly everyone will have an Apple product in their homes. Apple is most well-known for its prominent hardware and its long series of personal computers. Made by Two hackers Steve Jobs and Steve Wozniak the company was founded in 1976 and became one of the leading electronic producers. Becoming the trendsetter for mobile devices Apple quickly became one of the largest companies ever if not the biggest. Apple is well trusted and has a fantastic reputation for good quality products that have their own unique style.
Well known for making the expensive yet lavish MacBook.
Dell 
Dell is a Computer manufacturing company made by American billionaire Michael Saul Dell. Dell is globally known as a computer company that also designs, develops, and manufacture computers. One of the leading suppliers of PCs Dell's reputation is one to behold. If you want a brand that will listen to your worries and needs Dell would be the one, with their amazing customer support Dell will make you feel welcome and not discouraged to ask questions about the laptop you have bought from them.  
HP
HP was founded by a man named Hewlett Packard, HP is an American manufacturing company that specializes in PCs and software. The company recently split into two with HP inc and Hewlett Packard Enterprise. HP inc continues to sell the companies well-known products. With friction between HP making it split in two they still have a good reputation and are a leading and well-known brand in Computer technology and are very much still reliable and trustable.
Acer
Stan Shih and Carolyn Yeh are the founders of the computer manufacturing distributor Acer. Acer has been a great value for money company with most of its products being at a reasonable price for what you get. Acer is one of the leading gaming laptop brands out there with their reliable laptop range that is cheap although some laptops they offer are ridiculously expensive and will not be on this list.
Asus
Asus founded by 4 Hardware engineers T.H Tung, M.T. Liao, Luca D.M, Wayne Hsieh, Ted Hsu. Asus is a Taiwanese multinational tech brand that was founded in 1989. Asus is well known for its well designed and creative laptops. Asus is known for being a cheaper laptop in comparison to the competition and offers more robust laptops than other brands making it stand out. 
What is more important when buying a laptop?
We have told you what specifications to look for, what brands to look for, and to look at the reviews of the laptop you are thinking about buying. We believe the most important thing to look out for is the specifications as we believe just because it is a good brand doesn't mean it is a good laptop, people often buy for the brand however this isn't always a good idea as some Laptops are just not up to scratch especially when buying on a budget of $400. We do believe you should still investigate the brand and reviews of the product but it's most important to learn about the specification so you can find the laptop that fits best for you.
Is it worth buying a second-hand laptop? 
When looking into laptops you might find an expensive laptop for cheap, but it is second hand, you might think this is a catch but It also might not be so you will want to be careful when looking into it. Buying a refurbished or used laptop can help you save a lot of money, it can knock a laptop down to nearly half the price, you might not be able to find the exact laptop you want second hand however if you can find one that looks in good condition and has a trusted seller then it might be a good idea to consider it.
You can get bad sellers and good sellers so watch out when buying from second-hand sellers as they might not allow refunds, the product might come damaged or it might not even arrive and could be a scam. We have made a list below for you to check when buying a second-hand laptop 
Your needs and wants
When buying a laptop in general you need to find out what you need it for and how long you will need it. It's important to find out what the specifications are so they can run what you want to run, for instance, if you want to run GTA 5 you will want something with a good processor and graphics. But if you want a laptop that will last a few years then maybe investigate a new laptop as a used one might not be a good idea as you don't know how many years it has been used as it is. 
Inspect the appearance of the laptop
When looking at pictures of the laptop or looking at it in person make sure to look at the exterior for cracks or bashes that could affect the laptop, if you see a big crack or bash and the seller is putting the laptop at a big price avoid it, it's not worth it as it could break on you in a few months or maybe even days.
Screen condition 
IF you see cracks in the screen or dead pixels, we recommend looking else whereas it is not worth buying it with a screen that can break at any time. It also signifies the old user hasn't taken care of it very well and should raise concern if they are trusted or not.
Test the keypad
This is very important because if you have a cracked screen it's still usable or a cracked exterior you can still use the laptop however if your keys aren't working or the trackpad isn't working then it is very hard to fix this. You won't be able to use the laptop to its full capabilities with a broken keyboard, keypad, or trackpad.
Ports 
Make sure the CD/DVD ports aren't blocked or broken and can play DVDs/CD's, you don't want to buy the laptop for watching DVD's to find out it can't even play them, it is also very important to check if the USB ports and HDMI ports are still working as you might need these for what you want your laptop to do 
WiFi connectivity
Connecting to the WiFi is essential for anyone, whether that be through ethernet or wireless it is important to make sure it works beforehand, without WiFi you won't be able to do simple tasks like access google or the internet.
Battery health/life
Do you always want to be charging your laptop, being bound to the wall by a lead just to keep the laptop charged, no, of course, you don't? It is important to check how long the battery can last without being charged, the more you use a laptop the worse the battery gets so if it's an older laptop you're buying from the second hand you should expect the battery life when in constant use to be a lot lower than what the new version of the laptop would be.
Software 
Is all the software up to date should be a question you're asking when buying a used laptop? If the software is out of date it can set, you back and could also make you vulnerable to hackers and viruses as the software might not be protected. If the software isn't up to date, then you might not be able to do the things you originally wanted to buy a laptop for. 
Speakers/webcam
If you're buying a laptop for business and need to join calls with a camera and listen through speakers then this will be essential for you. Most laptop cameras are mediocre and when you're buying a second-hand, they normally work with not very good quality or just don't work at all. 
Price
Simply by making sure what you're buying is at a good price is very important, check the original price the laptop costs and try to find other second-hand sellers that are selling the same laptop and check the price on them. Don't be scammed by a price tag that is close to the original. 
Our Best Laptop for under $400 
Our best laptop for under $400 had to be the Lenovo ThinkPad T440. The Lenovo ThinkPad T440 stood above the rest in specifications and reviews, you can't fault the small/slick style laptop as it gets the job done. Perfect for business and students with enough memory to save your work and not worry about space this laptop has it all. The only problem is that it is renewed, however with a 2-year protection plan that is provided this is a great deal.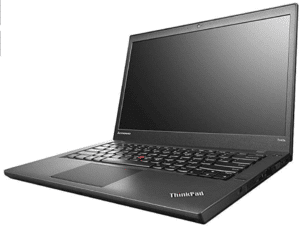 The Lenovo ThinkPad T440 is one of the best Lenovo products out there, to get a Lenovo ThinkPad T440 below $400 is a great deal with the 2-year protection plan that comes with it. The Lenovo ThinkPad T440 although small has some of the most powerful specifications out there for a laptop below $400. Equipped with an Intel Core i5 and 8GB of RAM this little laptop is fast and won't run out of storage as it comes with 240GB SSD. Pre-owned however officially checked and tested by Amazon suppliers. 1-year warranty for any hardware parts means if you have any problems in the first year of use you can get it replaced for free in that first year.
Features
1-year warranty 

2-year protection plan

240 GB SSD

I5 Processor 

8Gb RAM

Windows 10 Pro 
Our top budget laptops under $400 picks
When you only have $400 you might not even want to spend $400 so the cheapest one on our list goes to the ASUS L210. The ASUS L210 is only $189, it may not be as powerful as the others however its light and small, compared to others at its price it has very good specifications 
ASUS L210 is an ultra-thin laptop that's also supported by Windows 10 S. ASUS L210 has a reliable Intel Celeron that is not as powerful as other processors but can still get the job done. 4 GB of RAM hits the base level of regular laptops, 64GB Storage giving you a lot of space for all your things. Also comes with one year of Microsoft 365 personal. The slim design allows you to take it everywhere. Sold by Amazon you can trust in the seller, has a RAM type of DDR4 which is a newer version of RAM type compared to most of the RAM from other laptops on this list. For the price of $189 this laptop is a bargain for anyone who is struggling with money 
Features
4GB RAM

Windows 10 S

Intel Celeron N4020

One year of Microsoft office 365 personal

Slim Design 
Our top budget laptops under $400 (For business use)
When you're a business person looking for a laptop under $400 you might struggle depending on your job, however, we have found the HP EliteBook 840 which we believe is the best business laptop you can buy for under $400 on this list. With an intel 5 processor and has 16GB RAM which is outstanding for the price, things will be loaded up faster with the RAM provided and a big storage space of 256GB SSD.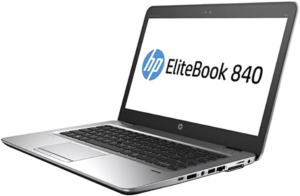 HP EliteBook 840 is an intel 5 processor that runs the laptop, powerful and strong the HP EliteBook 840 is a great option no matter who you are. 16GB RAM, which is outstanding for the price, things will be loaded up faster with the RAM provided and a big storage space of 256GB SSD. Windows 10 operating system with a DDR3 RAM type. The CPU speed might be slow however the HP EliteBook 840 is possibly the most powerful laptop on this list and is great for students and business people. If you are going for looks this laptop won't be for you however if you're going for performance, then this is the laptop for you 
Features
Intel 5 Processor

16 GB RAM

256GB SSD

Windows 10

DDR3 RAM type
Other Viable Options
These laptops in our opinion aren't as good as the other ones however these might suit your needs and wants. They are still good laptops with good specifications for the price and should not be overlooked, so here are our other picks that we have made for you.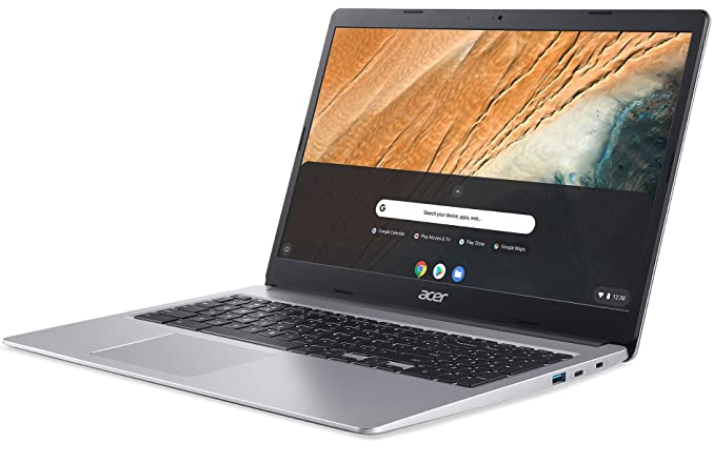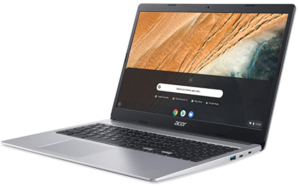 The Acer Chromebook 315 is a 15.6-inch screen laptop that has a processor that is an Intel Celeron N4000 that goes up to 2.6GHz. Packed with a 4GB RAM that's type DDR4. Equipped with 128 GB SD that allows you to be able to store all your data. The only laptop so far on this list that doesn't have a windows operating system as the Acer Chromebook 315 has a Chrome OS operating system which is also very reliable.
Features
128 GB SD

15.6-inch screen

Chrome OS

4GB RAM 

Intel Celeron N4000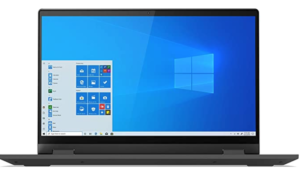 Lenovo IdeaPad 3 has a 15.6inch screen size that shows perfect viewing for all, with a slightly lacking AMD Ryzen 3 3250U Processor that holds the rains on the laptop. 4GB RAM DDR4 allows for quick random-access memory searching that is more modern than DDR3. An SSD is equipped that contains 128GB of memory. Supported by an operating system of Windows 10 Home this Lenovo laptop is comfortable and affordable, it's a perfect student laptop that looks good and does the job.
Features
15.6-inch screen 

4GB RAM DDR4

SSD 128 GB

Windows 10 Home

AMD Ryzen 3 3250U