Most people nowadays are in the market for a headset, so a lot of the focus of articles and reviews online is around that, but it's not for everyone, some of us want to listen to their MMORPG game or favorite music track via speakers for a more immersive experience.
We also recognise that not everyone can spend hundreds on accessories for their computer, but not to worry, you can still get a great pair of computer speakers for under $50.
We've got you, in this article we've researched and provided buyers guide around buying budget PC speakers and given our opinion on the top computer speaker as well as other notable mentions.
You can use the table of contents below if you want to jump to a particular section:
Budget Computer Speaker Buying Guide
Before we jump into our top choices when it comes to the best computer speakers for under $50 we don't just want you to take our word for it, we want to inform you on exactly what you should look for in budget computer speakers, the common pitfalls and some of the options that you have so you can better understand which speakers might be the best option for you personally.
What should I look for in computer speakers under $50?
Unfortunately, when it comes to computer speakers a budget of $50 is considered to be relatively low, as speakers can range into the hundreds, if not thousands for those who are really into their audio solutions. That being said there are a number of audio companies out there which are looking to bring cheap solution for the average everyday PC user.
Although there's loads of competition, and budget speakers have really come on in recent years, it's important that you know what to look out for, as not all speakers are built equally. There are certain things in particular that you should look for in a cheaper speaker, which include:
Bluetooth vs Wired: Even at a lower budget ($50) you still have the option of either wired or Bluetooth speakers. This really depends on personal preference, Bluetooth is obviously easier and more convenient, but if they are sat on your computer desk at all times, then is it necessary? If you don't plan on the speakers being portable at all, then choosing a Bluetooth device might mean that you're compromising on something else like sound quality. On the flip side, if you're planning on using these for a laptop, for instance, you might want a Bluetooth speaker as they are more portable. Another factor to consider with this is if you have other smart home devices like the Alexa or Google Home, then the advantage of having Bluetooth is you can often connect the devices. As we said, personal preference!
Physical connections: You need to consider whether the speakers have AUX, USB or both. We'll touch on it in more detail later, but USB has a better sound quality, however, if all your USB ports are used then you're going to want to get a speaker that works with AUX (3.5mm jack). It's preferable that you choose USB, but getting a mix of both is usually an indicator of a better speaker.
Sound quality: This should go without saying, you're looking to buy computer speakers to improve the sound quality of your computer, so you want to choose the ones which have the best quality sound. This can sometimes be hard to tell by just reading about the product, so make sure that you look and read through the reviews, understand peoples personal experience using them. You want to avoid buying speakers that are at an extremely low price point between $5-20 for example because it's likely that they will sound tinny and distorted when loud.
How it looks: This isn't the most vital aspect, but the speaker(s) have to look good on your computer desk right? There are some really cool speaker designs out there, especially with the RGB lights.
Size – do you have the desk space?: This is an important and often overlooked aspect of buying a speaker. Will it actually fit well on your desk? If there are multiple speakers and a subwoofer for instance, are you going to have enough spare space on your desk in order to house them all comfortably without having to compromise anything else? There are some great compact options, like soundbars for instance, which are great when you lack that bit of space.
2.0, 2.1 and 5.1: When looking at speakers in general, you'll see these numbers attached, but what are they? 2.0 means there are just two speakers and it doesn't have a subwoofer, 2.1 means it's two speakers with the addition of a subwoofer and 5.1 is what you want, with surround sound, five speakers and a subwoofer.
Speaker controls: Another thing that you want to look at is exactly how easy are the speaker controls to use? Can you control the amount of bass or treble? The more advanced the speaker controls the better!
Read the reviews: We touched on this when it comes to audio quality, but honestly, the best way to tell whether computer speakers are good is to just look at as many reviews across the web as you can. There is a lot of jargon and sales tactics that these speaker brands employ, you can cut through it all by simply looking at genuine purchasers actual experiences.
Being that the budget is lower, the speakers might not hit all of these criteria, and you will have to compromise in some sections, but if you identify what is important to you then you can choose the correct speaker for your needs.
Common pitfalls of budget speakers to look out for
As we've touched on, we've told you what to look for in cheaper computer speakers, but what about what to look out for? There are a few common pitfalls and issues that occur in budget speaker options, here's what you should look out for:
Cheap design: A lot of speakers at the lower price point compromise a lot on design, they'll use cheaper plastics and you can just generally tell by looking at them that they aren't up to scratch. You want to ensure that your speaker is going to last, and well, look the part of course.
Lacking durability: This again ties into the build quality, but a lot of the cheaper speakers simply won't last. Wires will fray or the speakers will just simply stop working. Look for warranties or try and read reviews of people who have had the speaker for a longer period of time.
Poor volume levels: A lot of the cheap computer speakers won't output a decent level of audio. The best way of telling whether this is the case is to either look at the max decibels (dB) or read the reviews if they are quiet, I guarantee it will be mentioned.
Bad sound quality: Another thing to watch for, is, of course, a poor level of sound quality. This usually becomes apparent on lower-quality speakers when they are played at higher volumes, they will sound distorted or tinny, again, read the reviews!
This section isn't designed to scare you, there are cheaper speakers that we have picked out that don't have any of the above-mentioned issues. These issues are particularly common with really cheap speakers – we would recommend as previously mentioned staying away from any speakers below the $20 mark, as they are likely to have at least one if not all of these issues, so on a personal level I tend to steer clear of anything that is too cheap speaker wise as even if you pay just that $10 you tend to get a better sound and longer-lasting stereo.
Can I get a computer speakers below $50 that has a subwoofer?
Yes – you can, there are a few options, which we've picked out in our best computer speaker for under $50 options, which you can see later in this post, that have subwoofers as part of the package, often referred to as 2.1. Why is it important though? What are the benefits of having a computer speaker that has a subwoofer?
Computer speakers with a subwoofer have a few distinct advantages over set ups without them, here are just a few of those:
Small speakers tend not to have a lot of bass, a subwoofer will improve the bass significantly.
It improves the smoothness of the sound all around and lowers the amount of distortion.
It will improve the audio performance at higher frequencies.
Simply put & to summarise, it elevates your listening experience and a speaker set with a subwoofer is simply better than one without, especially if you're a big fan of bass. All that being said, for your average everyday listener, it's not essential and you can still get a decent sound without needing a subwoofer.
What type of speaker options do I have?
When you look at all your options of computer speakers below $50 you'll soon realise that a few different types keep cropping up. Here's an overview of what each of these speaker types are, and which one might be best for you:
Subwoofer & speakers: One of the most common computer set-ups for speakers you will see is a few speakers, usually between two and five, with or without a subwoofer placed below your computer desk. This is a standard computer speaker set up and one that you may have seen for years.
Soundbar: Another often overlooked option for a speaker for your computer is actually a soundbar, as they are more often than not associated with TVs. These can have great sound quality, and can often be connected to via Bluetooth as well, so you can switch between your computer, phone and even TV if you wanted. There are some great soundbar options for below $50 as well.
USB: This is a connection type, that is a lot more common now than a few years back. USB gives a clearer higher quality sound but is less compatible than AUX. Some devices are simply USB connectivity, which might not be suitable for everyone.
AUX: AUX is highly compatible as it often doesn't require a power source, it's typically just a 3.5mm audio jack, however, the quality is usually lower and there can be more interference through AUX than other options so it often isn't favored.
Those are generally the "types" of speakers that you can get, but they also fall under a few other categories, which we touched on earlier.
2.0: Two speaker set up
2.1: Two speakers with a subwoofer
5.1: Five speakers offering surround sound with a subwoofer
Are USB speakers better?
Buying a speaker for your PC can be quite confusing, as we've just touched on, you have a few different options when it comes to types of speakers. What you might notice however is some speakers will just have an AUX cable, some will simply have a USB and others a mix of USB & AUX, confusing?
It's all to do with sound quality, speakers that just feature AUX tend to either be older or generally speaking lower quality. USB connections typical provide a much better and clearer sound than the AUX alternative.
So why are some speakers just simply AUX, why aren't they all USB? The speakers which have an AUX output typically aren't just "computer" speakers, there aimed at being compatible across a wide range of devices as AUX is more portable, you don't require any kind of source of power that you would with a USB.
Overview of budget speaker brands
When you have a limited budget you are of course limiting yourself to only being able to purchase speakers from a few brands in particular. That doesn't mean that they aren't quality brands, it just means that you won't unfortunately often be able to buy products from some of the bigger audio names.
Here's an overview of some of the popular budget brands which you can get your hands on for under $50.
Creative: One of the world leaders in Digital Entertainment, they offer several audio solutions, including several different products for PC and usually at a very affordable price point. Their product range includes Soundbars, Gaming headsets, sound blasters as well as other speaker options.
Bose: I would be very surprised if you haven't heard of Bose, there a very well known, trusted and reliable brand that have some top of the line speakers. Most of their products are at a much higher price point, but they do offer some great for value lower cost audio solutions.
TaoTronics: This is a brand that is part of the larger group called the Sunvalley Group and they offer their products in 7 different countries. They have a wide range of electronics including Audio, Home Appliances, Lamps, Routers and more.
Logitech: You've probably heard of Logitech right? They're a company that has been around for years and are one of the leaders in Audio, Gaming, Computing and video. In the audio space, they also have a lot of sub-brands you may have heard of such as ASTRO, Ultimate Ears, Jaybird & more.
Cyber Acoustics: Often shortened to CA, they manufacture headphones, headsets, microphones and speakers, everything audio! They are also partnered with their sister brand Maroo. They've been developing their audio tech for over 20 years and a well known reputable affordable audio brand.
LIELONGREN: This is a brand that in all honesty, we could find very little about, they seem exclusive to Amazon and they specialise in USB computer audio solutions and a few other products, such as alarm clocks.
ELEGIANT: These are an up and coming audio company aiming to become one of the giants in the electronic world. They are established in over 10 countries and specialise in speakers, Bluetooth transmitters, selfie sticks, ring lights, weather stations and more.
Sanyun: This is another brand that seems to be exclusive to Amazon and we can find very little out about them.
Edifier: They specialize specifically in premium audio solutions at a reasonable price, with a large range of audio systems which are suitable for both personal and professional use, depending on the price point of course. They have a couple of products available for the under $50 mark.
Our Top Computer Speaker For Under $50
Now let's get into the reason you're here, buying the best bang for your buck computer speaker! We've been through hundreds of different speaker products, read the reviews, looked at the features and compiled a list of what in our personal opinion are the top computer speakers for under $50.
There is one speaker in particular however that really stuck out to us as the best option, so without further ado:
Product Description

This 4-inch speaker by Creative is a 2.1 USB speaker, meaning it comes with two speakers and a subwoofer perfect for most desktop setups and at a very low price point currently $39.99. Out of all the speakers we've looked at, we honestly feel it's the best one available below $50 and could even compete with some of the $50-100 range speakers, which is why it's an Amazon choice product as well as extremely well-reviewed with 4.6 out of 5 stars across over 32k reviews, currently.
That's great, but what do you get? The Creative Pebble offers a down-firing subwoofer which is extremely powerful and really enhances your listening experience with double the bass, but a clean minimalistic design which is all connected through a USB. The dual speakers are well designed as well, at a 45-degree angle which allows them to work well with the subwoofer to deliver a clear sound, and importantly a real thump to the bass.
That's far from it though. The Pebble can go up a notch, you'll have to buy a wall plug for it, a 5V USB adapter to be exact, you can achieve much higher volumes than just a simple USB 2.0 computer input, allowing it to achieve 8 RMS (root means square) output. You'll also need to switch the device to High Gain Mode to achieve this figure, which is just a simple switch on the device itself.
The volume controls are easy to access and use, and the connections are convenient with both AUX & USB connections allowing the device to completely eliminate the need for a wall socket, but still provide as powerful bass as a wall connected device with its impressive subwoofer.
Features
Powerful down-firing subwoofer
Two mid-ranged Pebble speakers that are elevated to 45 degrees so the sound comes directly towards you
High gain mode through a simple switch, but you'll need a 5V 2A USB adapter which isn't included in the package
The volume controls are located at the front of the speaker meaning they are easy to access and use, unlike some subwoofers that have it on the subwoofer itself which is usually placed by your feet
USB powered for convenience, no need to have a wall socket plugged in!
Best Computer Speakers For Under $50
Yes, we've already told you our best option above, however, it might not suit your particular circumstances and you might want a few decent alternatives. We've not just stopped with recommending a single product, below you can find a range of different speakers for your computer, at different price points, all below the $50 mark which all have a decent quality.
We've detailed each product, provided an overview, a look at the features and our opinion, keep reading to find out more:
Product Description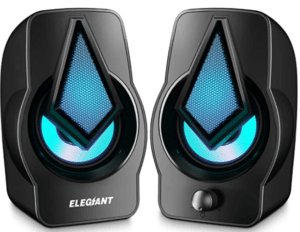 These speakers are a good solution for your computing audio system if you're looking at buying on a tight budget, there simple, yet look great. This well-reviewed 2.0 audio solution by ELEGIANT is available currently for $22.99, it offers a simple set up of 2x built-in 5W balanced speakers which provide a clean and quality sound without having any distortion, noise or interference.
The ELEGIANT SR600 computer speakers don't look half bad either, they have colorful LED lights that can change to different colors during music playback – they react to what you're listening to, which is pretty cool right? If you are listening to rhythmic music or playing a game that is a little intense then the light will come on far stronger than if you are listening to something a bit more relaxing. If this isn't quite to your taste, however, you can turn off the lights completely, and all you have to do is just pat the main speaker with your hand.
The controls are pretty straight forward too, it's just a single control which is on the front of one of the speakers, you can use this to just adjust the volume, left being lower and right being higher, it's also the power switch. Pretty easy to use. There's no mains power needed either, there simply plug and play, you're computer won't have to download any drivers or take ages to recognize them. They are powered via USB, but also have a 3.5mm AUX cable to plug-in to your PC.
These mini yet powerful speakers are also great if you're conscious of your desk space, they're only 87x92x133mm in size allowing them to fit perfectly on most setups. They're lightweight too at just 1.57 pounds, so if you have a laptop and want to move around a lot, these are the perfect solution.
Features
Currently 4.6 out of 5 star rating from 1,298 reviews
2x 5W balanced speaker set up
Colorful LED lights that change in intensity with what you are listening too
The controls are easy and straight forward with a single toggle knob on the front of one of the speakers
These compact and lightweight speakers are also plug and play, no need for mains power or installing drivers, just a USB port and 3.5mm AUX, which makes them widely compatible across several devices, not just your PC.
Product Description

This time, we feature a soundbar, by TaoTronics. Soundbars are usually seen around TVs and most people don't even consider them when it comes to a device for a PC speaker, but they are compact and offer a great quality sound, typically, which makes them perfect for desktop set-ups.
This device, in particular, is impressive for the price point of just $39.99 currently, offering a really immersive audio experience with its clear and crisp 5W speaker, two 5W speakers to be exact. They offer high-end quality audio with a strong dual bass approach which is evident not only by the statistics but by the great reviews of this product which currently has a 4.5 out of 5-star rating from 2,259 reviews.
It's an easy device to use and set up as well, it offers Bluetooth connectivity primarily, but you can also plug it in using a 3.5mm AUX audio jack and RCA cable connections if you want an alternative to the BT. Due to its connectivity options, it isn't just compatible with your PC or laptop, you can also use it on your phone, tablet, MP3 player, TV, or anything that has a Bluetooth capability. The set up is simple, just unpack it, plug it in and go, that's literally it.
The design is also ultra-compact so that it doesn't take up too much of your desk space, measuring in at 16.14 x 2.17 x 2.64″, and it's lightweight so you can move it around pretty easy at only 2.14lbs.
What about the controls you ask? There relatively simple to use as well, on the right-hand side of the device you will get the option of volume, mode, play / pause, and power which are all clearly labelled. Perhaps the only slight downside, if it's of concern, is that you'll need to plug this soundbar into the mains with the provided power adapter which might limit some people.
Features
Bluetooth / AUX / RCA connectivity for wide compatibility
Two 5W full range speakers within the device which deliver a crisp and immersive listening experience
Set up is easy, it takes just minutes to unpack and plug in
The compact design means it'll easily fit on most computer desk set-ups
Easy to use volume controls on the right hand side of the soundbar
Product Description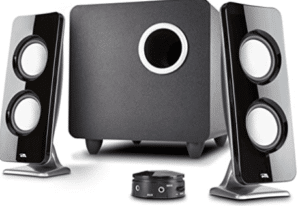 Earlier in this article we featured the Pebble which is very similar to this product, but here's an alternative for you, the Cyber Acoustics 2.1 stereo speaker that comes with two speakers and a subwoofer.
These sleek designed speakers are in the affordable price range, falling just below the $50 budget. They look the part with their aluminum styling and they offer a great sound solution for your PC set up. The speakers are magnetically shielded with high-efficiency drivers that allow them to provide clear and crisp audio perfect for gaming and music alike.
Being a 2.1 set up, it also, of course, comes with a subwoofer, which is 5.25inches of pure bass. It's elegantly housed by a wood cabinet and provides a thumping bass that adds to any music your listening to and helps the system deliver a peak power of 62W! Impressive right.
The device works with computers, tablets phones, iPods and more, thanks to its AUX connection making it widely compatible, although it does, however, needs a 110V power supply. Once it's all set up, it's pretty easy to use with controls that you can conveniently place on your computer desk, it's a little pod that includes an On/Off switch, power indicator, master volume control as well as additional bass control, a headphone output jack and an AUX input.
At the price point, this is a fantastic purchase, which the reviews attest to, currently with 4.4 out of 5 stars from 590 reviews, a very respectable figure.
Features
Curved design that makes the set up look slick and appealing
62W peak power! (30W RMS) which provides a crystal clear and powerful sound
There's a convenient and easy to use desktop "pod" control which you can use to adjust sound in terms of volume and bass, it also has an output jack and AUX input
5.25″ subwoofer for impressive bass
2x Satellite speakers optimized for sound characteristics
Product Description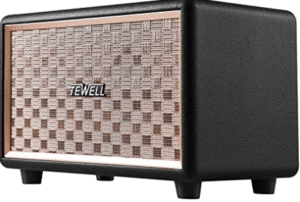 This vintage speaker by TEWELL doesn't just look amazing, it sound the part too. It offers an extremely powerful 24W audio output that they state can fill a 15ft x 15ft room with noise, at relative ease. It's a home Bluetooth speaker you can use for standard everyday use, but can also have it set up to be part of your computer set up. The performance of this speaker is exceptional, hitting high trebles and low bass clearly and crisp as well as a lifelike mid-range. It's capable as well as fashionable.
As well as being equipped with Bluetooth 4.2 it also comes with a 3.5mm AUX cable, nylon branded to ensure it lasts, which makes it compatible with a range of different devices. This premium audio solution is made to last, housed in a wooden construction which helps it also keep its natural sound – which is assisted by a bass reflex system to increase efficiency even when at the lowest frequencies.
It's pretty easy to control as well, on the top of the speaker is a retro toggle on and off switch as well as an easy to use volume control knob, with buttons surrounding it to play/pause and switch input modes, as well as having its AUX input. Unlike some of the other featured devices, however, you'll need to power it through mains.
If you're looking for an easy to use, fashionable, and high-quality sound system with a deep base, then this is the one for you. It's highly rated currently boasting 4.4 out of 5 from 1,407 reviews, so as you can see most people are a fan of these speakers!
Features
Powerful 24W audio sound that can fill a large room
Deep bass thanks to it's Bass Reflex System
Comes with Bluetooth connectivity & a 3.5mm AUX jack for wider compatibility
Easy to use volume controls that sit on the top of the device and have a retro style
Perhaps the best looking speaker in our list, if you like the retro look that is
Product Description

Coming in again just below the $50 mark is this impressive 2.1 stereo system for your PC by AMONIDA, it definitely looks the part doesn't it? It delivers too, with its professional sound raising system and tuning technology you can set the sound to an audio frequency that is comfortable. This device offers a 3d surround shock effect from the two speakers and subwoofer offering a truly immersive listening experience.
It's got some pretty cool lighting effects as well, with 7 different color options which coupled with music make it look the part. This audio solution offers a frequency response of 25Hz ~ 20KHz and an output power of 3W. It's also powered by USB + a 3.5mm audio input, although you do have to have mains DC 5V with it as well.
It's practical and easy to control as well, with volume adjustment keys and an independent bass adjustment so you can adapt it easily to your personal preference. The device is suitable for everyday computing from playing games, listening to music, and watching movies, and due to its compatibility it isn't just limited to your computer, you can have use it for your laptop and several other devices.
Features
Impressive audio with a frequency response between 25Hz ~ 20KHz
3D surround shock sound effect for an immersive experience
7 different color lights so it looks the part too
USB + Aux connections, but required a mains power supply
Compatible with a variety of different devices
Product Description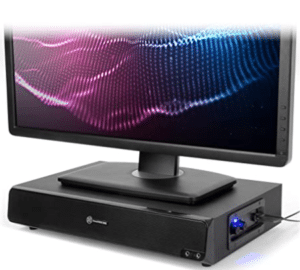 Struggling for space on your desktop? We've got the absolute perfect solution for you! This creative design by GOgroove is a 2-in-1 speaker and monitor stand set up which allows you to get your audio fix & will cost you very little desk real estate! We love it.
Not only is it intuitively designed for the space-conscious, but it also packs an audio punch as well with 2x integrated stereo as well as a 4″ subwoofer on the bottom for that extra bass fix, making it a 2.1 speaker. The speaker offers a 24W peak power output with it's two front-facing 3W stereo and the built-in 6W sub that offers great highs & distinct mids to beat the majority of other built-in speakers in the market.
It's practical and easy to install as well with just a USB power cable, 3,5mm audio cable which you can connect to your computer and absolutely no need for an AC power outlet, simply plug and play. There are also built-in front access ports so you can connect a mic or headphones if required, so you can easily switch to private listening.
Right, so one of the main reasons you would buy this device is the space-saving element right? So let's get into that. It measures 15.25 inches in length, 10 inches in width and will elevate your screen by 3.1 inches in height which might also help you reduce that neck and eye strain. It's perfect for keeping a tidy desk and also having a great, powerful speaker for your PC or laptop.
Features
2-in-1 audio and computer monitor stand solution offering you maximum desk real estate
24W peak audio power with 2x integrated stereos and a subwoofer on the bottom
No mains power required, just a USB port
Front access to microphone and headphone ports
Easy to use controls on the right hand side of the unit
Product Description

These speakers by Redragon certaintly look the part don't they with their design that features RGB lighting. There only 2.0, so no subwoofer with these unfortunately but there available at a cheap price, currently $36.99.
They offer an enhanced and clear listening experience with the sound drive unit, which you can see that people generally agree with when you look at the great reviews with a current rating of 4.6 out of 5 from 393 at the time of looking.
The lighting is touch-controlled with 6x different modes available that you can change to reflect what you're listening too, or alternatively if they aren't your style or you just want a bit of dark, you can turn them off. Aside from the RGB, the design is pretty minimalistic and it will generally blend into most computer desk setups and not look out of place.
They're easy to control as well, with individual volume up and down buttons and there widely compatible with their 3.5mm AUX and USB power supply, without the needs for a mains connection, and all you have to do is simply plug and play.
Features
6x RGB mode settings, and you can turn the lights off if you wish
USB & 3.5mm AUX, no mains power required
Easy to use volume control
Enhanced bass that is crystal clear
Minimalist design making them suit most desktop setups
Product Description

Yet another ELEGIANT product to make the list are these 2.1 desktop speakers, meaning that two PC speakers are on offer with the extra power of a subwoofer and at a very good price point, currently at $36.99.
It has two modes, meaning you can easily switch between the Bluetooth functionality and the AUX using an M button on the device itself and making it a widely compatible device. It's powered by USB and it has a universal 3.5mm AUX port.
These speakers produce a rich bass sound with a 10W maximum power, through its dual speakers and subwoofer. It will easily fill the room with sound and have no loss of the quality at louder volumes, which you can easily adjust with separate volume, bass and high tone controls meaning you can adjust the speakers to output the exact sound mix you want.
These speakers are tilted to 45 degrees in order to produce the best sound quality and easy listening. You can connect them through USB or Bluetooth as well as a TF card or U disk which have sockets at the back. The speaker itself is connected to a 5V main socket.
Features
18-month warranty and lifelong consulation
Aux Mode, Bluetooth, U disk & TF card connection – it's hugely compatable
3x knobs to adjust the volume, bass and treble for full control
Tilted 45 degree design for better listening
Enhanced bass & 10W music quality
Product Description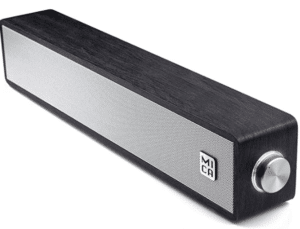 Another soundbar to make the list by the brand MICA, with 2 inch speakers, in a black design. It's a high quality soundbar at a very reasonable price, currently of $36.99 with great reviews at 4.2 out of 5 stars out of 353 ratings.
It's a high-quality audio device that features 2x 5W speakers that are able to deliver a wide range of pitch allowing you to enjoy a host of things including music, movies or gaming. They're also widely compatible, being USB powered and with a 3.5mm jack you can use it across most tablets, computers, smartphones, laptops and more.
It's easy to operate with a simple plug and play solution and controls which sit on the speaker and are easy to use and operate. Aesthetically you must agree it's pretty good looking as well, with a wood shell which is made of scratch-free wood material.
Last but not least it features noise reduction tech with its built-in chip that filters out noise signals and makes the playback clearer and ultimately better.
Features
High quality audio delivered through 2x 5W speakers & assisted by noise reduction technology
Widely compatible with USB power and 3.5mm AUX output
Modern and stylish design with scratch-free wood material shell
Simply plug and play to get going
Volume adjustable with on speaker controls or through your PC
FAQs
Although we've provided a rather large buying guide, there are still a few things that we haven't yet touched on, so to wrap everything up, based on all the speakers we've looked at, we've compiled some of the most commonly asked questioned and answered them for you below:
What is frequency response?
You might see on some of the products that they feature a frequency response figure, this is the range of frequencies or musical notes that the product is capable of producing. It measures exactly how well a particular device is able to reproduce the audio in those frequencies, the better the range the more musical notes the device can essentially output.
Will cheaper speakers pick up interference?
It depends, this is more to do with whether the device is AUX or USB, and AUX device can pick up interference far much than USB. Any device can have interference, however, but the more expensive range often has proper electrical shielding which can battle most of it whereas the cheaper devices won't meaning. In summary, to answer the question, very cheap speakers will be more likely to pick up interference, yes.
Will the speakers work with other devices like your TV or Xbox?
Again this kind of depends on the connections, but if it's a standard USB connection then yes they are likely to be cross-compatible with other devices. This is also true with Bluetooth devices, as they are widely compatible. AUX sometimes can be little tricky, as newer phones sometimes don't feature an audio jack and a lot of TVs and generally newer devices won't either.
Can all computer speakers also work on a laptop?
It depends on what output ports your laptop has. I have a laptop for instance which doesn't have an AUX cable, so any of the AUX speakers wouldn't work for me, I would need to choose one which was either Bluetooth or USB. That being said, if you have AUX and USB slots as well as Bluetooth capability on your laptop, then yes any computer speaker should work just fine on your device.