Are you in the market for a good quality gaming mouse with several side buttons to get the upper hand on your in-game opponents and really complement that gaming rig of yours? We know exactly how important a mouse can be to your set up so we've spent a while trying to research and find the best options for gaming mice that have several side buttons that you can map to your in-game commands.
In this article we go through gaming mice, why you would want one with side buttons, what other features you should consider, how to map the buttons, and our top choices providing a product overview and reasoning behind why it's made the list.
You can quickly navigate through the article by using the below links:
What are side buttons on a gaming mouse for?
Well, side buttons on mice are typically for gaming, but that isn't always true, they can also be used to save time on repetitive actions due to their flexibility when you map them.
Side buttons are typically used for performing actions quickly in games without having to reach for a particular key on your keyboard. Why? Because it can save valuable seconds as it's easier to memorize hotkeys on a mouse compared to on a keyboard, due to the amount you typically need to reach between keys on your keyboard.
Side buttons are particularly useful and favored in MMO, RPG & MMORPG-based gaming. The reason for this is they often have a considerable amount of actions that you can perform. As an example, I used to map my side buttons to perform combination moves in games like World of Warcraft & Aion.
Which gaming mouse has the most side buttons?
As far as we are aware, the mouse, which we feature later in this post, which has the most mappable side buttons is the Logitech G600 – and it's aimed specifically at MMO games. How many buttons does it have I hear you ask? There are a total of 20 tunable buttons but there are about 12 of them which are easily accessible for quicker actions.
What other features should I consider for a gaming mouse?
When you're looking into buying a gaming mouse there are a couple of features that you should take more consideration when compared to an ordinary mouse for everyday use. Here are a few of the things that you should focus on in particular:
Type of Sensor
Laser vs optical, you generally have these two sensor choices when you come to buy a gaming mouse. Optical is often favored amongst the gaming community as it doesn't tend to exhibit lag-like symptoms, which the laser one is more prone to.
Wired or Wireless?
This is a personal opinion, but I would much rather go with a wired gaming mouse. Why? Because wireless gaming mouses die, and it can happen in-game, and I've been using wireless mouses on more than one occasion and died in-game because of my mouse just cutting out, it's a nightmare!
DPI
Dots per inch is the figure that refers to the rate at which the mouse can move across the screen. The higher the DPI, the quicker the mouse will move, and therefore it's more sensitive. I personally like choosing a mouse that has the option to alter the DPI, as sometimes having it too high can be hard to control for some games like First Person Shooters.
Weight
This again is a personal preference, and I prefer a heavy mouse, but I know several people that like it to be as light as possible. You should always look at how much a mouse weighs as it will play a large factor in whether you actually like it, some mice even come with insertable weight cartridges so you can change the weight as you please.
In hand feel & grip
It's hard to tell when you're looking at a mouse online, but you have to like the feel and importantly grip. A lot of the higher-end gaming mice are designed with various grooves to improve your grip and ensure that when you're in that high-pressure gaming situation your hand doesn't slip.
How do you map the side buttons?
This is a hard question to answer because each brand has its own way that you will map the side buttons, typically the mouse will come with some sort of instruction to download software. For instance, with Logitech it's SetPoint, and with Razer it's Synapse.
Don't worry though, the mouse should come with clear instructions.
Our best gaming mouse with side buttons
Now you should be fully informed on what exactly that you want to look at when trying to buy a gaming mouse with side buttons – we've selected some great products to get you started. We've done a lot of research (owned a few ourselves as well!) and read all of the reviews of each of these products to provide you with the best possible options.
How Many Side Buttons Does It Have?
Different side plates with 2, 7 & 12 button options
Product Description

Hopefully if you're a gamer you've heard of the manufacturer Razer, there well known for their quality gaming products and particularly their mouses. This Naga is no exception to their high quality offering.
The mouse is a highly precise device that operates at an exceptional 16,000DPI which allows you to have full control of your gaming. You can adjust the sensitivity through one of the many reprogrammable buttons on offer.
This mouse offers a unique view to side buttons, having 3x interchangeable side plates which allow you to switch between 2, 7, and 12 button configuration options. In total the mouse allows you to have a total of 19, yes 19, programmable buttons which you can remap to a variety of functions using the Razer Synapse program.
There are a total of 16.8 million different color combinations and profiles that you can also set to change the RGB color to your preference.
It also fits comfortably in most hands and offers a rubber scrolling wheel. The mouse has small tactile bumps across the whole face which allows your hand to always grip it easily. You'll also be interested to hear it comes with a 2-year manufacturer-backed warranty.
Main Features
16,000DPI for extreme control
3 interchangeable side options allowing 2, 7 or 12 buttons
When 12 plate is on, you have access to 19 programmable buttons in total
Millions of RGB color configurations to your personal preference
Comfortable in the hand and easy to maintain grip
Why We've Chosen It
This is a great gaming mouse, perhaps one at the top of the market, by a reliable brand and it allows for a multitude of different side button amounts allowing you to switch based on the game you are playing. They have confidence in their product as well, offering a 2-year warranty, which should represent that the mouse is high quality.
How Many Side Buttons Does It Have?
In total there are 11 buttons, but on the side, there are 4.
Product Description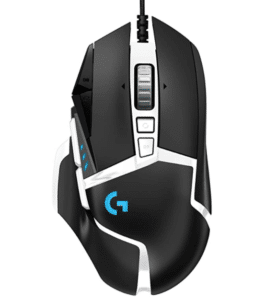 Logitech are another well known and respected name when it comes to gaming accessories, they have hundreds of different mouse options and have been perfecting them for years, so when you choose Logitech you know you're going to be getting a pretty good product.
This mouse is a high-performance product with an accurate sensor offering an amazing 16,000DPI at max setting. It has fantastic in-game accuracy and is extremely responsive.
The mouse itself has 11 buttons in total which are completely customizable due to the onboard memory in the mouse itself which allows you to assign commands – you can save five different button profiles so you can switch the preferences for different games if required.
The weight system is also adjustable with a weights cartridge hidden inside, allowing you to remove up to 5x 3.6g weights to adjust the mouse to your personal preference.
As for the design, you can see it looks pretty cool – it also has customizable lighting allowing you to sync it to millions of different colors to match your surround. The mouse truly feels like it has a quality all around with a metal spring feedback system when you click, which just adds to the experience.
Main Features
Adjustable up to 16,000DPI
Weights cartridge inside to change the mouse feel
11 completely customizable buttons
On board memory allowing you to set 5 different button profiles for quick switching
Change the lighting to millions of different colors
Why We've Chosen It
This is a fantastic mouse by a fantastic brand. For a gaming mouse of its features and brand, it's an affordable option, currently priced at $51. It ticks almost every box with several side buttons, adjustable DPI, changing weight, and overall being a quality product – you can't go far wrong with this one!
How Many Side Buttons Does It Have?
5 Programmable buttons in total, 2 on the side.
Product Description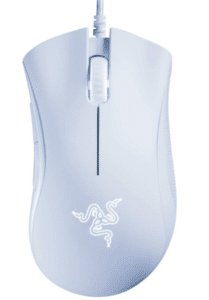 Another Razer product to make the list, which isn't too much of a surprise as they have several fantastic gaming mice and this again is no exception.
This option is one of their more budget in the range, the DeathAdder Essential, but don't let that fool you, it's no slouch!
It retains a classic mouselook but is sleek and designed distinctly for the comfort of your hand allowing you to keep performing in-game at a high level for hours without getting that pesky carpal tunnel!
This mouse weighs 8oz which is on the lighter side compared to some of the others on the list, but it packs a respectable 6,400DI optical sensor. The DPI is high enough to have full control over your mouse and react quickly enough in the game.
The hyper-responsive buttons allow you to get the competitive edge, and in total, you have 5 buttons that you can program. It also has durable mechanical switches to give you the quality feedback you expect from a Razer product.
The design is simple, but with purpose. It's got a ridged surface with a rubberized scroll wheel all used to enhance your grip of the mouse and ensure you can have full control in intense gaming sessions.
The button mapping is done via the Razer Synapse program.
Main Features
6,400DPI
Affordable gaming mouse option that doesn't compromise on quality
Lightweight
Designed to improve grip and control
5 programmable buttons in total
Why We've Chosen It
This is a budget gaming mouse but it doesn't compromise on the main aspects. Yes, unfortunately, we will concede it isn't the best looking and doesn't have all the flashy RGB, but it does have a respectable DPI figure and is by a high-quality brand that we trust making it a great option if you're a bit strapped for cash.
How Many Side Buttons Does It Have?
20 Programmable buttons, but 12 on the side.
Product Description

Yes, ok, by now you'll realize we're not too original with a list so far of two Razer products and two Logitech products, but believe us it's warranted!
This Logitech G600 is built specifically for MMO games with just about the most programmable buttons I think we've seen on a mouse. It's designed specifically to allow you to quickly navigate the thumb panel and get to the precise button you want without looking.
This mouse also has a G-Shift button in the middle, allowing you to double the number of actions you want to perform. It's also no slouch when it comes to DPI either, allowing you five different levels to shift between up to a total of 8,200DPI for the maximum in-game control.
The device comes with a braided USB cable and is comfortably shaped to fit most hands. It weighs a total of 133 grams which for a mouse without a weights cartridge insert is considered on the heavier side.
If you're interested in how it looks, you're also able to customize the color of the buttons.
Main Features
20 programmable buttons!
Adjustable DPI up to 8,200
Weighs 133g
Specifically designed for MMO gamers
Quality design with a braided USB cable for extra durability
Why We've Chosen It
You're here for buttons, right? Well, we couldn't make a post about the best gaming mice with side buttons and not include the Logitech G600, which is the most amount of programmable buttons that we are aware of. As well as that, it's fairly reasonably priced in comparison to the competition and it's a quality product with more than enough DPI for full gaming control.
How Many Side Buttons Does It Have?
18 Programmable buttons with 12 side buttons.
Product Description

This is a slightly left field pick as Redragon isn't as well known of a brand as the Razer and Logitech options that we have opted for previously, but this mouse really looks the part.
This mouse features 5 different adjustable levels of DPI ranging from 500 at the lowest to 6,200 at its max, which should be more than enough to meet your gaming requirements. You need to have their software adjust the DPI and as far as we can see there is no specific button on the mouse that does this.
There are a total of 18 programmable buttons, which should be more than enough! It has 5 different memory profiles that you can easily switch between too if you want to change your mouse set up for different games for instance. The 12 side buttons make it a perfect mouse for MMO gaming.
This mouse has RGB backlighting as you should be able to see by the image and it's adjustable to 16.8 million different color options and can even be disabled if you wish.
The advantage this has over the above Logitech option is that it has an internal weights cartridge which allows you to insert up to 8 weights, each around 2.4g, so you can change it to suit your preference.
It's a high-quality product with Teflon feet pads to add control and durability as well as a braided fiber cable and a gold plated USB connector to increase its lifespan.
Main Features
Adjustable DPI from 500 to 6,400
Total of 18 programmable buttons, 12 on the side
RGB backlighting – choose from 16.8 million colors or even disable it if that's your preference
8x weight inserts that are 2.4g each
High quality design, and affordable pricing
Why We've Chosen It
In all honesty, this gaming mouse looks very similar to that of a Logitech, but the reason why it is later in the list is simply because of the brand attached. Going by all the specifications provided and information given, it does look like a great choice as an alternative to the Logitech G600, so if you prefer the design element of this Redragon mouse, it may be the one to go for!