If you're in the market for a new pair of wireless headphones, you might have come across these, the Cowin E7s wireless Bluetooth headphones. They're not one of the most popular brands out there although they have previously been an Amazon bestseller, unfortunately despite that there's very little on the internet you can find out about them, so naturally one of the first questions that come to mind is, are they any good? And that is exactly the question we are here to answer.
In this article, we take a look into Cowin as a brand, an overview of exactly what you can expect from the E7s, the difference between the upgrade to "Pro" and our opinion on the wireless Bluetooth headphones breaking down all it's features after we got our hands on a pair.
Time is of the essence, we understand that, and you might want to just cut straight to our review and opinion, so you can quickly navigate through the article using the links below:
Is Cowin a Good Brand?
Cowin is a brand that mostly sells their products on Amazon, which is probably how you've come across them before. They're a budget brand, so you can't expect the best quality, however, Cowin are well known for providing bang for your buck in just about every product they have.
Their range of products is mostly based around sound, with headphones, wireless earbuds and speakers being what they are most known for, they do however also make travel cases and additional accessories for their products.
Another common question that we found is, are Cowin a Chinese brand? Well, yes they are, they are based in Guangdong, China, and were founded in 2006. This will straight away put some people off, but it doesn't necessarily mean a lack of quality though, you just have to be more careful and do more research into the quality and durability before buying.
Cowin E7 Overview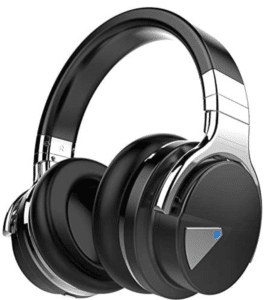 What are these headphones all about? The Cowin E7s are active noise cancelling, over ear headphones, with a price tag that sits in the budget space for wireless headphones. These headphones have recieved some high praise, and boast some fantastic features, at least on the box, so we've broken down everything you need to know about the Cowin E7s including all their features and selling points for you.
The active noise cancelling element is a good selling point to start with, not many headphones at this price have the technology. It allows you to cut off the outside world, dramatically reducing background noise so you can focus purely on what you are listening too, which can be extremely useful in situations such as being on an aeroplane, in a busy office or walking around a city for instance. The feature also works when it is wired, which is an added surprise, as I can think of much more expensive headphones where this isn't the case.
These headphones are supposedly high quality in terms of sound and build, delivering clear vocals, and importantly great bass. They boast an HD stereo sound with 45mm dynamic drivers, coupled with dual EQ mode, deep bass by the graphene drivers and the active noise cancellation, they seem pretty decent! It's hard to tell though, as every headphone will claim this or have similar specifications, but judging by the overwhelmingly positive reviews from thousands, they seem the real deal.
The headphones also boast a built-in microphone, so you can make calls through Bluetooth, and NFC technology which means you can use voice prompts. They're a pretty comfortable bit of kit as well, with 90 degree swivelling earcups for easy adjustment, large comfortable ear cups and importantly being very lightweight
One of the biggest problems with wireless headphones, or pain points should we say, are the charge time and total playtime. If the figures on the box are to believed, these Cowin E7s will provide you with 30 hours of listening time off of a 4-hour charge with its 750mAh battery, which isn't bad at all.
What Is The Difference Between The Cowin E7 & E7 Pro?
On your quest for a new pair of wireless headphones, you might have also come across the E7 Pros. What gives, what's the difference? The Cowin E7s are just about everything you need, the Pro version will give you slightly increased audio with bigger drivers, increased noise cancellation and a different design if you prefer the look, but they don't have an NFC chip and ultimately cost more.
In our opinion, there isn't enough of a difference between the E7s and E7 Pro's to warrant the extra $20 increase, stick with the originals!
Our Cowin E7 Review
Our main question when we were looking into the Cowin E7s is simply what makes them different from other Bluetooth headphones in the $50-70 price bracket because as far as we've seen, they all tend to be pretty similar in quality and sound performance.
We got our hands on a pair, so we'll break it down by looking at each of the features that these Cowin E7s has, and then doing a bit of a pros and cons list.
Is the active noise cancelling actually any good? Well, this was a feature we were a little bit surprised to see, from headphones at this low price point anyway. Perhaps surprisingly, it's actually pretty good, and you should have no issues hearing your music or podcast on the subway or in a crowded room, although during the time we've been using the headphones we haven't done any air travel, which is a bigger test.
What about the sound quality, is it really that clean & crisp? It again comes up surprisingly good. You're not going to get top of the line quality here, of course, you're not, so don't expect Sennheiser and you won't be disappointed. Compared to other headphones in its price range, the bass is pretty decent and the sound quality is good, the noise-cancelling also does it a lot of favors.
How long is the actual battery life, come on, we know manufacturers over inflate their figures! It's not quite the 30 hours it suggests, but we got roughly 24 hours from it, so about 80% of the figure they suggest which isn't bad. The charge time was relatively accurate as well, between 4-5 hours for a full charge.
Overall, we were pretty impressed. If you're looking for wireless headphones around the $70 price point these are at, then these are probably one of the best options on the market.
Pros
Decent quality noise cancelling technology.
The battery life is pretty impressive, in acutal use.
The sound quality isn't bad at all, the bass in particular doesn't sound like some of the other rival headphones in a similar price point.
Cons
There plastic – so despite them feeling pretty good, they do feel a far sight from the premium quality you would come to expect from a much more expensive set of wireless headphones.
The microphone quality on phone calls is a little bit dubious, it didn't sound particularly great on the other end of the line.