If you use your computer as a work station, much like myself, then you'll quickly begin to realize how much stuff accumulates on your desktop, and I don't mean your computer one, your actual desk. Mine, as we speak, has a coffee cup, numerous notepads, a pair of headphones, some books and more general excess cables.
Does this sound like you? Well, do you know what the perfect solution is? A corner computer desk with a hutch, whether that be in the form of a small bookcase, draws or shelves.
We've looked at a variety of different corner hutch desks for you & picked out some of our favorites for you and given an insight into the product and it's features:
Let's jump straight in & highlight some of our favorite corner computer desks with hutches. We've done a lot of research into these, read several reviews and looked at each of the specifications for the price point, and we think you'll be pretty happy with our choices, so without further ado:
Product Description

This is a large L shaped computer desk by the brand Hutch, available in a few colors but this specific model is Espresso Oak. The dimensions of the product are 59″ x 59″ x 66″ (W x D x H), although there are additional measurements given within the product pictures themselves.
As you can see just by the image it's an extremely high-quality product, which you would expect for the price point, and the fact it's oak. It also comes with a 4 port USB hub integrated, a concealed extra storage cabinet which has a glass door.
The hutch is also manoeuvrable and mounts to either side of the desk. The file draw is quality and easily glides without any stick. The product itself uses quality wood that is thermally fused and is laminated to ensure long term durability and added resistance to cracking or warping.
Features
59″ W x 59″ D x 66″ H
Oak
4 Port USB hub integrated in desk
Extra cabinets and files
Engineed for durability, resistance to warping or cracking and stability
Product Description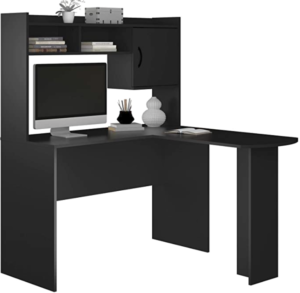 This product is somewhat a reserve of the one above, it's intention is to have several storage options but be compact and small at the same time. It's an L shaped computer desk with a 6 cube storage system by the company Mainstays.
It offers some fantastic features such as it's open cube compartments, expandable storage and extra space for a table which you can use to write or have a PC. It's the perfect solution for a student or a smaller living room or home office.
Compared to a few other products, it isn't bad on the eye either with its clean-lined frame and finish which offers a mix of contemporary and classic. It also states in the product description that it is very easy to assemble yet has a sturdy construction. Furthermore, it's available in several colours including Canyon walnut, true black oak, gray and white.
A great budget option.
Features
Small and compact design
Extremely easy to assemble
6 cube compartments
Stylish finish
Great budget choice
Product Description


This desk by Monarch Specialties is a left or right facing corner computer desk with a hutch that features a contemporary design, which has an elegent grey finish with a wood look featuring black handles.
There's a large variety of storage draws and cabinets that can easily fit all your office supplies and anything else you might otherwise have spread across your desk. It offers a configuration so that you have it on the left or right, as well as a drawer which is sized to fit legal folder dimensions.
It's a trendy desk at a decent style point that is suitable for all kinds of workspaces, both functional and stylish. There's a lot of space on offer and it provides ample room for a laptop or PC as well as storage with its hutch, 3 open shelves and adjustable bottom self.
Features
The desk can be left or right facing
Stylish grey finish with a wood look
Large amount of space and storage
62.75 x 59 x 44.75 inches
Great for business use
Product Description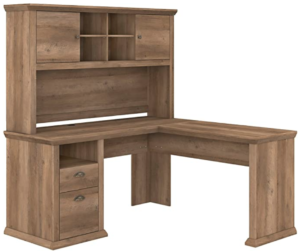 This high quality product is one of our more expensive in the list, but if you look at the design you can see exactly why with it's superior quality. This durable desk will be around for years to store your paperwork and act as your computer worktop – along with a capacity of 200 pounds.
It has several great features including a built-in file drawer and box drawer which is great for small office supplies and letter-size documents if required. On top of that, it also has four different open cubbies which have adjustable shelves and offers flexible storage options – there are also two storage compartments which are closed.
Features
60.5 x 60.5 x 67.01 inches
Designed to make the most of valuable floor space
200 pound load capacity
Extremely high quality finish
In desk wire management & large amounts of storage
Product Description

This offers a modern version of the L shaped desk with a hutch, and a different style to all the others in the list for those who like that kind of look. It has a spacious desktop with several shelves and large amounts of storage so you can organise anything you need neatly.
It's a reversible corner desk, which offers an open storage hutch which you can move to both sides of the desk if you want. There are ten shelves, so it's more than suitable to hold your books, decorations, photos, and more!
It's a large desk, measuring 55″ x 55″ x 55″ (LxWxH) and the length of the bookcase alone is around 13.3″. Despite it not being entirely wood like our other choices, it is built to be sturdy and reliable with a strong steel frame – which also offers benefits as it's generally much easier to clean than the other products that we've mentioned.
Features
Reversible corner desk
55″ x 55″ x 55″
Ten shelves of storage space!
Sturdy steel frame
Adjustable pads for changing the height of the desk
Are corner computer desks with a hutch sturdy?
Well, it depends on the product that you choose. That being said, they're always going to be much sturdier than if you were to just put a shelving unit on top of your desk, as it might have a weight restriction and it's not intended to have the additional feature.
There are several options in materials when it comes to choosing a corner computer desk with a hutch, but due to the weight of the load at the top, we feel your best option is to go for a sturdy looking wooden structure with larger legs for support.
Generally, in reading the reviews we've found a few of the metal legged options are less reliable and wobble a bit in comparison to the higher quality wood counterparts.
Why would you buy a desk with a hutch?
Space. Space. Space!
It's quite simple really, desks with a hutch allow you to have more storage for computer accessories, work implements, books and more, all within arms reach. There extremely popular for business use to create a tidy workspace without having to give up loads of your desk real estate.
What features should you look for in a corner computer desk with a hutch?
If you're in the market to buy a corner computer desk with a hutch, which we assume you are, or you wouldn't be here! Then there are a few things that you need to keep in mind when undergoing your search for a quality and reliable desk that is going to last you the test of time.
Colour: Now, this is a completely personal preference of course, but it's something you need to take into account, you don't want to be repainting your whole office for the sake of a desk now do you?
Integrations & Extras: A lot of these desks come with additional features, such as cupboards, draws, USB ports, cable management and more, so when you're paying a lot for a quality desk you want to ensure you're getting some of these features.
Sturdiness: As we've touched on, we prefer wood, but you should look at how stable the whole structure appears to be. Remember these desks are typically much more top-heavy than standard desks, so really you want to choose one with larger legs for more stability and less wobble.
Size: This should go without saying, but don't choose a desk that is too big, or small, for the area you want to use it. Make sure you measure up your room and decide on the range of size(s) of desk that you want.
Material: Will it easily scratch? Is it going to last? If it's wood, is it high quality like oak, or MDF? These are all things you need to consider, but the quality will depend on your price point.
Types of desks with a hutch
There are a few different kinds of desks with hutches, and not just in terms of material. Here are a few of the options you have:
L Shaped: This is the one we've featured in this blog, the L shaped large computer desks with hutches, they often offer more features which we'll dig into next, due to their large size and extra space.
Additional Draws: There are some units which will have draws underneath, typically these are mostly on L shaped units as they offer more ground space. Great for holding additional cables!
Additional Books Shelves: Some of the hutches also come with a bookcase like feature – which is obviously useful if you have a lot of books or notebooks.
Standard desks: These are just your normal style desk with additional storage features on the top.
Are there different types of hutches?
Yea – in truth every desk with a hutch is slightly different, because they all offer the space with a purpose intended, whether it be for books or desks. You need to try and determine what the size of the hutches are, and if they have any additional extras as we mentioned such as draws or shelves which you could use for additional storage.
Are they easy to assemble?
It's on a product by product basis really. Some of the larger wooden units won't be as easy to assemble as the smaller almost flat-pack style products. If assembling is something you worry about, this is often one of the main points that people review, so if you've got your heart set on a particular product, make sure you search through all the reviews for those relating to assembly.