So, you're wanting to up your streaming game, naturally one of the ways that you can do this is by improving the quality of your audio both from the perspective of yourself and for your viewers. The best option you have for doing this is by buying a high-quality gaming headset that offers crystal clear audio and top-notch sound quality.
There are hundreds of gaming headsets on the market though, how do you choose which one might be best for streaming? Well, that's why we're here, we've taken a look at hundreds of gaming headsets, their main quality, and also what some of the other top-notch streamers use to provide you with a good list of quality headphones to choose from.
Our top choice for the best gaming headset for streaming
We've written a whole article, complete with what to look at when buying gaming headphones and some of the popular options that streamers wear, however, I also understand that you might just want to get straight to the point! That isn't a problem, so let's get to it, what's our top choice for a gaming headset for streaming?
Product Description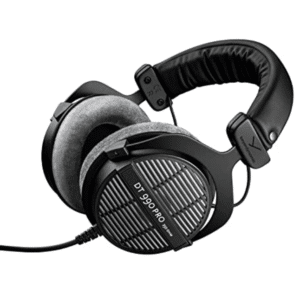 These open head earphones are suitable for professional use, including streaming, and there used by popular streamer Ninja.
What you get with these headphones is studio-quality sound for a decent price, a reliable tool for any audio enthusiast. They offer a three-dimensional sound and amazing tonal depth. They're often used by sound engineers mixing music, so will be more than good enough for your stream.
The pleasant sound produced by this set of headphones has a treble boost and a mild bass sound, which isn't overstated and the treble doesn't sound too sharp like some other products.
Comfort has also been considered with the side cable placed for you to be able to take them on and off frequently and being designed with a steel headband to ensure they are robust for when you inevitably drop them on your chair or desk.
They have really thought about everything on these headphones and they are truly high-quality materials and investing in these will be a long-term solution.
Main Features
These headphones are made purely for sound quality – no thrills
80 & 250 OHM options
Studio quality overhead open back headphones
Available in gray and black
Soft & comfortable earpads
Why We've Chosen It
This is our stand-out favorite option as it has great reviews for its overall sound quality and comfort. These are studio quality, so will be more than suitable for your streaming requirements & they are quite affordable compared to some of the other options. All you have to do is look through some of the reviews from customers reviews and you'll be convinced!
What headphones do popular streamers use?
Perhaps the best way to determine what your top options for a gaming headset for streaming are is to look at some of the most popular current streamers and what they actually wear, as of course, they've had a decent level of success so the kit they are using must be good right?
We've picked out a few popular current streamers and detailed what headset they are running for you below:
What to look for in a headset for streaming?
Buying a gaming headset for streaming isn't just about looking at generic computer headsets, there are a couple of other features that you'll need to take into consideration that you might not have to for ordinary gaming headsets. Here are just a few of the main things to think about when choosing the best gaming headset for streaming:
Comfort
This is a big one! We can't really overstate this, as a streamer you're likely going to spend a long time in front of the camera and with the headset on, so comfort is important. You don't want a headset that you're constantly having to re-arrange or take off in order to get comfortable, you want one that is going to sit on your head for hours and not cause any kind of irritation.
Sound clarity
This is important as well, if you're a streamer then you likely take your gaming pretty seriously so you need to ensure that the audio is crystal clear. The advice we would give here is don't just get dazzled by high specifications on the product descriptions, look at what people's actual experience with the headset is, read the Q&As and genuine customer reviews to get a better picture of how they actually perform when in use.
Noise isolation
This is an important one as well, you want to ensure that the headphones don't leak noise. This isn't as important to you, but it will be to your watchers. I couldn't think of anything worse than listening to a stream and hearing the sound repeated by the headphones being too loud and the microphone picking it up!
Does it come with a microphone?
A couple of options in our list include microphones and a couple that doesn't. This is personal preference really, if you have a lot of money to put into your streaming then you likely want a separate microphone to the headset, as microphones attached to headsets won't have the superior quality of a purpose-made microphone.
Looks & aesthetics
When you're streaming, you've got to look good right? It's part of the appeal of you as a person and your watchers take it into account, whether it be consciously or not. Keeping that in mind, you want a headset that fits well, and look good, don't go for some tacky RGB low-quality plastic headset!
Wired vs wireless – which headset to choose for streaming?
Wired, always wired that was easy!
Okay, we'll explain ourselves. A wireless headset won't have the same quality sound or microphone as a wired solution of the same price, it just won't. The other reason that you shouldn't choose a wireless headset for streaming is they run out of power, and when you're a few hours deep into a streaming session, your viewer figures are peaking at an all-time high, BAM! Your headset has just run out of power, and no one can hear you – that's just ruined your flow and is likely going to see your viewer numbers drop off a cliff.
Can you buy a headset for streaming on a budget?
Budget is a subjective word, you can buy a relatively cheap gaming headset that will do well for streaming, but it's not going to be top of the line or professional quality. The lowest price we would recommend for using a gaming headset that is going to give you streaming quality is probably around $40, but that is the lowest end.
Later in the article, we've picked out our favorite budget headset choice around this price point, so keep reading to find out more!
Our best gaming headset for streaming choices
We mentioned earlier that our top gaming headset choice was the BeyerDynamic DT 990 Pro headset, but we also have some other great choices for you. We've looked through hundreds of different headsets and several that are used by popular streamers to find the best overall list for you.
As you'll see in our list below, we've aligned it with the list of streamers we picked earlier in the post. For each product, you will find a description, a highlight of its main features, and a reason behind why we've chosen to feature it.
Keep reading to find out more!
Product Description

Another class act of a headset used by many streamers across a variety of platforms with it being compatible for PC, PS4, Xbox One, and many more due to its standard 3.5mm AUX.
The Cloud Alpha has what HyperX refers to as groundbreaking Dual Chamber Drivers, it's the software they have in place to deliver clear audio with minimal distortion. It also comes with a noise-canceling microphone which you can detach if you prefer to have a standalone microphone.
Comfort is a major priority too, with its signature memory foam which allows for hours of gaming with little discomfort. The whole thing is made with premium materials and designed specifically for those long gaming sessions and durability is key as well with its aluminum frame to support it should you take it off and drop it on your desk.
This wired headset has a respectable frequency response rate of 13-27K Hz.
Main Features
Respectable brand, HyperX
Affordable headset that is used by several well known streamers
Comfortable and durable design with memory foam cups
Works across multiple gaming platforms / consoles
Has a detachable noise cancelling microphone
Why We've Chosen It
As we've touched on this headset is used by a lot of streamers, in fact, it's specifically designed with that intention in mind. The frame is durable, looks the part, and comfortable – in fact, it's award-winning in this aspect. It's also highly reviewed on Amazon, so much so it's one of their choice products, currently.
Product Description
If you've been in the gaming scene for a while you'll be familiar with the ASTRO name, it's synonymous with quality headsets and has been around for years. These ASTRO A40 TRs are no different, and they offer a fantastic option for live streamers.
There tuned with what ASTRO refers to as their Audio V2 aimed at delivering pro-quality – the headphones are suitable and are used in pro gaming tournaments. The microphone is also good, highly sensitive, and minimizes background noise and you can position it on either side of the headset to fit your preference.
Comfort is obviously one of the main considerations, and in that aspect, the A40s are no slouch. They are made of premium materials featuring cloth ear cushions for enhanced comfort and synthetic leather to ensure audio performance. They're constructed to be lightweight, so don't irritate after hours of gaming, but they have strong construction and their pressure-free fit means they won't get too warm either.
Main Features
Tuned with ASTRO audio V2
Used by professional gamers
Swappable microphone position
You can add personalized tags to the outside of your headset to fit your design preference
You can buy an extra mod kit for enhanced performance
Why We've Chosen It
We've chosen this headset because it's one of the most common headsets you see in pro gaming tournaments, and for a reason. It's fairly affordable and you get a fantastic quality, and comfortable headset, changing the microphone to either side is also a great perk for streamers.
Product Description
Logitech is another extremely well-known and trusted brand by gamers, they offer a range of different computer accessories, and are known for their quality headsets.
The G Pro X is a great option for streamers due to its professional-grade microphone, which includes a noise compressor, reduces, and a limiter to offer clean and professional vocals – it also requires a USB external sound car and the G HUB software.
This headset also features 7.1 surround sound allowing you to hear everything in-game from all angles – keeping you aware of where all your enemies are. It offers 35 OHM and 50mm drivers to provide crystal clear audio functionality and give you the in-game edge against your opponents.
They've also considered comfort with the memory foam earpads which help with noise cancellation whilst also being super comfy! It's built to last having a steel headband and aluminum forks along with a 2-year limited hardware warranty to back it up.
The supplied USB external sound card allows the headset to provide truly professional-quality in-game sound and voice comms making it the perfect streaming headset. It also has onboard memory to help you save different EQ profiles.
As a nice little extra, this headset also includes a carrying bag.
Main Features
Profesional grade microphone
7.1 surround sound for crystal clear audio
Comfortable memory foam earcups which also cancel out noise
2 year limited hardware warranty
External USB sound card
Why We've Chosen It
If getting a headset that has a clear microphone and quality audio in one, without having to buy a separate microphone is for you, then this headset is one of the best you'll be able to get your hand on. All you have to do is read the reviews, but to be honest, you should trust that Logitech won't let you down!
Product Description
Razer is one of the best-selling headphone brands around and has been for a few years now. These products offer good quality audio for an affordable price as you can see with the Kraken being one of the cheaper ones on our list.
The Razer Kraken's have a 7.1 surround sound audio with 50mm drivers, very similar to the aforementioned Logitech, but at a much cheaper price point. They are custom tuned and the surround sound is enabled via the software provided.
Comfort is also mentioned with oval cushions which have cooling gel-infused to keep your ears cool and minimize discomfort during long gaming sessions. They're also lightweight and durable, being made of aluminum but flexible so they don't snap if you take them off in a rush.
The microphone is retractable, and it's good enough as it isolates background noise, but we would recommend potentially investing in a separate microphone, although it isn't essential.
Main Features
One of the best selling gaming brands around
Immersive 7.1 surround sound
Cooling gel infused cushions to keep your ears cool
Noise isolating microphone
Lightweight and durable design made to last
Why We've Chosen It
We couldn't make a list of great gaming headphones for streaming without including a Razer product, it just wasn't possible. This headset offers a great solution for streamers who are a little strapped for cash, there not the cheapest gaming headphones and they still maintain a lot of the quality of the more expensive professional options we've listed above.
Product Description
This is the Artics range by SteelSeries, and we've gone for the mid-range option as it's more than suitable for live streamers but won't break the bank. The Artic 5s are a popular choice for pro gamers and live streamers alike.
This headset combines a cool-looking RGB design with truly quality audio offering an immersive gaming experience. Although not top of the line, the 5s still has that signature Artics quality sound with its DTS 7.1 v2.0 surround sound. These feature award-winning speaker drivers which offer an extremely low level of distortion and will provide you with clear and rich audio.
According to SteelSeries the Artics have a fantastic microphone which is widely recognized as one of the best in headphone microphones. It offers clear bi-direction studio-quality voice clarity sound with active background noise cancellation – along with it having inline USB mix dials which allow a balanced game and chat volume whilst in-game.
Comfort? You don't have to worry about that either, this is a quality product with padded air weaved ear cushions that are easily adjustable and attached to a headband made of reinforced steel allowing for durability and comfort.
Main Features
7.1 DTS surround sound audio
Award winning speaker drivers
One of the best microphones you can get on a gaming headset
Comfortable padded ear cushions
In-game audio balancing between game and chat volumes
Why We've Chosen It
This product is extremely popular on Amazon and is overwhelmingly positively reviewed. Steelseries also claims that the headset is widely recognized as having one of the best microphones, making it great for any live streamer making it a more than a suitable choice to make the list.
Our best BUDGET gaming headsets for streaming
As we eluded to earlier, you can get a budget gaming headset but it isn't going to quite be the quality of some of the more premium choices. That being said, we think we've picked a fairly good option for you, and it's the little brother of the HyperX Cloud Alpha we featured earlier in the list.
Product Description
I'm not a live streamer, but I actually own this headset and it's fantastic for a cheaper model in comparison to some of the options we have featured above. It's by the brand HyperX which are well known for their high-quality gaming headsets, and the cloud stinger gives that fantastic mix of budget and quality, sitting just below the previously featured Cloud Alpha.
This headset is the No.1 best-selling PC gaming headset in the US in 2019. The microphone is good enough to offer decent quality audio to your viewers and you can easily adjust move it up and down to quick mute if required – a great feature for streamers.
It's got a lightweight design that is only 275g meaning you can have it easily sat on your head for hours at a time without being uncomfortable. It also has 90-degree rotating ear cups to conform to any head size or type. The pads are memory foam for added comfort, and it has an adjustable steel slider to give added durability.
The audio quality isn't bad for the price either, with 50mm directional drivers, offering precise and clear audio. There are also intuitive volume controls on the headset itself allowing you to easily adjust whilst in-game.
Main Features
No.1 best selling headset in the US 2019
Weighs only 275g, great for long gaming sessions
Adjustable steel sliders for a durable design
50mm directional drivers for clear audio
Intuitive volume controls on earcup
Why We've Chosen It
We've chosen this because it's a great option for streamers on a budget, and being the number 1 best-selling gaming headset in the US in 2019. They're honestly a great headset for the price, I have them!