Are you a budding YouTuber looking to emulate the popular LazarBeam? Or perhaps you just want to see what gaming setup he has and whether you can get your hands on it.
In this article, we've touched on who exactly LazarBeam is, the games he plays, what headset, microphone, and keyboard he's currently running, and our overall opinion on them.
You can quickly navigate through the article using the below links:
Who Is LazarBeam?
LazarBeam is the online alias of Lannan Eacott, a YouTube sensation from Australia. He's a professional gamer and is known for his video game commentaries on the platform Youtube in which he currently has 18.2M subscribers!
That isn't quite how he started off though, his story of entering the YouTube world is a different one. In 2014 he was working for his family's construction business, and when doing so, he began filming demolition videos, editing them in slow motion, and publishing them on YouTube. Although what most people know him for, and in credit, to his subscriber count, today is his Fortnite Battle Royale streaming which he began in 2018.
What Games Does LazarBeam Play?
LazarBeam is known for playing Fortnite Battle Royale. He has a variety of different content on his channel, but most of his videos revolve around Fortnite.
Although rare, he does occasionally post videos of him playing Minecraft, Roblox, and Happy wheels.
Outside of games he also regularly vlogs and shares general opinions or commentaries on popular subjects.
What Headset Does LazarBeam Use?
LazarBeam actually uses two headsets, or headphones, switching between them depending on the content. His two favored choices are the Beyerdynamic DT1990 Pro & ASTRO A50's.
Below we look into the two headphones that LazarBeam currently uses in his YouTube videos, providing a detailed overview.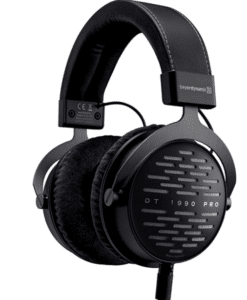 If you've explored the world of high-quality headphones before then you would have come across the brand Beyerdynamic, there synonymous with professional quality across pretty much all their products.
The DT 1990 Pro's are no exception, they are studio quality headphones that are more than capable of mixing and mastering with absolute precision. They're a favorite among many streamers due to their superior quality, but they're also popular amongst sound technicians and broadcasters.
They have an extremely powerful and high-resolution sound with two different sound characteristic options. They're also comfortable on your head, designed for hours in a warm studio, and have an open design to achieve the best spatial sound.
Main Features
Studio quality headphones suitable for mixing
250OHMs & 45mm Tesla neodymium drivers
Comfortable and soft earpads suitable for those long studio sessions
Frequency response of 5-40K Hz
Bluetooth Wireless Communication Tech
An ASTRO headset, surprise surprise, another big name product in the gaming headset industry! ASTRO, again, are known for their quality amongst gamers, and they offer a range of gaming headsets from the more affordable to the premium options, and the A50 is definitely one of the latter.
These headphones are high quality and they offer immersive audio – and even though LazarBeam uses a separate microphone, the one attached to this headset will be more than enough for your average gamer, or even streamer.
The in-game audio is extremely clear thanks to what Astro refers to as "Astro Audio V2". It features Dolby Audio which helps deliver a cinematic gaming experience, coupled with the Astro command center to completely control the volume levels and settings.
ASTRO know their audience, and it's built with rage quitters in mind, with an extremely durable frame that can withstand the odd drop. It's also pretty comfortable and built to remain so on those long gaming sessions.
You can't go far wrong with the ASTRO A50s, and in all honesty that aren't too many better gaming-specific headsets on the market.
Main Features
Wireless with 15+ hours on one charge
Active voice balancing to control the mix of in-game audio
Astro command centre for complete audio control
USB sound card functionality
Immersive Astro Audio V2
What Microphone Does LazarBeam Use?
I know what you're thinking, that LazarBeam has such clean and crisp audio, even when he's shouting. He must have a pretty decent microphone right? The Microphone that he uses in his videos is professional studio quality and it's the Shure SM7B.
If you want to find out more about the microphone and its key features, keep reading!

Another studio quality microphone, the Shure SM7B is suitable for musicians, so will obviously do the job for creating videos or streaming with crystal clear audio.
It has a wide range of frequency response which allows for the delivery of clean vocals in any scenario. It's got an emphasis on mid-range and bass roll-off which is controlled with a graphic display.
The microphone also automatically shields against outside noise caused by interference, typically through things like your computer or broadband, it filters out or rejects the electromagnetic hum you'll often hear in cheaper microphones.
It's also got further advanced features such as an internal air suspension to pretty much eliminate most mechanical noise. Along with a pop filter that protects the microphone against any loud breathing sounds to ensure it still remains clear.
When you buy the SM7B they also provide you with a windscreen, the A7WS, which is aimed at giving warmer tones when you're close to the microphone.
It's mounted with Yoke mounting allowing for easy dismounting and mounting, and easy adaptation of the position.
Main Features
Wide range of frequency response suitable for musicians
Electromagnetic hum rejection & shields against interference
Pop filter that is highly effective
Yoke mounting which is easy to mount and dismount
Comes with a A7WS windscreen to reduce plosive sound
What Keyboard Does LazarBeam Use?
Now, what about his keyboard? It's that flashy RGB thing you see occasionally in his videos, looks pretty cool right? Well as you would expect by now if you've seen his other equipment, his keyboard is pretty top spec as well. LazarBeam is currently using the Corsair K70 Rapidfire RGB Gaming keyboard.
Again, we've detailed a bit more about this product and its features for you below: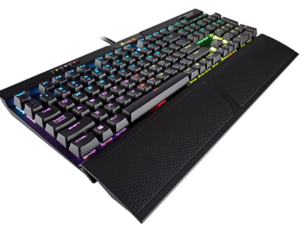 Corsair is another fantastic, reputable gaming brand that is known for its keyboards, headphones & PC components. The K70 Rapidfire is one of the keyboards at the top of their extensive range.
Its brushed aluminum phone is artificial grade and built to last a lifetime, so no matter how hard you hammer those keys in your angry gaming sessions, it'll hold up.
This keyboard is again a popular choice amongst streamers and YouTubers in the gaming community mostly due to its onboard profile storage which allows you to program certain macros to give you an in-game advantage. It's a keyboard with the accuracy to give you a competitive edge as well, with a 1.2mm actuation making it reliable even at the fastest typing speeds.
As you can see, it's pretty colorful as well. It's got dynamic RGB backlighting which is available in millions of different color customizations.
Main Features
Aluminum frame design for durability
RGB backlighting in millions of color combinations
Mechanical key switches for reliability and accuracy
iCUE by Corsair allows for full dynamic lighting control
USB pass-through port for convenient access to more USB ports
Our Opinion On LazarBeam's Gaming Set Up
LazarBeam, as you would expect from one of the top YouTubers, has an amazing gaming setup. His headphones, microphone, and keyboard are all professional quality, again as you would expect. We can't really fault any part of the setup, but what we will say, for someone starting out on YouTube, or just your everyday gamer that doesn't have the access to the significant earnings LazarBeam will be getting, it might be too expensive and in all honesty a bit overkill.
You can achieve high-quality YouTube content without having to spend as much as LazarBeam has, but by all means, if you have the spare money, go ahead!
We've put together a slightly cheaper gaming set-up, with a few options, for you below which we believe will give you a very similar quality finish, at a lesser overall cost:
Headphones
Microphones
Keyboard
We would love to hear your opinion and if you want to recommend any better options, please feel free to comment below!