Tablets were made for everyone and it turns out that tablets are very useful for the elderly so I ask you, are you looking for the best tablet for the elderly, something that they can use efficiently and easily without any worries? Well if so, this guide is for you. We will show you the most suitable tablet for an elderly person, what tablet is easiest to use, and more. We will give you many tablets not placed in order from best to worst as we think they all shine respectively in their own way and it's hard to judge as a lot of them are just so different. Sometimes it's hard to buy for others and a lot of the time it's hard to buy for the elderly, with our help this should be no problem to decide on what's the most affordable tablets and useful tablets for the elderly to use.
In the final part of the guide, we will give our opinion on the best tablet in 2020 for seniors to use. You can expect an in-depth guide showing you the specifications for each tablet. If you're struggling to choose and find tablets this guide is for you as it narrows down the best tablets to choose from with all different varieties of specifications suiting the senior person.
We will help those on a budget and help them find the best budget tablet for them, this is important for a lot of people so it's essential when looking at tablets to find out what tablets are the best value for money spent. Each product shown will have a description with it showing what it brings to the table, so if you're looking for a tablet with certain quality's we will have all the qualities that the tablet brings in its description. If the tablet doesn't have what you need don't worry as we have more tablets to look at.
It's important to look for certain things when looking for a tablet so before you zoom on ahead have a look at what you must consider before buying the product.
The Technical Features of a Tablet
Processor – For any device that has a processor it acts as the brain for the device, so making sure this is high enough quality to run apps you may want to use is essential. To tell if a processor is good, you can usually check by a quick google search or going off the numbers given e.g. i3, i5, i7, i9. Typically most tablets use similar processors to mobile devices, so you will often see names like Snapdragon & M followed by a number, again it tends to be the higher the number the better the performance.
RAM – Random access memory or RAM is a fundamental part of the device. RAM is temporary storage that your tablet will need to access right now or in a few minutes. In basic terms, it's short-term memory. Once again, the higher the number of the RAM the better
Hard drive/microSD – The storage space for all your stuff, it's as simple as that. An example would be if you imagined you had some boxes and one room. You place the boxes in that room and it slowly gets fuller the more boxes you place.
Other – you will only need to look at these specifications as for an elderly citizen they should be the only things you have to look at.
Accessibility & Features To Look For In A Tablet For Seniors
Screen Size – A key thing to look for when buying for a senior person is display size. Does the person have visual problems if so, bigger might be better than a smaller portable one?
Stylus pen and Keyboard – Stylus pen can help with writing and clicking things for some elderly citizens. They could feel more comfortable with a clip-on keyboard instead of a digital one.
Operating systems – Android, Windows, iOS, macOS are the main ones you want to go for, make sure the systems used are efficient and trustable.
RAM, Storage, and Processor – Make sure you have the storage space necessary to keep everything. More is always better, even if you think that an elderly person won't use that much it won't ever hurt to add more.
Comfort – Make sure it's a comfortable size, weight and has the right accessories like a stylus pen for easier clicking and writing or a clip-on keyboard to make it into a tablet and anytime.
What Can A Tablet For The Elderly Be Used For?
Finding out what you need should be on your mind when looking for tablets, to decide on what you need you should look at what the tablet can run for instance what apps.
Online browsing – Any Tablet, Phone, or computer should be able to browse the internet, this makes you be able to view websites, read books, watch videos, and many more
Photos and video editing/storage – An elderly person most likely won't be editing photos so when looking for a tablet that shouldn't matter to much but storing them and keeping them safe is important
Watching Movies/TV shows – nearly all tablets can display films and tv shows so this shouldn't be something to worry about but if you want something with great video quality maybe look for something more powerful graphics card and processor.
Reading – This can be very important for an elderly person as that is the most likely thing they would be doing on a tablet. Make sure the apps that are easiest to use when buying a tablet can be downloaded and used.
Setting options – A very important factor when buying a tablet is the settings on it. The settings can change text size and more making life a less stressful experience when dealing with the tablet.
Our Best Tablets For The Elderly
The section that you've been waiting for, after all our extensive research we've managed to find you what we consider to be the top 10 best tablets for the elderly, based on their specification and price point. We've provided a detailed description of each which you can find below:
Product Description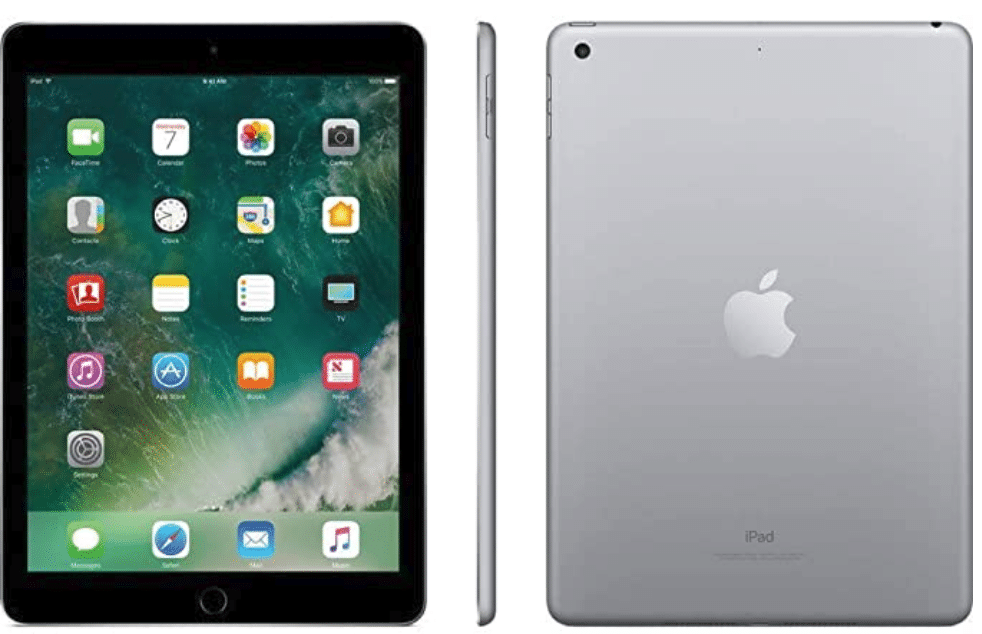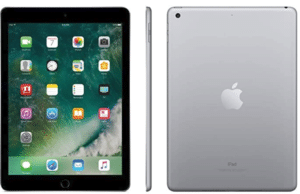 Apple is often seen by many people as a simplistic brand and is criticized because of it, however in this case we think that's perfect for the senior citizen. We believe the Apple iPad 9.7 is the essence of simplicity. We also believe the Apple iPad 9.7 is the best iPad to buy in 2020 for elderly citizens and regular people as it can do the basics of everything, some people call it the jack of all trades. The Apple iPad 9.7 is by far one of the most reliable tablets to date with an estimated 10 hours of battery life when used constantly, this should be by far enough for grandma and grandad. This Tablet is by far the best elderly tablet Apple has made to date.
The great thing about Apple's most affordable iPad is that it comes with an Apple pencil. This can be a big thing for the elderly as using your finger might be a bit confusing or difficult, whereas using a pencil on the tablet can be used similar to pen to paper which they are more comfortable with and most likely have been doing writing their whole lives, the option is still there to not use it, of course, it's just a nice bonus that comes with it.
The Apple iPad 9.7 uses True Tone Technology or TTT for short. TTT adjusts what images, text, and brightness you're looking at to making it easier to look at and read, now if that's not efficient I don't know what is. The Apple iPad 9.7 isn't the cheapest tablet out however if you're looking for the apple brand the Apple iPad 9.7 is the cheapest Apple iPad you will find.
Features
Display Size 9.7 Inches
Apple series iPad 9.7
Memory 128 GB
Dimensions 9.4 x 0.3 x6.6 inches
True Tone Technology
A9 3rd gen chip, 64-Bit Architecture
FaceTime HD camera
Touch ID and Apple Pay
Product Description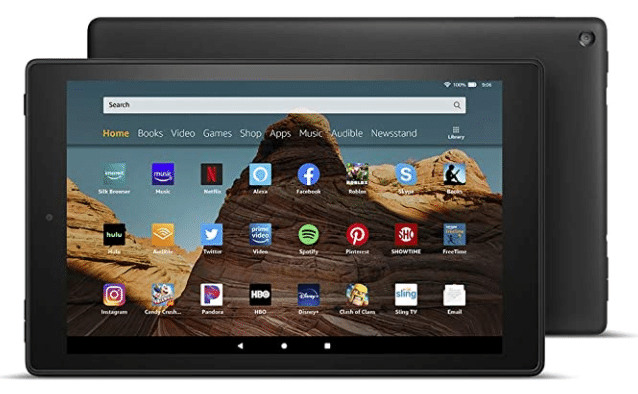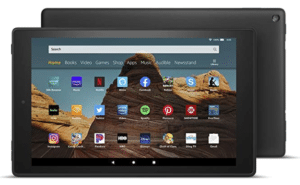 The Kindle Fire HD 10 is the most affordable tablet you can find on pretty much all sites especially Amazon, this means if you're on a budget the Kindle Fire HD is the best by a mile. You can get 2 versions of this tablet; however, the versions only vary in size from 8-10-inch screens. We went with the bigger option as we think it's more suitable for the elderly citizen. Both tablets come with full HD resolution so if you do choose the smaller ones, the screen will only change in size. The Kindle Fire HD 10 may not be the best on the market for normal people but if we are looking for an elderly person then it's close to perfect as the Kindle fire is most effective when used for reading, this is essential for any tablet when looking for an elderly person. The Kindle Fire has easy to work settings to change the text size for those who have poor eyesight, and as we all know senior citizen's eyesight starts to fade.
The Kindle Fire HD 10 comes with Alexa. Alexa is Amazon's custom-made support system that's made to be easy to use and assist you at any time when needed. Alexa is one of the most efficient and well know personal assistants to date, Alexa is most efficient when people who are struggling to type or read something. For instance, if you say "Alexa how do you spell Kindle Fire" Alexa will say it out loud. So simple yet so useful for the elderly, you can use Alexa for other things like searching the internet, using it for apps, weather forecasts, or maybe even to try to pause tv shows or movies. In comparison, Apple has Siri who is just as useful or a bit worse than Alexa, but Siri won't be available at this price.
Features
Display 10.1 Inches
New 2.0 GHz octa-core processor and 2 GB of RAM
Long battery life
Built-in Alexa
Full HD display screen
32 or 64 GB base memory
Add up to 512 extra GB using Micro SD
2 Front cameras with 720 p video recording
Product Description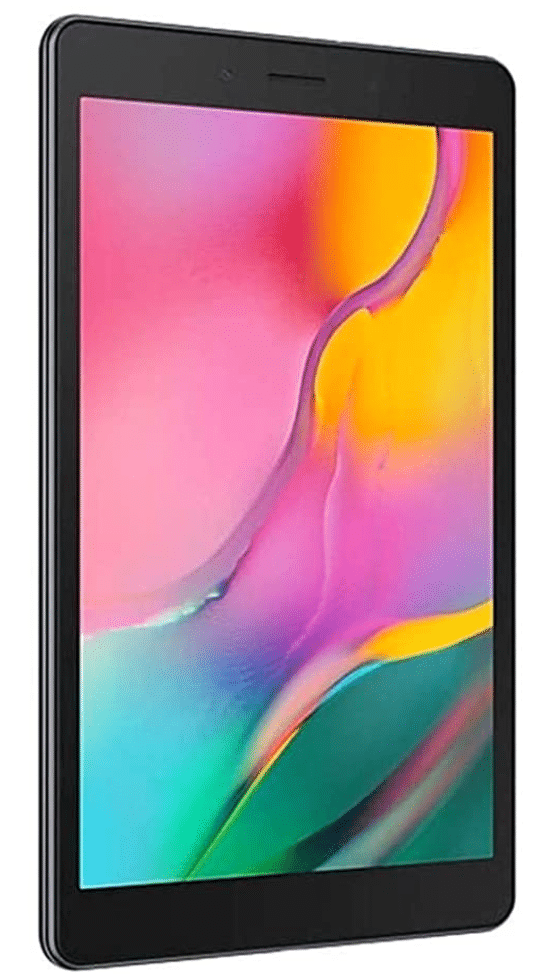 The Samsung Galaxy Tab A is a fantastic budget option for the senior citizen who wants something smaller and more compact Android product. The sturdy build and powerful processor to its great camera quality put together makes a reliable and affordable tablet. The Samsung Galaxy Tab A uses Android 9 pie, which means that it will keep updating for another year at least. Samsung Galaxy Tab A was made to fight back against the new Apple iPad mini that was made in early 2019. The Apple iPad mini was running away with the competition and Samsung had to respond with an efficient and affordable tablet that was small but still a tablet, so they created the Samsung Galaxy Tab A in response and I have to say what a response it was.
The final details of the Samsung you should look at is the battery life. Samsung Galaxy Tab A has a long-lasting battery life letting you enjoy the tablet to its full extent. The battery life is predicted to last up to 12 hours of consistent use. A stylus pen can be used with Tab A making it easier for writing and clicking for some people, this often helps the elderly citizen as they feel more comfortable with a pen than their finger.
Features
Display size 8 Inches
Samsung Galaxy Tab A series 8.0
32 GB Memory
8.3 x 0.3 x 4.9 Inches
Full HD
Long battery life
Bluetooth
2GB RAM
Product Description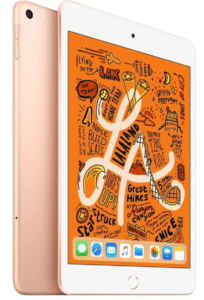 When Looking for a tablet for the Elderly the Apple iPad mini is very hard to beat. The Apple iPad mini is worth it, although it might be more expensive than other tablets on this list, it is like that for a reason. The Apple iPad Mini is by far the most powerful and efficient tablet to date for elderly use. The pocketable tablet is useful in many ways, the tablet will most likely be suited for the elderly with a smaller size preference but don't let that smaller size fool you as the Apple iPad Mini has a powerful embedded M12 coprocessor with an A12 Bionic chip that has a 64-bit architecture.
This iPad is also known as the iPad Mini 5 or iPad Mini 2019. People may get a bit confused with the cellular part and think you can use this iPad as a phone to call people, this is false. Cellular means you can connect to the cellular network to enable internet connectivity rather than being confined to use only a Wi-Fi connection. The iPad Mini holds memory storage of 64GB meaning you have a lot of space you can fill with videos, images, and other things.
The difference between the old iPad Mini 4 and the new iPad Mini 5 is small, the difference between them comes down to the front camera models as the mini 5 is more advanced and the mini 5 has a much faster six-core processor. If you're looking for an iPad Mini the iPad Mini 5 is the best by far.
Features
Display Size 9.7 Inches
Apple series iPad Mini
Memory 64GB
Space Gray
Bluetooth
Stereo speaker
8MP back camera
Up to 10 hours of constant use
Product Description

With the amazing looking and fantastic widescreen, the Samsung Galaxy Tab A is perfect for the elderly citizen, its most effective for the elderly with bad eyesight as it comes with a great settings system that's easy to change text /image size making it easier for the people struggling to see. Going against the other giants in the tablet industry like Apple and Microsoft the Samsung galaxy stands as strong and tall as ever. The Samsung Galaxy Tab A is an affordable tablet that beats nearly all its competition in prices and matches their performance levels.
The Samsung Galaxy Tab A 10.1 may sound like the Samsung Galaxy Tab A 8 however they are different and not just in screen size but also in performance levels as the Tab A 8 may be cheaper and smaller the 10.1 is more powerful and intricate so if you're looking for a simple small Samsung tablet I would recommend the 8 over the 10.1 however if you want higher quality streaming I would go for the 10.1.
The Tab A 10.1 was made as the base form of the Samsung Galaxy Tab A whereas the 8 was made to be a smaller version that is a bit less powerful but easier to handle. They don't have many differences, but they can be if you're looking for a serious tablet however you're here to look for the elderly not a professional, so the choice is yours.
Features
Display size 10.4 Inches
Samsung
64 GB memory
Oxford Gray
4 GB RAM
Exynos 9611
Octa-core
Android 10
Bluetooth
Product Description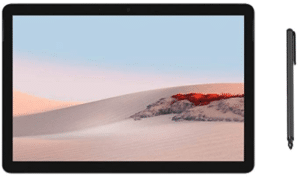 The Microsoft Surface Go 2 10.5 is made with a large widescreen to give the best viewing size for the visually struggling elderly citizen. The 64 Gb memory storage is plenty for the tablet and the elderly, I say this because the elderly most likely won't be downloading anything other than books pictures, and videos. This makes me believe that having 64 GB storage should be plenty and it's possible to upgrade the storage if needed.
The Microsoft Surface is one of the most intricate tablets on this list as it can do practically anything a laptop or computer can do. Equipped with Bluetooth and a stylus pen you can connect to other things like speakers and phones with ease this is all possible because of the powerful Dual Core processor 1.70 GHz that it's embedded in it. The Intel UHD Graphics card allows you to view and stream films, Tv shows, and more at a very high and fast quality that beats the most competition. The Tablet is one of the best tablets made to date.
Compared to its competition the Microsoft Surface Go 2 10.5 is the most capable out of them all as it can do anything however doing everything doesn't mean it's worth the price tag. If you're willing to spend just that bit extra in cash this is the one for you.
Features
Display size 10.5 Inches
Microsoft Surface series
64 GB memory
Perfectly portable
Long battery life
Dual-Core processor 1.70 GHz
Intel UHD Graphics card
4 GB RAM
Bluetooth
Product Description

Another Microsoft product on the shelf for you to look at is the Microsoft Surface Pro 6. Microsoft Surface Pro 6 is a perfect tablet for the elderly to get their hands on especially if they want something that can convert into a similar windows 10 laptop. Microsoft Surface Pro 6 gives off such a convincing laptop experience it's practically the same thing, this is helpful for the elderly or senior citizen that is used to using a laptop over a tablet. The laptop experience comes with a big price tag as the Microsoft Surface Pro 6 is not cheap. A very powerful device that is portable and easy to use what's more to love about this tablet.
Microsoft Surface Pro 6 is best suited for people that want movability and a powerful device at the same time. Although expensive the Microsoft Surface Pro 6 is worth the money as it is far ahead of its competition and will last you for years to come. If you're an elderly person that doesn't think it's too late to be a gamer, then don't be scared as the Microsoft Surface Pro 6 can play most games on an average setting.
The Microsoft Surface Pro 6 is a perfect replacement for a laptop and tablet as it can do both, smaller than a regular laptop but just as powerful, just as small as a tablet but even more powerful. What is there to lose here.
Features
Display Screen 12.3 Inches
Microsoft Surface series
8GB memory
Platinum color
Tablet/Laptop
Comes with Physical click on keyboard and pen
Long battery life
Bluetooth
Product Description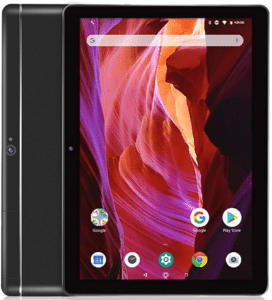 A good budget tablet that has decent specs and expandable memory. The Dragon Touch is a great buy if you're looking for something not too expensive and over the top. Dragon Touch is a very cheap option with surprisingly good specs for the price, making this tablet a very viable option when picking out a tablet for the elderly who seeks for low budget with basic specs.
The Dragon Touch is a very good portable device with a 7-inch screen that can access google play. Android-powered this device isn't just cheap it's powerful as well, this opens a world of possibilities when using this device. You can upgrade the Dragon Touch's low storage capacity by getting a microSD that allows you to fill up more storage, 128 GB more storage to be exact.
Be cautious when buying this product. Make sure you don't need Bluetooth or GPS as it doesn't come with one, this can be a setback for some people but when thinking about tablets for the elderly it shouldn't make much of a difference if it has or hasn't got one.
Features
Display size 10.1 Inches
Dragon Touch series
16 GB Memory
Android 8.1
Long battery life
128 GB expandable memory size
Brilliant HD display with 1280*800 Resolution
Bluetooth
Product Description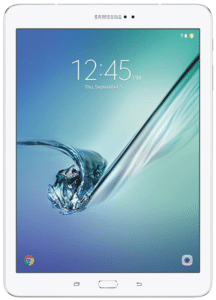 The Samsung Galaxy Tab S2 is worth the money as it brings a unique experience with its ultra-fast performance and sleek looks. Images and movies practically come to life when using the Samsung Galaxy Tab S2 because of its amazing AMOLED display. Equipped with expandable memory makes you able to keep enjoying those photos and movies you love to the fullest. Expandable memory is important for any buyer because it means you can always add more things you want to keep. Samsung Galaxy Tab S2 is powered by the efficient Android Marshmallow OS which makes sharing with other Samsung devices that much easier.
The small compact 9.7-inch screen suits the elderly citizen that wants to be all over the place with their tablet. Going to work, going to someone's house, or maybe even going for a walk this tablet is lightweight and portable. Samsung Galaxy Tab S2 is very efficient for the price, its high specs allow you to access what other tablets can do but at the same or a higher level than them, it does not fall behind in power to its competition over at Apple.
Samsung Galaxy Tab S2 was released in September 2015. As an older device goes you would expect it to not be supported however as 2020 ends it's still being supported by Samsung and was lasted updated in October 2020
Features
Display 9.7 Inches
Samsung Galaxy Tab S2 Series
32GB memory
Android 6.0
3GB of RAM
32GB of ROM
2048 x 1536 Resolution
Bluetooth
Product Description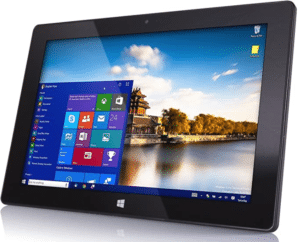 In our opinion, this one is the oddball of the group. Fusion5 has been selling products since 2010 and is by far a less well-known brand compared to the competition like Apple, Samsung, and Microsoft. Don't Let the unknown brand fool you as this Windows 10 Fusion5 can keep up with the competition. The Ultra-slim style of the Windows 10 Fusion5 makes the experience comfortable and easy to use. Windows 10 package comes with a powerful mega storage space to save all your photos and movies.
The 10.1-inch screen makes it suitable for the elderly citizen when viewing movies or reading books and maybe even looking at pictures. If you're looking for something big that grandad and grandma can see, then this one should be perfect for you as it's a big tablet. The base storage space of 64GB allows many things to be saved to it. The Windows 10 Fusion5 comes with a 12-month warranty deal in the US.
Features
Display Size 10.1 Inches
Fusion5 FWIN232+ Series
64 GB memory
The newest version of windows tablet PC
4GB RAM
Bluetooth
Quad-Core
Our Final Verdict
Any of these amazing tablets can help the elderly but you're most likely reading it for our final opinion so we will give you what you want. We do believe all these tablets are good in their own right and this is just our opinion so when picking a tablet remember this isn't us telling you that one is better than the other this is just how we feel about them.
The best budget tablet for us would have to be the Kindle Fire HD as its power can keep up with the competition at such an unbelievably low price, it fills the checklist needed when thinking about an elderly person. It's not the most powerful but it's one of the most suitable.
The best tablet in 2020 for the elderly would have to be the Microsoft Surface Pro 6. Simply because it can do anything you can think of to the highest performance, does this mean it's worth the money though? Not necessarily. It might be the best one out at this moment in time and if you have the money for the price tag then go ahead and buy it however for an elderly person it's just not necessary to have a tablet that powerful and there are cheaper alternatives out there.
The best-sized tablet would have to be the Apple iPad Mini 9.7. The size and the power in the Apple iPad Mini 9.7 are nothing to look over. For its small size and its rather decent buying price, the specs do not match. The specs for the Apple iPad Mini 9.7 are just far beyond what the price lets on and is worth the money when looking for something small.
These are our favorite Tablets for the elderly. All the tablets listed are incredible tablets that can be suited for anyone and any senior citizen, just because we picked out favorite tablets doesn't mean the other tablets are bad or can't be good for the elderly, please remember this is just an opinion.