A Walkie Talkie is one of the most helpful pieces of equipment when faced with the challenge of trying to communicate with someone outdoors.  Unlike phones, Walkie talkies can get into direct communication with people without having to dial a number or having network issues, this means walkie talkies are often used for Public services and is essential for most of them it is used by Police, Army, Lifeguards, and many more.
A Walkie Talkie is a handheld device that can be the size of a phone and easier to use. However, what you are looking for is a Long-Ranged Walkie Talkie. This means we won't be looking at basic Walkie talkies used by the likes of security guards, we will be looking at Long Ranged Walkie Talkies used by the likes of the army, search and rescue teams because they typically use the longest ranged walkie talkies.
We are here to show you what the best Long-ranged Walkie Talkie is, so we have written you a guide that will go into detail on what to look for in a Walkie Talkie and what one to pick as well. The navigation below will help you navigate around the page. 
Are Walkie Talkies Worth It?
Effective communication is important for a lot of people and it's essential for others especially in the workplace. Communication can be a challenge in certain situations or businesses, a simple message can easily be lost when trying to communicate by phone as you depend on your network and signal, an email can be lost in a sea of other emails. Therefore, many people are moving to Walkie talkies when working or communicating with someone at long distance. Walkie Talkies bring many benefits not only to the workplace but to everyday activities.  
Communication with all 
Long Ranged walkie talkies compared to phones can provide a two-way reliable and consistent reception in comparison to the likes of work phones and smartphones that often have the issues of not having service in certain areas.
Using a Walkie Talkie means you won't have to deal with phone calls dropping off or unnecessary calls that last too long due to bad service. Consistency is a key advantage when using a Walkie Talkie as it provides better service over a phone as it allows you to stay in contact with one or more people without dropouts.
Reliability
Durable, portable, and waterproof radios can take a punch compared to your everyday smartphone. Perfect for the workplace or specific activities like fishing, mountain climbing, and more. Making sure you buy a set of Two way long-ranged radio is very important as you don't want to get something that doesn't go both ways or something that doesn't go the distance.
Cost-Effective  
Buying a set of Two-way radios is by far a better way to spend your money than buying new smartphones that won't be able to do the job anyway near as good as the walkie talkie.  Buying a walkie talkie will also be a lot cheaper than a smartphone, this can be important for companies as a lot of companies don't want to spend big on smartphones for every employee, which will also come with some risk of damage to the smartphone that will have expensive repairs.
Buying a walkie talkie will also get rid of having to download or pay for certain software you might need for communication on a smartphone.
Straight Forward Communication 
The no-nonsense way for communicating between employees, managers, friends. Walkie Talkies provide a simple way of communication that anyone can figure out.  You won't be wasting your time finding the number of your friend or scrolling through contacts to find the right person to call as you will be opening up a channel directly to the other walkie talkie or the group of walkie talkies in use. 
This way of communication stops staff from playing with their phones at work or just messing around on their phone, the Walkie talkie is straight to the point and is used for one thing only and that is communication between one or a group of people.
Using walkie talkies also gets rid of any safety issues that phones might have, for instance, viruses caused by certain software or unwanted people, it also doesn't have problems when dealing with spyware. Sensitive information can be said through a walkie talkie without the worry of the device being hacked or information being leaked.

What To Look For In a Long-Ranged Walkie Talkie 
When Looking at Long-Ranged Walkie Talkies it can seem difficult and confusing when trying to pick the one that is right for you and what you need to use it for.  When looking for a walkie-talkie that can go the distance it is important to thoroughly look at what you specifically need, you need to ask yourself. What am I using it for, why do I need one, do I need to communicate with someone that is a long distance away that a normal Walkie Talkie can't reach? Keep these in your head when picking as they can become crucial when choosing which one to go for.  
Long-Ranged Walkie Talkies are helpful and effective in terms of communication so make sure when buying one it won't be a waste. 
The Range  
When looking at Walkie Talkies it is essential to think about everything however when looking for Long Ranged Walkie Talkies it is above all else to look for the Range of communication it can go. The Longer the range of communication the better, however, don't be fooled by some brands saying they can do 30+ miles of communication when they can't prove it. This can cause you to buy a Walkie talkie that will just disappoint when it arrives.
The Range can be affected by physical things, so make sure when using your Long-Ranged Walkie Talkie you are in a clear area where you don't have rocks or buildings possibly blocking the signal this is called topography.  If the Brand says it can reach a specific number of miles just remember that this all depends on your conditions as that can affect the connection. It's important to investigate people's reviews or try it out yourself before buying so you can guarantee that the seller matches their claims.
Enough Channels
The channels aren't that important however it's always good to have a handful of channels to have as you can keep changing them to avoid interference.  If you have only a few channels this could cause you to have limits or struggle to connect to people due to interferences. Some come with privacy channels, this can be helpful for a professional setting, so you don't have an outsider on your channel when giving sensitive or personal information out over the walkie talkie.
A lot of the time you will get around 10+ channels to flick between when using the walkie talkie.  These usually include the typical NOAA channels (National Oceanic and Atmospheric Administration) as you can guess by the names these are usually used for aircraft and people out at sea. 
Power Source
When looking for a long-ranged walkie talkie you need to think about the battery life and how to charge it, maybe you want one with multiple battery packs for long-distance travel. It's important to figure out what you need for the activity you're doing. If you're going on a boat maybe it would be best to have already charged battery packs in case, you get lost out at sea and don't have any way to charge the walkie-talkie. 
It is very important to check how long the battery will last, if it only lasts a couple of hours maybe it will be suitable for short journeys but if you're going the long distance look for something with multiple battery packs to swap out. However, you need to ask yourself to do you want to carry around some extra battery packs wherever you go, therefore it's important to think about what you need your long-ranged walkie-talkie for.
Size and weight
If you're planning to go on a long journey out at sea you should care too much about size or weight as it will most likely just be on the boat anyways, however, if you're going for a long-distance walk in the countryside you won't want something heavy and big keeping you down. You would want something that does the job to a good standard that is lightweight and portable. Because of this for certain people, some of the walkie-talkies on the list will be better for them and might not be what you need or want so you mustn't jump the gun and keep that in mind.
Some walkie talkies come with an option for sets to have a belt/strap that helps with accessibility.
Durability 
Walkie talkies will be more durable than smartphones, it is as simple as that. However, it is still important to look and see how durable it is. Can the Walkie Talkie survive rough and ruthless weather conditions that phones cannot? If you're taking anything outside it's always important to check if it can survive the conditions. 
It's very important to check if the Walkie talkie is Waterproof, this might sound obvious but many people would just expect them to be but not all of them are waterproof, although all the ones on our list are waterproof so you don't need to worry about buying one from the list we have given.

How Much Should You Spend On a Walkie Talkie?
When looking at Long-Ranged Walkie talkies you will come across some absurd prices that will make your mouth drop however this doesn't mean that they are all this expensive so don't be put off by a price tag. Anywhere between the price of $50- $400 should do the trick. Anything more or less than this becomes too much where you will need a license for it, or it won't be able to go the distance you want it to because it's simply just a cheap knock-off.

Trusted Brands of Walkie Talkie
Everyone wants to buy from a brand that is trusted and known for its good quality products so why should It be any different when looking for a long-ranged walkie talkie, we are here to show you the most well-known walkie talkie brands that are known for their excellent products. We have made a list below of some of the big names in the walkie talkie industry.
Motorola 
Arguably the most well know brand of walkie talkie and that is Motorola, Motorola dominates most of the competition. Motorola started as a phone company making handheld phones but are praised for making the first walkie talkie. Over the years they have made military products and have made walkie talkies that have a frequency of 10-35 miles.
Midland 
Another big name in the walkie talkie industry is the company Midland, like the Samsung and Apple dominance in the phone industry, Midland and Motorola are the top dogs of the walkie talkie industry. Midland has a specialty in GMRS line, this is used mainly by hunters and hikers. Regular products from Midlands have a 10-hour battery life and a frequency of up to 26 miles.  
Cobra
Cobra is the brand that Is most well-known for its two-way radios with low and efficient prices, they always have a great budget option for you. The range of Cobra products normally goes up to 35miles maximum. New products have voice activation and power-saving modes.
Uniden
A less known brand would be Uniden, Uniden have been struggling to stay relevant the past few years but have been on the catch-up game with the successful GMR6000 series. A unique thing about the Uniden products is the ability to be able to go up to 50 miles in frequency. Waterproof and can float on the water the new Uniden products seem to be a new underdog in the industry.
Kenwood
Known for making their walkie-talkies survive the harshest of environments Kenwood is a brand that focuses on durability and has a history of high-end products you can buy. Easy to use and comfortable the Kenwood brand uses advanced data and voice activation and more.

Our Best Long-Ranged Walkie Talkie 
After a long search for the best of the best Long-Ranged Walkie talkies, we concluded that the best overall Walkie talkie had to be the SAMCOM Programmable Walkie Talkie. We chose this because we believe it is easy to use, straightforward and is comfortable to carry.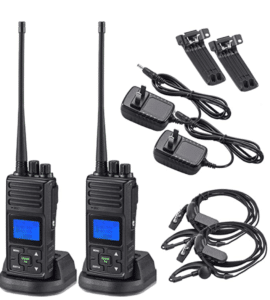 The SAMCOM Programmable walkie talkie is by far one of the best not just long-ranged walkie talkies of 2020 but one of the best walkie talkies in general. The SAMCOM Programmable walkie talkie comes with 20 channels to flick between and is a two-way radio, waterproof and durable but also comes with handheld comfort you cannot go wrong with the SAMCOM Programmable walkie talkie. 5W strong Penetration to help get signal through buildings, making it also eligible in a building area, it is important to note it can go up from 1-5 miles in a building area.  Recommended for people that like to go hiking, hunting, or climbing.  Great for business as well as it allows people to simultaneously connect to the channels to have a group conversation. Also comes with private channels.
Features
20 Channels

Comes with private channels

Durable and waterproof

Up to 30 miles in the open and 1-5 in a building populated area

Easy to use and straightforward 
Most Durable Long-Range Walkie Talkie
Everyone wants a durable walkie talkie; you don't want a walkie talkie that falls apart after getting wet or something that can't survive a bump when you're out hunting or climbing in the wilderness. We Chose the DEWALT DXFRS800 2WATT Heavy Duty Walkie Talkie. Waterproof and shock-resistant this Walkie Talkie can take a beating.

DEWALT DXFRS800 2WATT Heavy Duty Walkie Talkie is the most durable Walkie Talkie you can get; Waterproof and shock resistance allows it to survive even the toughest conditions in the wild. Waterproof and dustproof makes this walkie talkie perfect for builders and construction businesses The DEWALT DXFRS800 2WATT Heavy Duty Walkie Talkie is a two-way radio that comes with a rechargeable rack most suited for business where it can be kept safe as it is heavy to carry around.
These Walkie talkie Brutes can go up to 300,000 Square feet and can go through 25 floors. Equipped with 2662 channel combination you won't ever run out of channels to flick through. Comes with 22 pre-set Channels with privacy codes making sure that unwanted guests won't be popping up in your calls.
Features
Waterproof and Dustproof

300,000 Square feet and can go through 25 floors worth of distance. 

22 Pre-set Private Channels  

Comfortable and durable

Shock resistant 
The Best Two-Way Radio

Choosing the best Two-Way Radio is a very hard choice as most walkie-talkies on this list are exceptional two-way walkie-talkies however the best two-way in our opinion must be the military spec Motorola RMU2040.  We chose the Motorola RMU2040 because of its voice quality and clear quality. 

The business Walkie Talkie the Motorola RMU2040 is exceptional in the workplace for Construction or the military, durable and comfortable with limited problems you cannot go wrong with the Motorola RMU2040. Water-resistant and has a battery life of 15 hours this Walkie-talkie can go the distance until it needs to be charged making it an exceptional option for long-distance travel or long journeys, meaning it's good for hiking, hunting and climbing. It is not just for the military.
With its clear Sound, the Motorola RMU2040 is the perfect Two-way radio for anyone. Comes with 4 private channels with business exclusive frequencies. The range goes up to 250,000 square feet and can go through 20 floors worth of distance. The unique feature about the Motorola RMU2040 is that it meets the military 810 C, D, E, F, G, and IP54/55 specifications which you don't normally see in walkie-talkies, this means it is in a class of its own however the price is as well. 
Features
Rechargeable Lithium-Ion Batteries

2-3hrs drop in desktop battery chargers.

4 private channels

Durable and waterproof

Military-grade

Very long Battery Life

250,000 square feet and 20 floors worth of distance
Best Budget Long-Ranged Walkie Talkie 
A budget long-ranged walkie-talkie is hard because if you want a good quality walkie talkie you normally must spend a bit more however who says a cheaper alternative can't do the job. We have looked at many Walkie Talkies that are cheaper than the average that can do the job and we came across the Midland – X- TALKER T71VP3. The Midland – X- TALKER T71VP3 is an exceptional Walkie talkie that can go up to 38 miles for the price of $79.99 for a set of two-way radios.
We do have the cheaper version of the Midland- x- TALKER T51VP3 in the alternatives which is a downgraded version that's cheaper however the newer version is only $30 more and is just overall better in every aspect.

The Midland – X- TALKER T71VP3 also known as the advanced version of the Midland- x- TALKER T51VP3 is perfect for hiking, hunting, and climbing Long-Range walkie talkie, with it being super lightweight and able to clip onto any piece of clothing, it's perfect for everyday use. Water-resistant and 10 hours of battery life this Walkie talkie can be perfect when out on long journeys in tough conditions. Durable with its water resistance it can also take a fall. Coming with 121 Privacy codes and 2,662 channel options you won't run out of channels anytime soon. The Midland- x- TALKER T51VP3 has an impeccable 38-mile range that can keep you in contact with its two-way radio. Equipped with an NOAA weather scan helps you able to tell the weather.
Features
NOAA Weather scan

Durable with Waterproof 

121 privacy codes

10 hours of battery life

38 Mile range 
Other Viable Options For Long-Ranged Walkie Talkies
If you have looked through the list and think nothing here suits what you need then don't be worried as we have some more Long ranged walkie-talkies you can look at. However, we don't think these are as good as the ones we have already listed, the ones we have listed have all got unique qualities for a Long-Range walkie talkie that these just fall short in comparison with our list. This doesn't mean you can't look at them as one of them might suit you over the ones we have listed, so why not look.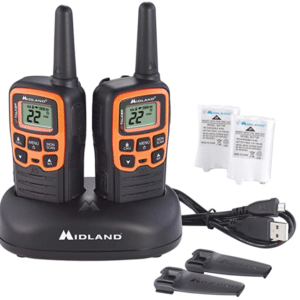 The Midland – X- TALKER T51VP3 is a cheap alternative that gets the job done to a degree, not as good as the new version however with its ability to go the distance the Midland – X- TALKER T51VP3 can go up to 28 miles in open areas. You have 38 privacy codes and can get up to 836 channel options. Midland – X- TALKER T51VP3 comes with an NOAA Weather alert that will sound an alarm with weather updates for you to see when you're out.
Voice activation and transmission with 3 sensitive levels making it able for you to use it without your hands. The battery life is a life savior as it can survive 10 hours before needing to be docked in its charging station. Two-Way Radio that is License free that has the standard 22FRS/GMRS channels. The Midland – X- TALKER T51VP3 is a lightweight Walkie talkie that can be clipped onto your belt top jacket or trousers, it's perfect for walking, climbing, and more. 
Features
Lightweight

Cheap

10 Hour battery life

Two-way radio  

28-mile range 

Weather alerts 

Hands-free 

Private channels pre-set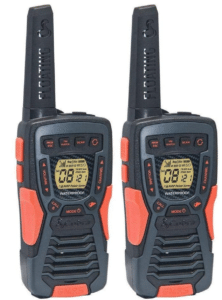 The COBRA ACXT1035RFLT is a compact small handheld Walkie talkie that can reach 37Miles, Waterproof, and rechargeable making it easy to understand and use. Being waterproof and Well protected you could argue that it is quite durable for its size. NOAA weather alert is preinstalled on the device so weather watching before a journey shouldn't be a problem as you can check the weather on the go. Voice-activated means the user's voice is detected and used without needing to press anything on the device. 
The device can float on water and is waterproof, so it is perfect for fishing trips or sailing. Compared to most Long-range walkie talkies the COBRA ACXT1035RFLT come with Rewind, so you can replay missed calls as it records the last 20 seconds of the call. Vibration and call alerts are installed to stop miss calls or other mishaps like losing it. 
Features
Vibrations and call alerts 

Built-in LED flashlight 

Floating and waterproof

NOAA Weather alerts

Long-range 37 miles