Chances are you're looking for a replacement remote for your Firestick (Fire TV) and it might have crossed your mind, can I get a remote that will work with my Firestick? As an owner of a Firestick, smart TV, Xbox One, and a TV box, I understand the frustration of having several remotes to switch between dependant on the device you want to control, it's a nightmare.
There's a solution, and relatively speaking, it's inexpensive.
A Universal remote.
But hold on, do they work with a Firestick? That's what we're here to help with. We've written this complete guide so you can be on your way to a single remote paradise. Easily navigate through the article using the table of contents below:
Can you get a Universal Remote to work with your Firestick?
It would be a very short post if we said you couldn't, so yes, you can get a Universal Remote to work with the Amazon Firestick. Hold your horses though, you can't just pick up any universal remote and your off to the races, you need to get a universal remote that specifically works with the Firestick.
Why I hear you ask? Often the remotes need an extra connection, or hub, in order to connect to the Firestick itself.
If you've done a bit of research around the web, you'll see that most people recommend the Logitech Harmony Elite, which will definitely do the job but we're not going to highlight it in our list. Why? It'll set you back over $400, and realistically, who is paying that for a remote?
Instead, we've got some better, cheaper options for you, so keep reading!
Can I get a remote that works with my TV & Firestick?
Absolutely, and that's the best part of it!
You can go with a Firestick remote replacement which will set you back a lot less, and if that is what you're looking for then our recommendation for that would be the CV98LM.
However, if you're looking for an all-encompassing solution for that single remote paradise you're striving for, then yes all of the Universal Remotes that we have highlighted that work with your Firestick will also work with your TV itself, amongst other applications and devices.
What else can Universal Remotes work with?
Some of our best universal remotes for the Firestick recommendations that we are going to touch on later will not only work with your TV, but a lot of them have multiple functions and will work with the likes of:
Fire TV
Fire Cube
Roku
Apple TV
Xbox One
Mi Box
Smart TVs
These are just a few of the examples, however before buying any product you should try and match up the devices you have with the compatibility, as although a lot of these remotes claim an "all in one solution" that isn't always the case and it will only support a handful of devices or brands, so always check!
Our best Universal Remote for your Firestick choice
We've spent a long time researching these remotes, looking at various guides around the web, trying to find the best possible products and reading each of the reviews to find their flaws and selling points. We've selected a few different options to fit preference and budget, but we have one particular choice that we think stands out against the rest and is in our opinion, hands down, the best universal remote for your Firestick.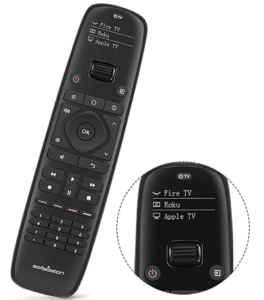 All our research has lead us to the recently updated, SofaBaton U1 Universal Remote. Before we go into all of it's features, we've picked out this remote because it is reasonably priced compared to some of the competition, currently below $50, it's clean and just a single remote unlike some of the other options & the brand are well known and trusted in the remote space, with several great products.
Now for the U1 itself, if you buy it, what can you expect? It's a unique remote which can support hundreds of thousands of devices across thousands of different brands. It's compatible with both Bluetooth and IR – however, it is worth noting that it isn't supported via WiFi. They brand this remote by saying it can replace 15 other remotes and it's a true all in one solution (which is kind of true).
This remote works by setting it up through your smartphone using the SofaBaton app – you don't have to do any complex pairing or have lots of additional attachments. The U1 allows you to control your whole home with just a single remote and it's compatible with a variety of different devices like your Smart TV, projector and many more. The set up is relatively simple, here's what you do:
Download the app
Press two buttons on the remote to pair
The remote then sends the IR code to your devices
Choose the device to add to the remote
Simple!
The remote itself features on OLED screen which is easy to see and bright in all lights, it's activated by motion to prolong battery life and it's straightforward and easy to use. There's a wheel in the middle of the device that allows you to scroll through each of the options presented on the LCD screen and select the device you wish to control.
As an additional feature, this remote also has a macro button for commands. This means that you can program it to do a series of actions, such as turn your TV on and wait however many seconds you dictate to turn on your set-top box, followed by your Xbox, all in a single button click, pretty neat right?
Main Features
Compatible with thousands of devices, including your Firestick
Easy to set up through a smartphone app
OLED screen to easily switch between devices you wish to control
Macro button for programming several actions to a single click
Currently priced below $50!
Which Universal Remotes work with an Amazon Firestick?
We've made it pretty clear that the SofaBaton U1 is our favorite choice for a Firestick replacement remote, but we understand it might not be everyone's taste, no worries, you haven't hurt our feelings… MUCH.
In actual fact, in our quest to find the best universal remote for Fire TV we came across a lot of good solutions that fit a variety of different budgets and preferences, so not to worry, here are a few more great options you can choose from!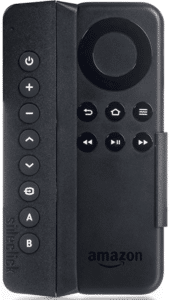 I know what you're thinking, awesome name right? We thought so too, but it's not the reason that it's made our list, it's actually a pretty awesome device.
Straight away in looking at this device, you might notice exactly what it is, essentially it's a remote that clips to your Amazon Firestick remote – slightly different approach than the rest. It does require you to have a remote in the first place or buy one, as it's not provided.
It's a pretty simple device which attaches to your Firestick remote that makes it compatible with IR which allows you to control the basic control of your Soundbar, TV, Blu-Ray player and more. It adds 8 buttons, the basic ones that you'll use in everyday TV usage like changing the channel and volume to create an all in one remote experience.
Another cool feature of this device is that if you decide on using other streaming platforms like Roku, Apple TV, Chromecast or NVIDIA Shield to name a few, you can attach the Sideclick to those with alternate adapter clips.
Main Features
Very simple to use, just clip to your existing Firestick remote & go
Add 8 buttons to your Firestick remote that can be used for basic control of other devices like your TV
Uses IR learning technology, so easy to program with other devices
Budget buy option, currently under $25
Change to alternate clips to attach to other streaming platform remotes
As you will see, again this is a slightly different looking option with more things to connect to your Firestick. The set up on this one is a little bit more advanced, so if that isn't for you, then probably skip this one!
This remote is a good option for a truly Universal Remote though. It's pre-programmed to work with Apple TV, Xbox One, Media Centre and Roku devices but not Fire TV straight out the box, although with a bit of work you can do it.
It's an IR remote that offers a 4-in-1 combination and is designed specifically to work with the Fire TV stick, cube & pendant. It's a high quality remote that has a velvet coating and custom buttons as well as backlighting. It easily finds devices in your house to connect to, but it can also use intuitive learning if it's unable to find one.
In order to control your Fire TV you need to plug the IReTV receiver into the Y cable that they provide then you need to enter the device code – which is 02049 and all should work well! The device then maps the different options that you set up to specific buttons, which is why it comes with adhesive labels so you can know exactly what button allows you to control what device.
Main Features
Comes with 1 year warranty
A complete Universal Remote option for the Firestick, but requires a bit more set up
Pre-programmed to work with Apple TV, Xbox One, Roku & more straight out the box, but you can change on of these for the Fire TV
Macro programming to do a string of commands with a single button click
High quality feel and design – comes with backlighting!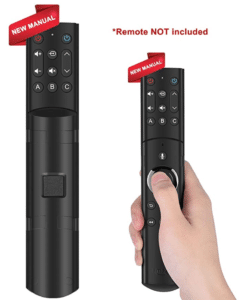 This is another product by SofaBaton, which you might recognize from earlier in the list. In order to take advantage of this product you need to already have an Alexa Fire Stick remote.
It allows you to integrate the remote itself into a universal remote in which you can program the buttons to access different devices including your Soundbar, TV & Blu-Ray for example, it uses IR technology to do this.
The attachment itself adds the buttons to adequately make your current Fire Tv remote work for other devices like your TV, with 11 personalized buttons which allow you to do the basics such as turning on and off, volume control, mute, and three buttons that you can program yourself, A, B & C.
It's a simple, easy to use and straight forward solution for your current Firestick remote and it's really easy to set up and use, all you have to do is:
Place the batteries in the remote and attach your Firestick remote
Press and hold both the Red On / Off button and the mute for three seconds – release, when the red LED, is on
Now you press the desired button, such as the mute, and on the original remote press the same button for the remote to learn what it is – a green light indicates success
Repeat step 3 to learn all the buttons for the remotes you desire
The product is durable, easy to use, quick to set up and won't cost you a pretty penny!
Main Features
Available for under $25 currently
Adds 11 buttons to your current Firestick remote to make it usable as a Universal remote
Easy to set up, with just 4 steps
Durable design, just clip in your Fire TV remote
Can integrate with multiple devices due to IR technology